StoryFutures Academy, the National Centre for Immersive Storytelling run by the National Film and Television School and Royal Holloway, University of London and funded by the government's Industrial Strategy Challenge Fund hosted its first immersive lab at NFTS in December 2018.
The Academy is working with established storytellers through labs, senior level work placements in live immersive productions, writer's rooms and co-funded productions to help them experience and exploit opportunities in immersive storytelling. Each immersive lab will have a different theme and December's lab was focussed on immersive documentary.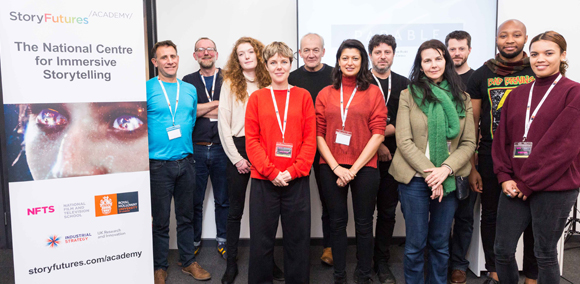 Participants included: Channel 4 Documentaries Commissioning Editor, Fozia Khan; Sundance Grand Jury Prize nominee, director, producer and writer and NFTS alumnus, Shola Amoo; BAFTA nominated Documentary filmmaker, Marc Isaacs; Turner Prize winning conceptual artist, Gillian Wearing OBE; Documentary maker and NFTS Head of Documentary, Peter Dale; Seth Honnor, Kaleider Artistic Director; BAFTA nominated director and producer, Sacha Mirzoeff; Hannah Bailey, Doc Society; Director and Producer, Ruth Nicklin; and Director, Cecile Emeke.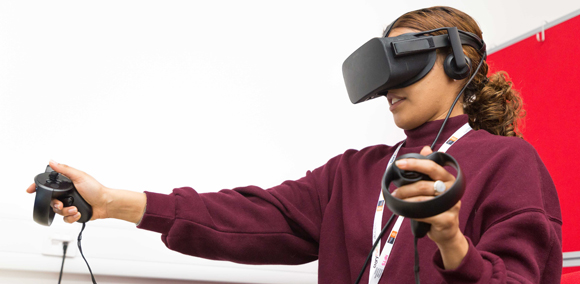 During the two-day lab, participants were invited to try out a wide range of new cutting-edge immersive projects including Grenfell: Our home from Parable, and 59 productions for Channel4, Home a VR-Spacewalk and David Attenborough's Hold The World from Factory 42 and learn from leading industry professionals about the practicalities of putting successful immersive experiences together. There were hands on demos of the latest industry standard cameras, hardware and software and presentations about key market intelligence and opportunities for funding and distribution.
The participants' imagination was most definitely sparked with Cecile Emeke saying: "I've completely changed my opinion on it now I've experienced it." Marc Isaacs said: "I was quite sceptical in the beginning. Sometimes I think the technology leads rather than the ideas but it made me fantasise about projects, ideas that I wouldn't ordinarily have." Fozia Khan said: "Before the lab, I associated immersive with gamers and didn't really think about it in a broader way and it's been quite mind-blowing actually just seeing all the possibilities and the different kinds of people involved and the directions people are taking it in. It's just really incredible and I just feel like I've learnt so much!"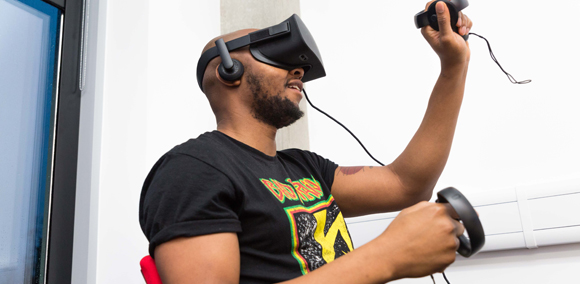 For more information and to register your interest in attending an immersive lab, please visit www.storyfutures.com/academy