Writer/Director Julius Amedume graduated from the NFTS Directing Fiction course in 2010 and recently we welcomed him back to the School for a Masterclass following a screening of his award-winning latest film, Rattlesnakes.
The Q&A, led by Lesley Manning Head of Directing Fiction, began with Julius explaining the genesis of making the hair-raising Rattlesnakes.
Julius had specific ideas about how he wanted the film to be shot to give it the aesthetic of a high budget production. He'd had similar ideas when shooting his graduation film at the NFTS, explaining: "I tried and tested it when I did my grad film here so I explained to my Cinematographer Tommy Maddox-Upshaw the trials and tribulations and we came up with solutions."
Two weeks before they were scheduled to shoot, Julius flew out to LA to visit their location, and cast and crew the rest of the film. "Actors want to work. So you give them a good script, a good story they can get their teeth into and they're up for doing it, even if its low budget. Then it's about how much time they are able to give me!"
Resolving problems is part and parcel of making a film but when a massive wildfire started to burn through their filming location in Southern California, Julius lost half his crew. With the team working up to the wire and the fire coming ever closer, it wasn't long before the time came to evacuate, with them all leaving so quickly their kit had to stay on location. After three long days of waiting and with the fire subsiding, Julius and the crew drove back into the fire zone to retrieve their kit. A new plan to shoot in a different location had to be put in place. "I had to do rewrites to the story and the script to accommodate the changes. We had no money to re-start and no time either."
They had already banked scenes that would appear throughout the film and Julius had to carefully work around the issues that arose from shooting in a new location. "The scene in the apartment towards the end of the film where Lizzie is confronting Robert was shot in two different places, two weeks apart. I had shot everything one way in the first location and I had to do the reverses somewhere else two weeks later."
Asked by Lesley what his most reliable tool is 'in the heat of the moment', Julius was emphatic that a director should trust their gut instincts as to whether something is right or wrong. "Then it's just a question of how quickly you can assess the scenario. Is it the performance, is it something to do with the sound, is it the shot size? How do you navigate around that problem and communicate exactly what it is to the relevant department? Directing is really just about solving problems and then when you've solved them you have a film at the end of it."
Rattlesnakes was shot in just 12 days and Julius decided to come back to the UK to finish the film. He sent the script to Nik Powell, former Director of The National Film and Television School who then came on board as an Executive Producer.
The majority of crew working on the post-production on Rattlesnakes were NFTS graduates including Editors Esben Askgaard and Mdhamiri Á Nkemi, Composers Seymour Milton and Paul Pringle and Sound Editor Dario Swade.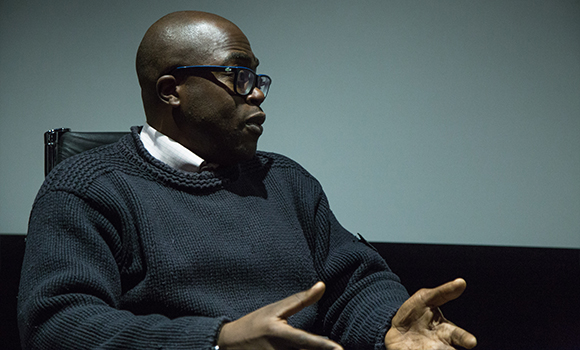 "I just wanted to make a film. I wasn't thinking about the money, it was more the opportunity, knowing that if I was to make this film under the constraints, it should open up other doors."
Prompted by a student question, Julius wrapped up the Q&A by describing how his 'best moment' was simply making the film with the crew. "It really felt like we went to war." Facing many challenges, from the wildfire to losing footage and even having a SWAT team knocking on their door, was a learning experience, with the crew rallying together to get the movie made against all the odds. "That's the energy you look for when you're making a film, we all lived through it together and when you get the end result, I think that was the most rewarding thing for me. It really was a collaborative effort."
Students at the NFTS benefit from once in a lifetime Masterclasses, hearing directly from acclaimed Film, TV and Games makers from around the world. During this period, we are working hard to deliver virtual Masterclasses to our students as they study from home. Sally Wainwright, David Fincher, Ricky Gervais, Nainita Desai and Jesse Armstrong are just some of the brilliant names who have already hosted for us via Zoom, with many more to come! For more info visit nfts.co.uk/masterclasses.
Applications are now open for all MA and Diploma courses starting in September 2020 and January 2021.
Scholarships and bursaries available.
2/4/20