NFTS reports that NFTS Scotland, its new hub based at BBC Scotland in Glasgow has had a successful first year with over 22 courses completed and over 170 course participants, half of which have received bursary-supported places. Course participants are expected to grow to over 400 per year once NFTS Scotland is running at full capacity.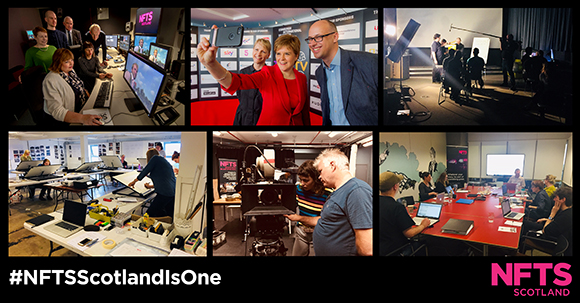 The School, which was officially opened in April 2018 by Cabinet Secretary, Fiona Hyslop is serving a huge increase in high-profile films and network TV drama being made in Scotland. Latest Creative Scotland figures show that production spend has risen to a record high of £95 million, a £26 million increase on the previous year. In addition, Scotland has welcomed recent public and private sector proposals for new studio developments.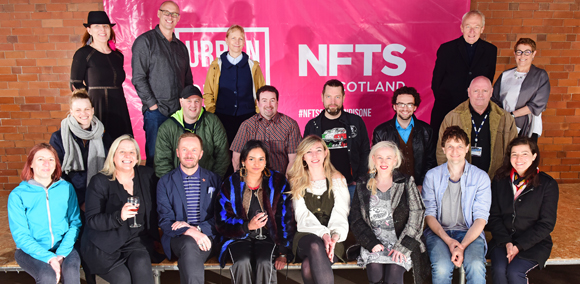 Diversity and inclusion are key priorities for NFTS Scotland and there is a joint aspiration that a third of all places in the first two years will be bursary-supported places. To that end the BBC and the Scottish Government is making a contribution to a bursary fund which will meet the costs of these places and ensure that participants will be drawn from a broad range of backgrounds. There is also a dedicated bursary available (provided by All3Media) for two people from a BAME background for the Writing the TV Pilot course, which is due to run again in July 2019.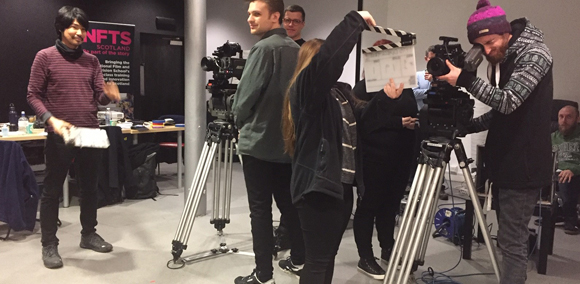 Specialist courses already completed range from a Diploma in Production Accounting to Film Location Sound Recording, Factual Editing and Multi-Camera Directing. There are courses aimed at new entrants to the film and television industry as well as a wide range to enable senior level industry professionals to enhance their skills. New courses just announced include:
Factual Production Management (13th – 16th May)
Start Self-Shooting (4th – 5th June)
Rig Editing (24th – 28th June)
Certificate in Film Marketing and Distribution (Starts 29th June)
Set Ready: Costume and Make-up (29th / 30th July)
Introduction to Games Design (15th/16th November)
The Business of Games (18th – 22nd November)
Course participants have given overwhelming positive reviews for their NFTS Scotland experience with many already securing work and commissions as a direct result of completing their course (see editor's notes for more details).
Alison Goring, Head of NFTS Scotland said: "It's been a fantastic first year for NFTS Scotland. The film and television industry is booming locally and we are working hard to establish a consistent, supply chain of highly trained individuals to meet this demand. It's been a joy to read the positive feedback we have received from the first 12 months of course participants and it's so rewarding to see so many of them secure work as a result of their course. I am looking forward to making year two an even bigger success!"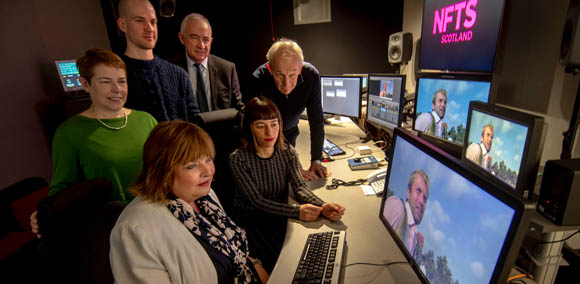 Culture Secretary Fiona Hyslop said: "Providing Scotland's growing screen industry with a stream of well-qualified talent is vital to ensuring the sector continues to make outstanding film and television productions. The Scottish Government is proud to have supported the establishment of the National Film and Television School in Scotland, and to contribute to a bursary fund so people from a diverse range of backgrounds have access to high quality training and continuous professional development, breaking down barriers to gaining and developing skills needed to capitalise on exciting opportunities ahead."
Donalda MacKinnon, Director, BBC Scotland said: "Working in partnership with the creative sector is one of the BBC's key priorities and maintaining and raising the skill base is crucial to the future health of the entire industry. Hosting and helping to train its students in Pacific Quay and in Dumbarton, therefore is not only a great experience for BBC Scotland employees and the students but it's also playing a vital part in producing the next generation of programme makers."
Nicki McCallum, Supervising Art Director, Outlander said: "As the Supervising Art Director on Outlander I am always looking for new talent. To have people contact me having done an NFTS course, regardless of their previous career or education background, means that I know they are driven and want to do this job. It also means that they will have an understanding of what the job entails and some of the skills required to be employed in a busy Art Department."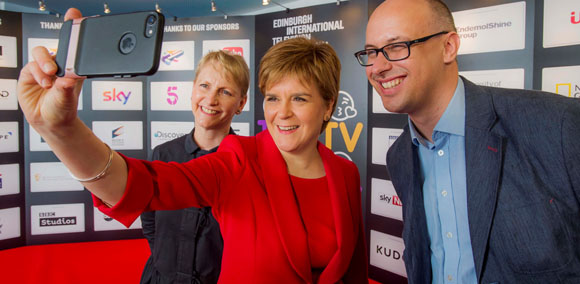 All NFTS Scotland courses are specifically designed to meet the growing needs of film, television and games production companies and independent practitioners across the country. The NFTS is an acknowledged global leader in the provision of postgraduate, high-level, creative and technical skills for the audio-visual industries. It was recognised with the Outstanding British Contribution to Cinema BAFTA at the 2018 ceremony and was the first film school to be awarded the 2018 Queen's Anniversary Prize for Higher and Further Education.
First Minister of Scotland, Nicola Sturgeon announced funding of £475,000 in her keynote speech at last the 2017 Edinburgh International Television Festival, to support plans for NFTS Scotland while the BBC's contribution of premises and facilities for NFTS at Pacific Quay builds on the corporation's additional investment of £40m a year in Scotland to provide additional and more relevant output for its audiences.
To register for courses and apply for bursaries, please visit www.nfts.co.uk/scotland
Contact for further information:
Vicky Hewlett, Head of PR and Communications, NFTS: vhewlett@nfts.co.uk
Course participant testimonials: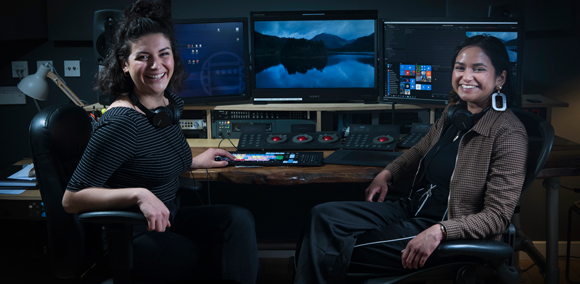 Apsi Witana - Drama Editing: 'The NFTS Scotland Drama Editing course has given me a whole host of new skills, contacts and friends for life! It was wonderful to learn from such expert tutors.'
Alex Oliver - Drama Editing: 'The NFTS Scotland Drama Editing course taught us things you'd never learn in the real world. It really prepared us for working in the industry - we learnt about all the different roles and got to work with state-of-the-art facilities on real shows like Last Tango in Halifax and Shetland which I never thought we'd be able to do.'
David McPherson, Writing the TV Pilot: 'Since finishing the course my career has really taken off. I secured my first option deal on a script just before the course started and got signed on by an agent soon after it finished. Since then I have managed to secure deals on four more original series ideas with some of the leading production companies in the UK, achieved my first pilot commission and had an interview for working on a new big budget drama series from BBC America. One of the series ideas I have had optioned is with one of the production companies who attended the pitching day on the course and I really feel like the confidence boost I got from attending and the skills and knowledge I gained have been instrumental in gaining these first steps into the industry.'
Erin McNeill, Drama Production Management: 'This was a great opportunity for me to build my confidence surrounded by industry professionals and experts. This was an environment I had never really had the chance to be in before then… (and) I have just got a job with the Screen NETS program as a Production Office Trainee.'
Julie Ross, Introduction to the Film and TV Art Department, August 2018: 'Before the course I was working as Senior Architect for a Local Authority. Following the course, I was contacted by Outlander inquiring if I was interested in joining the Art Dept as a Draughtsperson. I completed a trial week, was offered the position and made the career switch. I am currently draughting various sets for Series 5 of Outlander. The training was invaluable. For me it gave me all the information I was looking for and guidance as to how to enter the Industry.'
Regarding Julie Ross' appointment at Outlander, Nicki McCallum, Supervising Art Director, Outlander said: 'Julie came to the Outlander Art Department having done a 1 week NFTS course in Introduction to Film and TV Art Department. She had previously been an architect but was looking for a career change. This was fantastic for us as she already had many transferable skills. The NFTS course helped her appreciate that this was the case as well as giving her an understanding of the new skills she would need to acquire and the industry expectations of the various art department positions.'
Kevin Walls – Directing the Short Film (Col Spector), June 2018: 'I directed a short film about a month after completing the course at NFTS Scotland. The film was based on a story I developed with writer Donald Cameron, who was also in the class. I pleased to say "When Abbie Met Emmy" is due to have its world premiere at BFI Flare London LGBTQ Film Festival next weekend. It's the first time I've had my work showcased at a film festival, so I'm over the moon!'
Garry Brunjes – The Art of Multi-Camera Directing, October 2018: 'I really enjoyed the course. It has helped me get a contract as a BBC Scotland News Director. The whole team and atmosphere on the course was great.'
Samantha Pearce, The Art of Multi-Camera Directing, October 2018: 'The Art of Multi-Camera Directing short course gave me the confidence in both a creative and practical sense to step up from my usual role as a Vision Mixer to directing a crew and studio. Less than three months after completing the course I went on to direct a two-hour live music programme with eight cameras, two stages, and numerous bands and musicians (BBC Scotland Hogmanay Live). I recommend NFTS Scotland to anyone, no matter what stage of their career they are in.'
Jack Deslandes – Camera Assisting (Alan McSheehy), November 2018:
'I really enjoyed the course and have since got experience as a 1st AC and a paid job as an Operator on indie productions. I'm now at work experience with a production company and when helping someone move a camera into the building I managed to get talking to him and he's requested me as his trainee on an upcoming Netflix project. The accreditation has really given me the confidence to approach these people and ask for these roles.'