Dr Alex Connock, Head of the Creative Business MA at the National Film & Television School, gives his predictions for the media sector in 2022.
It's a dangerous world out there.
But let's say the UK, sixth largest military in the world, were to gamble, and mothball its two aircraft carriers, four nuclear-strike submarines, surface ships and tanks, then make the whole army redundant, and confine the air force to base.
Fully focussed on entertainment, the now entirely-undefended nation would have saved enough cash to fund just half of what the top 8 US media groups alone are shelling out this year on making TV.
That's how globally significant the content production industry has become in 2022.
Not the Last of the Big Spenders
The major players in streaming have the momentum of hypersonic missiles. Netflix is spending a remarkable $17 billion on programming this year, nearly double two years ago, and such has been its global subscriber growth (America has flatlined) that it still expects to break even or better. Disney is spending $33 billion, including its sports investments, after stellar subscriber growth on launch (and to get beyond its core audience).
To deliver that tsunami of content is an industry that is maxed out on every level in the UK. Studios like Pinewood and Shepperton, virtual studio sets (being used for everything from Game of Thrones follow ups to The Mandalorian), major actors, production managers, editors, special effects - you name it, they're in demand, and their prices are rising. For thousands of workers, it's a career-adrenalising moment.
But there is an even bigger beast on the horizon.
See you in The Metaverse
The notion of an always-on virtual world has gone from something geeks talked about in obscure Reddit forums, to mainstream. It was the dominant topic at this year's Consumer Electronics Show in Las Vegas. It's a transcendent new technology which is set to revolutionise video games, cinema, TV, social media, audio, live events and almost all other facets of social and business interaction. It's big enough for Facebook to have renamed the $912 billion company for it (to Meta Networks).
The only small problem is that almost none of it works - yet. We don't have a seamless interface.We haven't solved the inherent philosophical problems. At a virtual meeting where one person has blocked another, who sees who? Will the rival Metaverses of (say) Roblox and Facebook inter-operate seamlessly?
And above all, we don't really have any wearable mass-market headset technology. Even the Oculus 2 is clunky kit without the mass-market appeal of an iPhone. Apple are reportedly bringing out augmented-reality ski goggles this Summer: perhaps that will be a breakthrough moment. Succeed or fail: 2022 will be a big year for the Metaverse.
Succession of Subscription
If there is one thing everyone in media and tech can agree on, it's that subscription models are the place to be in 2022. They call it a 'flywheel': where more subscribers fund more content, driving more subscribers. It's much more reliable than TV advertising (vulnerable to the economic cycle) or programmatic digital advertising (vulnerable to being based on viewers numbers that are completely unreliable or unsuitable).
Subscription models are driving the big players - Amazon Prime, Netflix, Adobe, Apple TV+ and Apple Music, Spotify and many more. And this is set to continue.
The New York Times has led the way globally on re-inventing the newspaper business model with subscription, rising from 799,000 digital subscribers in 2014 to 5.65 today. (The Finacial Times has also done a spectacular job, achieving a similar transition in the process from quality local newspaper to global platform.) The New York Times has now bought another subscription-driven startup, the sports paper The Athletic, for $550 million, even though it is loss making. There are even new, subscription driven start-ups in news journalism for the first time in decades: Substack-style operators like Puck or The Information getting funding.
AI
Artificial Intelligence - that's technologies like neural networks, deep learning, computer vision, natural language processing - is fundamentally changing every sector of the media. It's doing so in ways you don't even notice. Any given photo you take on your iPhone has been through up to 12 layers of machine learning before you even look at it. And it has barely started.
AI has debated its own ethics, written a novel in the style of Hemingway, produced a new Sinatra and Eurovision songs, an finished a Beethoven Symphony.
In movie production alone, it is being used to analyse scripts and recommend which should be made; to drive the background imagery in huge virtual sets; to create special effects; to digitally market the finished product to exact right customer segments for each film; to optimise the films offered to each customer in their personalised Netflix homepage, as well as even the imagery they are shown from the movie; and to optimise the streaming bandwidth at global scale as millions try to watch Squid Game simultaneously. And that's just one of two dozen categories of media which are being equally revolutionised, from music touring to social video commercial placements.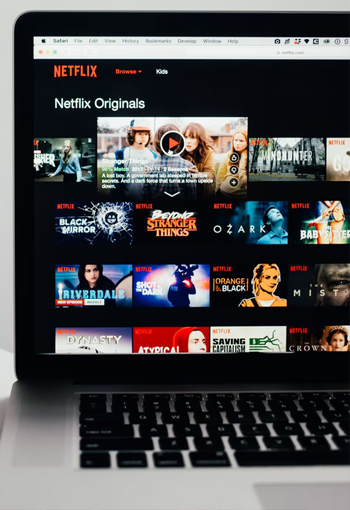 Fun to study this stuff
Constant turmoil, relentless growth, companies smashed up by technology change, amazing content, amusing gadgets, and TV shows everyone on the bus has heard about: this is an extraordinary field to study.
On our Creative Business Masters course at The National Film and Television School we get to know and understand the changing business models, and figure out how to join and exploit them. This story has never been more gripping.
Final places remain for the NFTS Creative Business Masters to start this January!
Location Beaconsfield
Duration 2 years
Commitment Full-time
Next intake January 2022
Application deadline Last Few Places Available

Scholarships available
Find out more and apply today!
nfts.co.uk/creative-business
#NFTS