The NFTS is delighted to present the trailer for BBC Film and NFTS 'Bridge to Industry' short film, The Passenger, starring Conrad Khan, a BAFTA Rising Star nominee and Screen International Star of Tomorrow.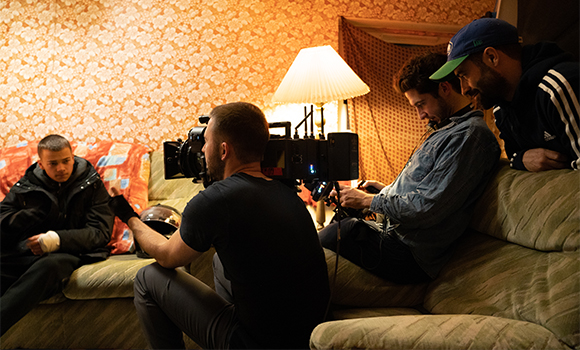 Exploring the lives of three siblings caught in a world of moped crime in London, The Passenger tells the story of one action-packed, emotionally charged night when a debt becomes too much for two brothers to handle.
The film was made by a team of NFTS graduates, led by Director Roland Kennedy, Screenwriter Eoin Doran and Producer Miranda Ballesteros, from a story by Roland Kennedy and Eoin Doran. Cinematographer Dan Atherton recently won the British Society of Cinematographers' Short Film Cinematography award for his work on the short.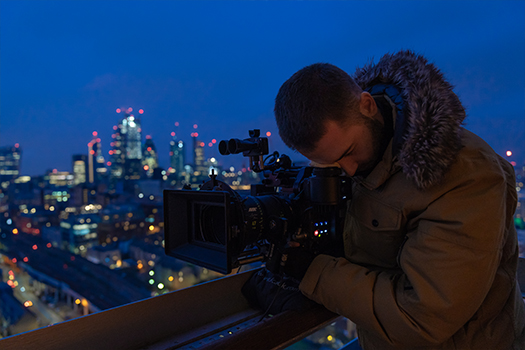 The Passenger was made through the NFTS 'Bridge To Industry' initiative with BBC Film, a scheme which supports new talent to further develop their skills and to forge relationships with the screen industry. Following a call for applications from NFTS graduates, a panel from BBC Film and the NFTS considered all the submissions and selected The Passenger as the winning pitch.
The selected team of graduates benefited from creative development advice from BBC Film Commissioning Executive, Eva Yates, Development Executive, Dionne Farrell and NFTS Executive Producer Venetia Hawkes.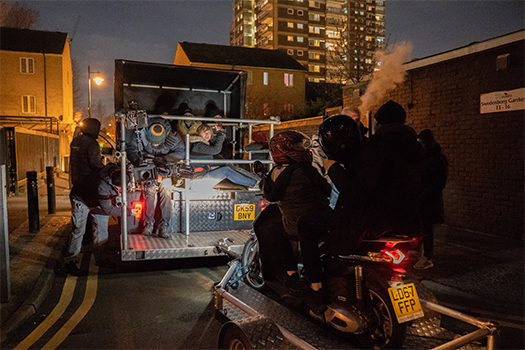 Roland Kennedy, Director of The Passenger, said: "The whole process really has been wonderful. We were guided by BBC Films and NFTS commissioners and learnt great habits that we can take with us into our burgeoning careers. The Passenger was a great reminder of the collaborations we form both during our time at the NFTS and through the alumni network. The film hopefully highlights the incredible talent in front and behind the camera who I was lucky enough to work alongside. We're very grateful to the BBC Film and NFTS Bridge to Industry scheme for supporting us to make it."
Two further short films by teams of NFTS graduates are in development with BBC Film as part of the NFTS Bridge to Industry scheme. Original Skin, directed by Mdhamiri A Nkemi, Screen International Star of Tomorrow and editor of Blue Story and The Last Tree, and produced by Sabina Smitham; and Shé (Snake) written and directed by Renee Zhan and produced by Jesse Romain, following a multi-award winning collaboration on their NFTS graduation film, O Black Hole!
It is intended that after a window of time to compete in festivals, shorts made through the scheme will be available to watch on BBC iPlayer.
Keen to know more about The Passenger? Read a Q&A with film's award winning Cinematographer and NFTS graduate Dan Atherton in Cinematography World.
The Passenger credits:

Crew
Director Roland Kennedy
Writer Eoin Doran
Producer Miranda Ballesteros
From a Story By Eoin Doran and Roland Kennedy
Editor Sofie Alonzi
Cinematographer Dan Atherton
Production Designer Isobel Dunhill
Supervising Sound Designer Tom Jenkins
Composer Tim Morrish
Casting Director Kharmel Cochrane
Costume Oliver Cronk
Make Up and Hair Wiktoria Deero
1st Assistant Director Kate Hartnoll
Production Manager Elisa De Pasquale
Production Coordinator Rowena Woolford
Sound Recordist Tom Osborn, Barney Brookes
Boom Operator Chi Limpiroj
Sound Effects Editor Morgan Muse
ADR Recordist Nick Roberts
Foley Foley Walkers
Re-Recording Mixer Simon Hill
Music Supervisor Bridget Samuels
Stunt Coordinator Elaine Ford
VFX Artists Saruta Pisanwalerd, Colin Smith
Digital Colourist Jodie Davidson
Head of Production Support Zlata Hume
Head of Health & Safety Simon Mallin
Bridge to Industry Coordinator Stephanie Webster
Legal and Business Affairs Manager Helen Giles
Production Executive Emma Kayee
Development Coordinator Yero Timi-Biu
Executive Producers Eva Yates, Venetia Hawkes, Jon Wardle

Cast
Gus Conrad Khan
Marcel Badger Skelton
Dee Dee Leo Topalov
Jodie Maisie Vi Mainstone
Driver Thomas Greaves
Places are available on NFTS MA, Diploma and Certificate courses starting September 2021 and January 2022.
Visit nfts.co.uk/courses to start your journey to #StandOutwithNFTS
#NFTS
25/03/21