A trio of NFTS graduation films have been shortlisted for the 2019 BAFTA student Film Awards in Los Angeles - Azaar directed by NFTS Directing Fiction MA graduate Myriam Raja and produced by NFTS Producing MA graduate Nathanael Baring; Heatwave directed by NFTS Directing Animation graduate Fokion Xenos and produced by NFTS Producing MA graduate Priya K. Dosanjh; and November 1st directed by NFTS Directing Fiction MA graduate Charlie Manton and produced by Teodora Shaleva have all been shortlisted for the annual event, which this year, takes place on Tuesday, July 9th at The Broad Stage in Santa Monica, CA.
The three films have been shortlisted out of over 568 submissions from film schools from all across the world.
"We take immense pride in our unwavering support of emerging student filmmakers from around the globe year-round," said BAFTA LA CEO, Chantal Rickards. "We are delighted that this year, having received a record number of submissions, we will not only be able to recognize students' achievements but also fund deserving student film projects with the BAFTA-GSA Commissioning Grant.
Azaar: A coming of age story set amongst a small mountainous tribe of women in 19th century South Asia. Azaar tells the story of a spirited young girl who yearns to wear a veil and become a woman, despite the costs this may entail.
Team:
Director/Screenwriter Myriam Raja; Producer Nathanael Baring; Cinematographer Michael Filocamo; Assistant Directors Oliver Brown, Yelena Guillen Ortega; Production Designer Lauren Taylor; Production Manager Julia Jendrysik; Editor Stella Heath Keir; Production Sound Mixer Chi Limpiroj; 1st Assistant Sound Robert Wynne; Sound Designer/Dubbing Mixer Ben Goodall; Composer Roshan Gunga; CG Lead Ysabel King; Colourist And Online Editor Liz Glennard
Heatwave: In the midst of a searing heatwave, two little children find a way to cool everyone down.
Team:
Director/Writer Fokion Xenos; Producer Priya K. Dosanjh; Cinematographer Brendan Freedman; Production Designer Antonio Niculae; Production Manager Joseph Phillips; Editor Stella Heath Keir; Sound Designer/Dubbing Mixer Kevin Langhamer; Composer Andreas Gutuen Aaser; Marketing and PR Alexandre Ermakov; Model Makers Thanos Kantzavelos, Harry Saxon; Colourist And Online; Editor Liz Glennard
November 1st: A mother and daughter travel across state to witness a long-overdue execution.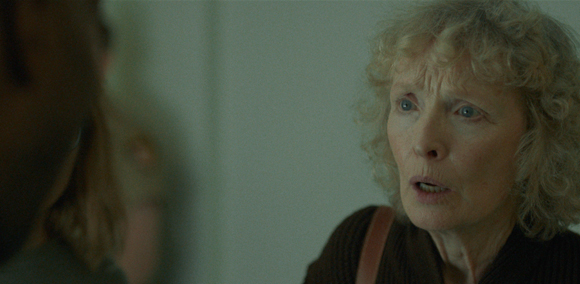 Team:
Director/Screenwriter Charlie Manton; Producer Teodora Shaleva; Cinematographer Molly Manning Walker; Production Designer Theo Boswell; Production Manager Madeleine Sara; Editor Celina Øier; Production Sound Mixer Carys Ellis; 1st Assistant Sound Ryan Beauchamp; Dubbing Mixer Adam Shuttleworth; Composer Thomas Ross Fitzsimons; CG Lead Paul Robinson; CG Artists Roxana Loncea, Jan Karnkowski, Beatrice Mikulskyte; Lead Compositor Ysabel King
The BAFTA Student Film Awards is an annual event celebrating the works of the next generation of talented and innovative filmmakers in animation, live action and documentary filmmaking. Featuring an evening of student films selected by a panel of industry professionals, the best films in each category will be chosen on the night for four top prizes – the BAFTA Student Film Award for Animation presented by LAIKA, the Student Film Award for Documentary, the Student Film Award for Live Action Film, and the Special Jury Prize, selected by the event's panel members.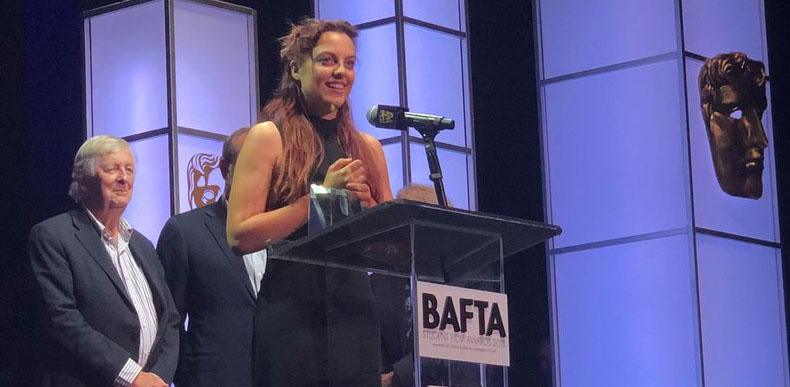 In 2018, NFTS graduation animation, Inanimate, directed by Lucia Bulgheroni and produced by Lennard Ortmann won the Special Jury Award whilst NFTS Directing Animation MA graduate, Paloma Baeza and Producing MA graduate, Ser En Low both took home Short British Animation BAFTAs for Poles Apart in 2017.
If you would like to follow in our students' footsteps, please visit www.nfts.co.uk/animation and www.nfts.co.uk/fiction for more information.