22 September 2021: The NFTS is incredibly proud to announce that two NFTS short films Birthday Boy and Dragged Up, have been selected for the Iris Prize LGBT+ Film Festival!
The films were made as part of the School's Bridge To Industry initiative which provides opportunities for its students and graduates to fulfil ambitious short film projects outside of the School curriculum.
Birthday Boy follows the story of a transgender teenage boy who finds friendship in online games, away from the bullying he faces at an all-girls private school. On the day of his 16th birthday, the bullying takes an unfortunate turn for the worse.
Made by an LGBTIQA+ crew the film was successfully crowdfunded and finished shooting in December 2019. Writer and Producer James Bell spoke on behalf of the whole team saying; "When we first started to write Birthday Boy, we hoped to create a film that could help even just one LGBTQ+ person to feel seen. We are so honoured to now be nominated for the prestigious Iris Prize, and as a result have our work shared to larger audiences than we could have ever dreamed. We are humbled by the NFTS Bridge to Industry for giving us the chance to make it happen, and grateful to everyone that has helped us on our journey."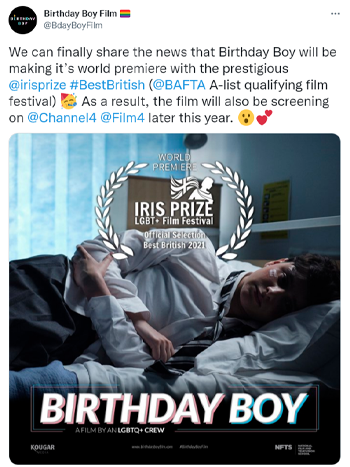 NFTS Crew

Director/Producer/Writer Leo LeBeau
Producer/Writer James Bell
Line Producer - Emanuela Borruso
Production Coordinator - Fabiana Tesauro
Director of Photography - Michael Filocamo
Production Designer - Ellen Beaufoy
Editor - Will Winfield
Sound Designer - Adam Shuttleworth
Composer - Saul Bragman
Sound Mixer - Sam Jenkins, Griff Miles
Colorist/Online Editor Marco Valerio Caminiti
Script Supervisor Michela Minciotti
Assistant Directors Mathilde Levesque, Mireia Gonzalez
Floor Runner Felix Cole
Crowd Grace Nicholls
Boom Operator Griff Miles, Jake Hickey
2nd Boom Luise Guertler
Production Assistant Ivonne Jofre, Holly Androlia, Pia Kaiser
Described as "a film for the outsider in all of us", Dragged Up is a comedy drama about family, identity and drag that sees a shy and awkward tomboy use drag to find the inner confidence she needs to show her family who she truly is. Another film that was fundraised via NFTS Platform! on Kickstarter during 2020, Dragged Up will also be premiering at Encounters Film Festival and will be available to watch throughout September at encounters.film.
Writer/Director Laura Tunbridge said; "The NFTS's Bridge to Industry scheme was without doubt a defining part of my experience at the school. Having the opportunity to direct Dragged Up taught me new, invaluable skills and helped me continue to improve as a writer. With the support of the Bridge to Industry scheme I was able to take my idea all the way from script to screen for the first time and I am so proud of what Dragged Up's incredible cast and crew have achieved.
To have been selected for the Encounters Film Festival and to be nominated for the Iris Prize Best British Short is such a huge honour and is a reflection of the faith and support that myself and the team received from the NFTS while making the film. Without the guidance and encouragement of Venetia Hawkes, Myf Hopkins and Jon Wardle, Dragged Up would not exist. I'm so grateful that the Bridge to Industry scheme provides an opportunity for students, like myself, to push themselves out of their comfort zones and direct for the first time."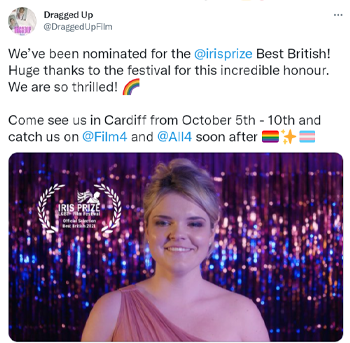 NFTS Crew

Writer/Director Laura Jayne Tunbridge
Producer Danielle Goff
Cinematographer Arushi Chugh
Production Designer Milly White
Editor Lesley Posso
Composers Alastair MacNamara, Joseph Stevenson, Athena Varosio
Sound Designer Miles Sullivan
Colourist Nigel Tadyanehondo
Production Manager Kate Mant
Production Sound Mixer Luise Guertler
1st AD Jeanne Veldhoen
2nd AD Grace Nicholls
Production Co-Ordinator Kristín Ósk Sævarsdóttir
1st Assistant Sound Kim Bradfield
Graphics and Titles Isabella Walker
If you'd like to get access to incredible opportunities like this then head to nfts.co.uk/places-available to apply for one of our incredible courses today!
#NFTS