The NFTS is excited to announce that two projects have been selected for a new Immersive Bridge to Industry initiative with StoryFutures Academy, the UK's National Centre for Immersive Storytelling run by the NFTS and Royal Holloway, University of London.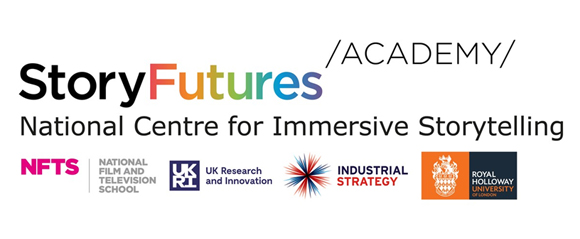 The initiative gave NFTS 2021 graduating students from all specialisations including Documentary, Science and Natural History, Fiction, Factual Entertainment, Animation and Games Design, the opportunity to make an Original Immersive Experience or Immersive Extension to their Graduation project, with budget provided by StoryFutures Academy.
The two selected projects are Network (working title), an original immersive experience about the interconnectedness of forest ecosystems expressed through abstract art and Pigeons Virtual Reality (working title), an immersive extension of a 2021 graduate animation Do Not Feed The Pigeons which puts viewers in the midst of the story, giving them the ability to experience the beauty that can be found in the seemingly mundane.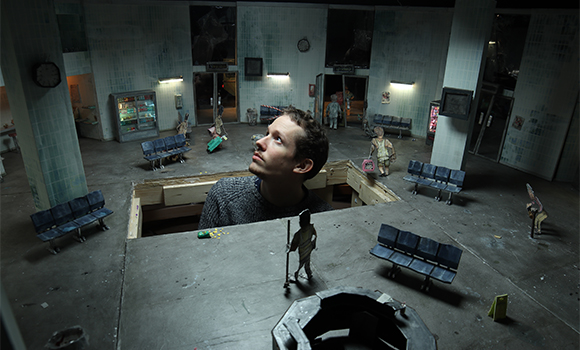 The two teams of NFTS graduates will now start production with the support of NFTS staff including NFTS Senior Immersive Technician, Johnny Johnson, NFTS Head of Games Alan Thorn, NFTS Executive Producer Venetia Hawkes and Head of Immersive at NFTS and StoryFutures Academy Becky Gregory-Clarke. Becky Gregory-Clarke said "It has been fantastic to see that immersive storytelling has sparked the imaginations of so many students at the NFTS. The VR projects we selected are very different, but are really exciting examples of how immersive can give you a whole new perspective on a story. Both teams have great talent and brilliant ideas, so I have really high hopes for both of them!"
Alan Thorn added: "The immersive landscape is fast moving and full of high-impact possibilities. I'm truly excited that the excellent projects of Network and Pigeons Virtual Reality have been selected and can now move directly into production. The teams behind them are incredibly talented and knowledgeable graduates from the NFTS. And together their projects represent innovative and exciting visions that promise to be outstanding experiences, which push the boundaries of creative technologies."
Find out more about the films below:
Network

Network Concept Art


Synopsis:
Inspired by the interconnectedness of the universe, this experience is an artistic interpretation of the way that trees communicate through a vast underground network of fungus. From stardust to seedlings across the universe, an exploration of the ways in which we are all connected.

NFTS Crew
Director - Christine Saab
Producer - Michelle Brøndum
Art Director - Leto Meade
Games Designer - Kamal Shaddad
Games Designer - Guy Sargent
Composer - Alastair McNamara

"As a team, we are incredibly excited to be given the opportunity to bring our idea to life. We want the audience to come out of this experience feeling wonderful about being alive in this world, and we feel that VR is integral in doing this. It will allow the audience to see our world from a completely different perspective, one that isn't a singular human perspective, but rather one that reflects the idea that every tree, every atom, every being is connected to one another." Christine Saab, Director

Pigeons Virtual Reality

Making of Do Not Feed The Pigeons


Synopsis:
Even in a lonely, revolting and boring place, a little bit of harmony can always be found. One sits on one´s sole seat, surveying the station's bedraggled former splendour, happily surrendered to the sense that, though a coach station may be a very ordinary and busy place, music and city pigeons will find a magic that will echo between the building´s peeling walls.

NFTS Crew
Director - Antonin Niclass
Producer - Jordi Morera
Production Designer - Eve Finnie
Lead Developer - Roel van Beek
Composer - Fabio Amurri
VR & Games Consultant - Guy Sargent
VR & Development Consultant - George Profenza

"We are thrilled to have been chosen for the StoryFutures Academy Bridge to Industry scheme. We are going to create an immersive experience that will focus on the hidden beauty behind ugly, sad and unfamiliar places. It´s a really exciting opportunity for the team to learn and experiment on how to translate a stop motion animation with a physical set and characters into virtual reality." Jordi Morera, Producer

Watch the trailer for Do Not Feed The Pigeons graduation film below, which inspired the Immersive piece!

Graduating Crew
Director - Antonin Niclass
Producer - Jordi Morera
Screenwriter - Vladimir Krasilnikov
Cinematographer - Taylor Shulin
Production Designer - Evelyn Finnie
Production Managers - Jodie Ferguson, Toni Winston Lead Model Maker Agatha Roudaut
Model Makers - Jana Arni, Maria Collado Bonú, Mara Frampton, Angela Merlo Quartaroli, Beth Slater, Claire Smithson, Bethany Williams Editor Lorene Dewett
Motion Graphics and Titles Designer - Giordana Tallarita
Sound Designer/Dubbing Mixer - Joe De-Vine
Composer - Fabio Amurri
VFX Supervisor - Pietro Abati
VFX Producer - Jake Calcutt
Compositors - Carina Carlsson, Pietro Abati, Sam Pearson, Siân Drury
Colourist And Online Editor - Alex Coveney
You can find out more about the NFTS Bridges To Industry initiative on our website: nfts.co.uk/bridges-industry.
If you want access to brilliant opportunities like this one, head to nfts.co.uk/courses to find the course that's right for you.
#StandOutwithNFTS
07/05/21