Monday 7 February: The British Academy of Film and Television Arts (BAFTA) has announced the nominations for the 2022 EE British Academy Film Awards. The National Film and Television School (NFTS) is proud to announce we have ten alumni nominations on the list, with two of the three films nominated in the British Short Animation category 2021 NFTS graduation productions!
BAFTA highlights the very best in film and it's an outstanding result to see projects made by students during their time at the NFTS holding their own in competition with big players in animation.
Do Not Feed The Pigeons takes a unique look at a cold, depressing coach station at 2am to create an animation that finds magical in the mundane.
Night Of The Living Dread follows Ruby through a comedic and relatable story as she is haunted by her past self's most embarrassing moments, with narration by the incredible Stephen Fry.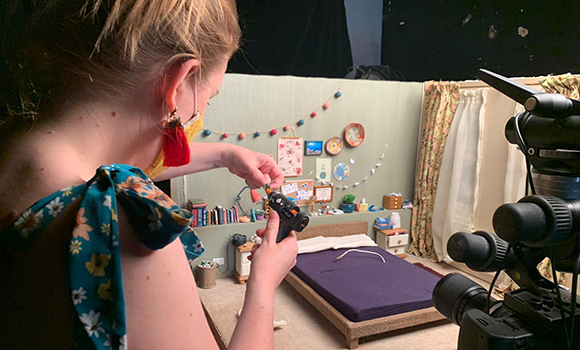 Qualifying shorts had to meet BFI Diversity Standards, which aims to boost diversity in film production. The films have already been doing the festival rounds since they premiered at the NFTS Graduation Showcase in May 2021, with both films being selected and winning awards at multiple festivals including London Short Film Festival, Angers European First Film Festival, Fantoche and Clermont-Ferrand International Short Film Festival.
Watch the trailers and see NFTS BAFTA nominated crew

Synopsis
When a power cut ruins Ruby's bedtime routine, she finds herself haunted by some unwanted guests. The only way for Ruby to get a peaceful night of sleep is to confront her visitors.

Cast/Voices
Ruby Jessica Dennis
Baby Ruby Romy Hayhurst
Meditation Guru Stephen Fry

NFTS Crew
Director Ida Melum
Producer Danielle Goff
Screenwriters Laura Jayne Tunbridge, Hannah Kelso
Cinematographer Charlie Jenkins
Production Designer Milly White
Production Manager Kate Mant
Lead Model Makers María Collado Bonú, Angela Merlo Quartaroli
Model Makers Jana Arni, Mara Frampton, Jack Samuel Morgan, Agatha Roudaut, Beth Slater, Claire Smithson, Jonathan Thrower, Bethany Williams
Editor Lesley Posso
Sound Designer/Dubbing Mixer Miles Sullivan
Composer Joseph Stevenson
Lead Animator Rich Farris
VFX Supervisor Siân Drury
VFX Producer Carina Carlsson
Compositors Pietro Abati, Carina Carlsson, Siân Drury, Sam Pearson
Colourist/Online Editor Marco Valerio Caminiti


Synopsis
In a coach station, around 2am, a collection of lonely and tired travellers are waiting for the coach. Somehow, in that cold and depressing place, the resident pigeons manage to create a magical connection between them for a beautiful instant.

Cast/Voices
Amy Loughton, Brian Ward

Graduating Crew
Director Antonin Niclass
Producer Jordi Morera
Screenwriter Vladimir Krasilnikov
Cinematographer Taylor Shulin
Production Designer Eve Finnie
Production Manager Jodie Ferguson
Lead Model Maker Agatha Roudaut
Model Makers Jana Arni, María Collado Bonú, Mara Frampton, Angela Merlo Quartaroli, Beth Slater, Claire Smithson, Bethany Williams
Editor Lorene Dewett
Motion Graphics and Titles Designer Giordana Tallarita
Sound Designer/Dubbing Mixer Joe De-Vine
Composer Fabio Amurri
VFX Supervisor Pietro Abati
VFX Producer Jake Calcutt
Compositors Carina Carlsson, Pietro Abati, Sam Pearson, Siân Drury
Colourist And Online Editor Alex Coveney
Continuing through the BAFTA nominations, three female NFTS alumna have also been nominated.
Clio Barnard | Best British Film | Ali & Ava
Krysty Wilson-Cairns | Best British Film | Last Night In Soho
Una Ni Dhonghaile | Editing | Belfast
Huge congratulations to the well deserving trio of Clio, Krysty and Una!
Everyone at NFTS will have our fingers crossed for the nominees and looking forward to 13 March 2022 when the winners will be announced. We'll also be rooting for the countless other films nominated featuring NFTS graduate involvement.
See all of the nominations here: bafta.org/film/awards/2022-nominations-winners
#NFTS