'Unexpected Journeys', programmed by Giada Liu, is part of a series of film programmes curated by finalist students from the NFTS MA in Film Studies, Programming and Curation, led by Sandra Hebron. The season comprises eight exhibition projects, which will take place between September and December 2018. They range from themed programmes and national cinema seasons to expanded cinema and online initiatives.
Unexpected Journeys is a film programme introducing and celebrating Magical Realism in Chinese cinema. There are four films from mainland China that explore and challenge the limits of realistic storytelling, either aesthetically or narratively. They combine realism with imagination, absurdity and fantasy, creating a 'new vision' of reality that highlights Chinese filmmakers' self-reflection in a drastically changing society.
We caught up with Giada to find out more:
What's the inspiration behind 'Unexpected Journeys'?
"I have always been intrigued by Magical Realism in different art forms, and how fantastic elements are used to address problems and opinions in the real world. It was first coined in post WWI Germany by the german historian Franz Roh to describe a new form of realism in paintings, where various artists employed realism satirically to reveal the true nature of social inequalities. Later on, Magical Realism is more often associated with Latin American literature, which then inspired a similar literary trend in China in the 80s called 'Root-Seeking'. These literary works eventually became a source of cinematic adaptations and inspiration in China, sharing the same nostalgia and sense of disorientation in a changing society. The ambiguous nature of Magical Realism aligns very well with Chinese cultural values, which I feel it helps Chinese filmmakers not only to express themselves more freely, but it also can be a way for them to revisit traditional Chinese culture and create something new out of it."
When and where will it be?
September 27th at Curzon Goldsmiths, there will be the screening of the visually spectacular and dreamlike second feature Crosscurrent (2016) by Yang Chao and one of Jiang Wen's witty and nostalgic creations The Sun Also Rises (2007).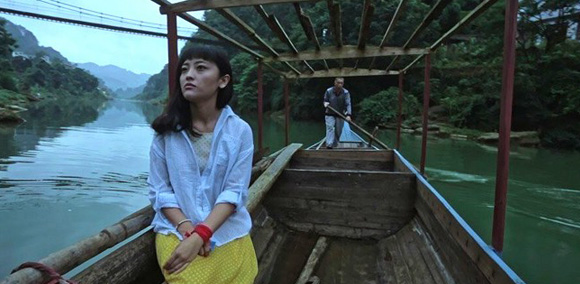 On September 30th at Rio Cinema, there will be the screening of the poetic journey in time Kaili Blues (2016), the first feature by one of Cannes favourite emerging Chinese directors Bi Gan and one of Lou Ye's romantic and mysterious breakthrough feature Suzhou River (2000) showing in 35mm, followed by a panel discussion.
Curzon Goldsmiths - 27 September
4PM - Crosscurrent
6.30PM - The Sun Also Rises
1PM - Kaili Blues
3.15PM - Suzhou River
More information at:
Facebook: @unexpectedjourneys2018
Instagram: @unexpectedjourneys2018
Twitter: @unexpectedjour2
Applications are open for the NFTS Film Studies, Programming and Curation MA until the 27th September and the course starts in January 2019 – more info and apply at www.nfts.co.uk/filmstudies
More content you may be interested in...