Thinking of applying to join the NFTS in 2022? With the countdown to Christmas on, we unwrap what you can expect from your time at the NFTS condensed into 12 days!
On the first day at NFTS...
You will start to see what over £900,000 worth of scholarship and funding contributes to. The NFTS is interested in talent and we want to ensure people from all backgrounds can attend so future talent feel the film, television and games industries are a place that welcomes and represents all. We know funding is a key way of making attending the School a possibility for every applicant, that's why we work hard to source funding and scholarships for students across the UK with the help of partners including Pinewood, the BFI, Channel 4 and BBC.
On the second day at NFTS...
You will join a course that, during your time of study, will train you to a high standard in your chosen specialisation in cutting edge, dedicated workspaces, making your student experience unparalled.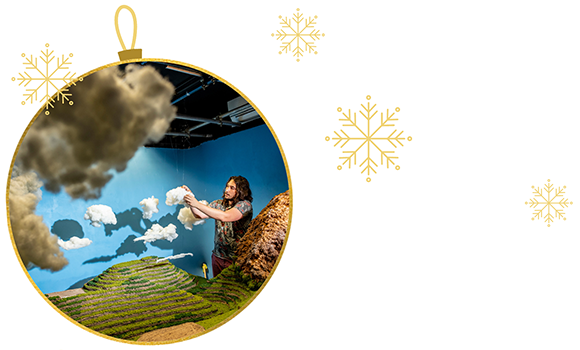 On the third day at NFTS...
You will meet your Heads of Department, tutors and supporting staff. Our courses are taught by industry professionals who are some of the most successful and distinguished filmmakers in the UK. All staff at the NFTS have a passion for film, TV or games and a passion for helping you succeed during your time with us.
On the fourth day at NFTS...
You will meet your fellow students. The people you meet at the NFTS can become the people you collaborate with for the rest of your working life. In the credits of Sex Education you can see multiple NFTS alumni working together including Laurie Nunn who created the show along with writer/director Alice Seabright. This was also the case with Nick Park, the creator of Wallace & Gromit. Nick met composer Julian Nott and sound designer Adrian Rhodes here at the NFTS and they still work together to this day.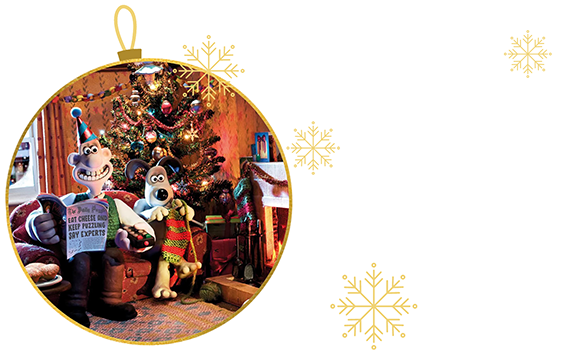 On the fifth day at NFTS...
You will explore the awesome facilities and equipment available. The NFTS is the only UK film School with its own bespoke film and television studios. Our students shoot on a range of different cameras including Alexas, along with having access to a wide range of lighting and sound equipment. We also have multiple stages for our students to build amazing sets on including our 7,000 sq. ft Main Stage and brand new Virtual Production facilities.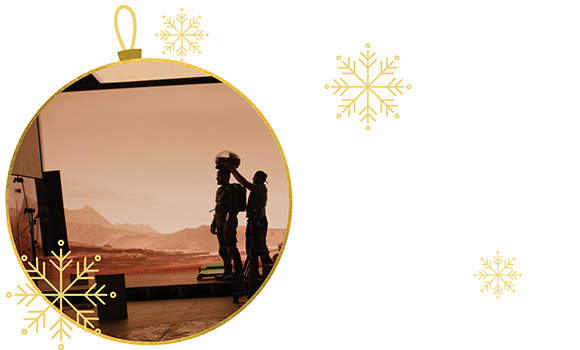 On the sixth day at NFTS...
You'll be blown away by the amount of teaching you have access to. At other institutions, typical postgraduate courses have an average of 8 hours of teaching per week. At the NFTS it can be 8 hours per day! We offer extensive training, taught in small groups for focused, intense and practical tuition, which is what will make you stand out in the industry.
On the seventh day at NFTS...
Who knows who you'll meet online or in person for an exclusive industry-renowned Masterclass! We have had some of the world's best film, television and games makers flow through the School, who make the time to encourage our students with their invaluable advice. Recent Masterclasses have included Denis Villeneuve (Dune), Krysty Wilson-Cairns (Last Night in Soho) and Google Vice-President & Head of Stadia Games, Phil Harrison.
On the eighth day at NFTS...
You'll experience our unparalleled links with industry. Major names in the film, TV and games industries get involved from funding to workshopping to mentorships. Companies like these and many more help with training and the funding of the School, which proves the value they hold in what we do here and recognises the impact our graduates have on their businesses and the shows they make.
On the ninth day at NFTS...
You might hear about one of your fellow students or a recent graduate winning a BAFTA, Academy Award or a Golden Globe! Not only does the School get recognised by prestigious institutions like BAFTA, which earns us spots on lists like The Hollywood Reporter's Top 15 International Film Schools year in year out, but this recognition and the recognition you will earn through the projects you make at the School will help you get noticed in the industry.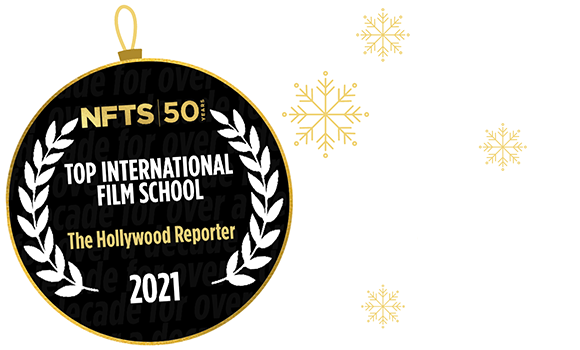 On the tenth day at NFTS...
You'll learn that if you work hard enough you're on the path to success. The NFTS is incredibly proud of the percentage of our students that go on to work in industry jobs within the specialisms they studied at the School. A very recent example of this are our incredible Model Makers, with our last cohort proving the course is a Golden Ticket to the Chocolate Factory with all of them already working on amazing productions like Wonka and Masters of the Air.
On the eleventh day at NFTS...
Watch an exclusive preview of an upcoming film before its official release date in one of our two state of the art cinemas. Recent screenings have included Encounter, Boxing Day, Cyrano and Dune!
On the twelfth day at NFTS...
You'll find out just how much the industry needs you. As a result of the pandemic, demand for content is higher than ever and therefore so is the demand for highly trained professionals to make that content! Film and television studios are being expanded and developed across the country and the UK games industry is growing at its fastest rate ever.
There has never been a better time to study at the NFTS!
Places are still available to start January/February 2022!
Don't miss your chance to kick-start your career.
Visit nfts.co.uk/places-available to start your application today.
#NFTS