The NFTS Black Society, the National Film and Television School's first ever official student society created by the Student Union, have been busy sharing some of their top recommendations for must see films by Black filmmakers or Black stories. Featuring older and newer titles, there's something for everyone, so take a look below and add them to your viewing list!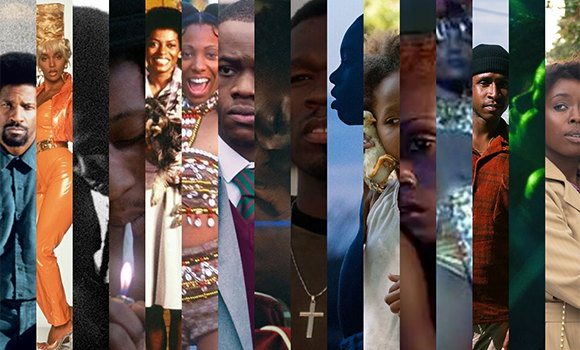 Diana's Picks:
HE GOT GAME
Writer/Director Spike Lee
A convict tries to convince his estranged star basketball player son to go to college so that the convict's prison term can be reduced in exchange.

B.A.P.S
Writer Troy Byer
Director Robert Townsend
Two tacky homegirls move to L.A. to become dancers; instead they scam a dying millionaire but eventually become B*A*P*S (Black American Princesses).
KILLER OF SHEEP
Writer/Director Charles Burnett
Set in the Watts area of Los Angeles, a slaughterhouse worker must suspend his emotions to continue working at a job he finds repugnant, and then he finds he has little sensitivity for the family he works so hard to support.

BABYLON
Writers Franco Rosso, Martin Stellman
Director Franco Rosso
The movie centres around Brindsley Forde's character Blue. He fronts a reggae sound system based in South West London (Brixton). The film captures the trials and tribulations of young black youths in troubled London in the early eighties.
THE WIZ
Writers L. Frank Baum (novel "The Wonderful Wizard of Oz") William F. Brown (book of the musical "The Wiz") Joel Schumacher(screenplay)
Director Sidney Lumet
An adaptation of "The Wizard of Oz" that tries to capture the essence of the African-American experience

BABYMOTHER
Writers Julian Henriques, Vivienne Howard
Director Julian Henriques
A single mother determined to make it as a singer puts together an all girl reggae group named Neeta, Sweeta, & Nastie with her friends. Living in a housing project with little support, the odds are obviously against her. Emotionally she struggles too as she learns at her mother's death that her actual mother is the woman she had thought was her older sister. With the help of a female agent, the group starts to get some exposure and rises above their setting.

Venetia's Picks:
BLUE STORY
Writer/Director Rapman
Editor Mdhamiri A Nkemi - NFTS Editing Graduate
ADR Editor Adele Fletcher - NFTS Sound Post Production Graduate
Feature adaptation of Rapman's YouTube series about two young friends who become rivals in a street war.
QUEEN & SLIM
Writers Lena Waithe, James Frey
Director Melina Matsoukas
A couple's first date takes an unexpected turn when a police officer pulls them over.

Chezley's Picks:

GET RICH OR DIE TRYIN'
Writer Terence Winter
Director Jim Sheridan
A tale of an inner city drug dealer who turns away from a life of crime to pursue his passion of rap music.

Solomon's Picks:

MOONLIGHT
Writers Barry Jenkins, Tarell Alvin McCraney
Director Barry Jenkins
A young African-American man grapples with his identity and sexuality while experiencing the everyday struggles of childhood, adolescence, and burgeoning adulthood.
BEASTS OF THE SOUTHERN WILD
Writers Lucy Alibar, Benh Zeitlin
Director Benh Zeitlin
Faced with both her hot-tempered father's fading health and melting ice-caps that flood her ramshackle bayou community and unleash ancient aurochs, six-year-old Hushpuppy must learn the ways of courage and love.

THIRD WORLD COP
Writers Suzanne Fenn, Chris Browne, Chris Salewicz
Director Chris Browne
A police officer returns to his neighborhood in Kingston, Jamaica to find himself in conflict with his childhood friend who is now the right-hand-man of the local gang-lord in a gun-running racket. Jamaica's highest-grossing film to date.
DANCEHALL QUEEN
Writers Suzanne Fenn, Don Letts, Ed Wallace
Directors Rick Elgood, Don Letts
A single street vendor disguises herself for a dance contest, and pits her enemies against each other.

THE LAST BLACK MAN IN SAN FRANCISCO
Writers Jimmie Fails, Joe Talbot, Rob Richert
Director Joe Talbot
A young man searches for home in the changing city that seems to have left him behind.

ATLANTICS
Writers Mati Diop, Olivier Demangel
Director Mati Diop
In a popular suburb of Dakar, workers on the construction site of a futuristic tower, without pay for months, decide to leave the country by the ocean for a better future. Among them is Souleiman, the lover of Ada, promised to another.

Lily's Picks:

LOVERS ROCK
Writers Steve McQueen, Courttia Newland, Rebecca Lenkiewicz
Director Steve McQueen
Sound Mixer Ronald Bailey - NFTS Sound Design Graduate
First Assistant Sound Nik Stojkov - NFTS Sound Recording Graduate
A single evening at a house party in 1980s West London sets the scene, developing intertwined relationships against a background of violence, romance and music.

Can't see your favourite film by Black filmmakers listed? Head over to Twitter or Instagram and let us know what titles you'd like to see included! (@nftsfilmtv)
#BlackHistoryMonth #NFTS