NFTS Scotland (the Scottish hub of the world-leading National Film and Television School) announces a new Working in Locations training course, which will run from 18th February to 8th March 2019.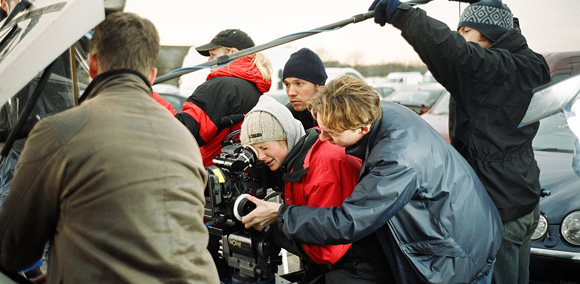 Aimed at newcomers as well as those with professional industry experience, the course has been created, developed and will be led by Lloret Dunn, a Supervising Location Manager with over 25 years' experience and whose extensive credits include World War Z, Patrick Melrose and T2 Trainspotting.
Scotland has seen an increase in production in recent years with both home-grown and international productions drawn to its' beautiful landscapes, culture and heritage, including Outlaw King, The Cry and The Wife. This boom promises to continue and needs local crew to be well-equipped to support the development and growth of the sector.
The Working in Locations course will run for three weeks, with each week concentrating on a different set of disciplines and includes masterclasses with a range of speakers from the locations industry. Participants can choose to attend throughout, or for just one week. There is also an option to attend on one of the three individual stand-alone days that will occur across the period. Designed to train new entrants as well as those at all levels in the industry, the course provides insider knowledge and insight into the lesser-known but vital role of the locations department by demonstrating how Locations connects with every department, and provides professional development to those looking to move up in the department.
Lloret Dunn, Supervising Location Manager and Working in Locations course leader says: "This highly practical and flexible course shows you what the industry expects from the locations team - and how to excel in providing it. Covering all aspects of the role including scouting, researching, negotiating with location owners and working with the police, roads and councils, the course will provide the essential structure for anyone wanting to be a part of this incredibly dynamic department."
Isabel Davis, Executive Director at Screen Scotland said: "Locations management is an essential part of screen production infrastructure, especially in Scotland, where our range of inspiring and diverse locations is such an asset. Our professional locations teams are partners in our ambition to attract a greater share of inbound film and TV production and are often the first point of contact for incoming production and the first experience international filmmaker have of working with Scottish crew. This course will deliver a new wave of promising Scottish locations talent to the industry."
Alison Goring, Head of NFTS Scotland, adds "With all of the current developments in the film and TV industry, and NFTS Scotland now firmly established as a local provider of world-class training in Scotland, our role is to support local talent to be fully skilled and ready to take advantage of new opportunities in the sector. We're also delighted to be offering bursaries, supported by the Scottish Government, to help new entrants, emerging and established practitioners to attend this course and access the wide range of expertise it offers.'
ScreenSkills, the UK industry-led skills charity for the screen industries has also identified Locations Managers as a priority skills area for support opening up further opportunity for practitioners to develop their professional practice at this crucial time.
Participants will also receive certificated Carbon Literacy training as part of the course to support the sustainability of the sector through reducing waste and environmental impact (provided by the BAFTA albert Consortium, a group supporting the screen art industry's transition to an environmentally sustainable future)
Working in Locations is one of several short courses NFTS Scotland offers to develop skills in the Scottish film and TV industry. Through the new hub, students can also access expertise across a wide range of specialist technical and craft areas including writing, directing, production management, camera, sound and editing among others.
For further information and to apply for Working in Locations, visit: www.nfts.co.uk/scotland or contact NFTS Scotland on scotland@nfts.co.uk
About NFTS Scotland:
Bringing the National Film and Television School's world class training and innovation to Scotland. Operating from BBC Scotland Pacific Quay, NFTS Scotland is the first hub of the National Film and Television School outside of Beaconsfield. The National Film and Television School is an acknowledged global leader in the provision of postgraduate, high-level, creative and technical skills for the audio-visual industries. The uniqueness of the School is defined both by its performance record, as measured by industry awards such as Oscars and BAFTA's, including the Outstanding British Contribution to Cinema BAFTA in 2018 and 95% graduate employment within six months of graduating. It has been cited by some media as one of the top five film schools globally and by one as the No.1 international film school. NFTS Scotland offers a range of bespoke courses designed to develop the creative talent and expertise of new entrants, graduates and people already working in Scotland's NFTS Scotland is keen to encourage applicants from a broad range of backgrounds. Thanks to Scottish Government funding, we are able to offer discretionary bursaries for our courses to those who are eligible.
Contact:
Abigail Howkins, NFTS Scotland Development Manager
07852 247 180 / ahowkins@nfts.co.uk

Vicky Hewlett, NFTS Head of PR and Communications
01494 731403 / vhewlett@nfts.co.uk