Character Animation
Explore this course
Key details
Duration 3 month course
Application deadline Contact Registry
Overview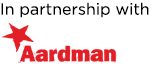 We will be taking a gap year from running our 12 week intensive Certificate in Character Animation course in partnership with Aardman this year.
Please continue to register your interest via info@nfts.co.uk and we will contact you next year with a date for applications.
In partnership with Aardman – the home of Wallace and Gromit, Shaun the Sheep, Early Man and more – this intensive 12-week course is taught by industry professionals at Aardman studios in Bristol.
The course aims to enable students to develop the core practical skills needed to become competent professional animators and to create believable characters through acting and performance. Each year it evolves with industry needs and best practice.
Students also attend specific Acting for Animation workshops, life drawing and yoga, supporting animation exercises designed to challenge and expand the students' repertoire of performance animation.
The course has an incredibly successful track record with over 80% of graduates having worked in the industry at studios such as Aardman Features, Animortal, Blink Ink, Blue Zoo, Jellyfish, Factory Create, Traveller's Tales and on the recent Wes Anderson Isle of Dogs feature film.
What you will study
This is a 12-week full-time intensive and practical course based at the Aardman studios in Bristol. The majority of the course is practical with students working on animation exercises to improve their skills, knowledge and experience.
Initially the course will focus on the core animation skills to ensure that students understand the key animation principles such as timing, weight and lines of action. These technical aspects of animation underpin character performance and are essential to enable students to achieve convincing performance. Further character-based performance exercises increase the understanding of Character Posing, Blocking and Plotting the action within the shot or sequence.
The course culminates in a short character animation sequence. This sequence will be created within the parameters of a realistic production schedule and will reflect the pressures of a live production. To complement the intensive animation training, students will have life drawing sessions, acting workshops as well as industry masterclasses.
Course Leader
The course will be led by Senior Animator Inez Woldman (Wallace & Gromit, Shaun the Sheep, Morph, Creature Comforts) .
Showcase
View a showreel of work completed by 2017 students on the course.
Entry requirements
Applicants do not necessarily need to have a university Bachelors degree to apply for this course, but must be able to clearly demonstrate a good level of animation ability, have a real passion for animation and be fully committed to a career in it.
If you are not an EEA National, you must already be in possession of a UK visa valid for the duration of this course. We are unable to accept your application if you do not.
If you have any questions, please email info@nfts.co.uk.
How to apply
Application deadline: Contact Registry
The application deadline has now passed, please join our mailing list if you would like to be kept up to date with NFTS news and updates
Applicants must supply the following:
Please provide links to your on-line show reel (clearly stating your role on each shot) and your portfolio of supporting work.