NFTS Alumni have over 130 credits on films screening as part of this year's BFI London Film Festival including the European Premieres of 'Saint Maud' and 'Calm with Horses' directed by NFTS alumni Rose Glass and Nick Rowland which are competing in the Best Film and Best First Feature categories.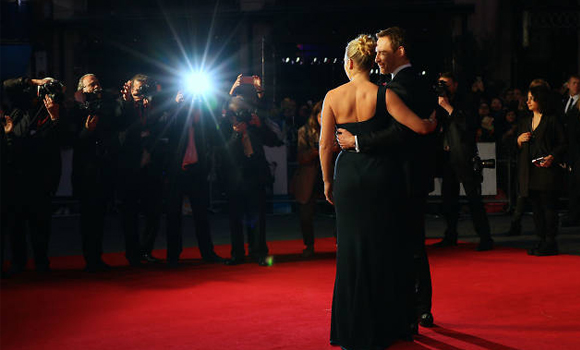 Other film with NFTS Alumni involvement in the Best Film and Best First Feature Category include 'Fanny Lye Deliver'd' (Produced by Zorana Piggott), 'Honey Boy' (Shot by Natasha Braier), 'Manos' (Written by Alexis Dos Santos), 'Make Up' (Produced by Emily Morgan).
In addition to the competition categories there are screenings of 'The Personal History of David Copperfield' (Edited by Peter Lambert); 'The King' (Co-produced by Iidiko Kemeny); 'The Two Popes' (Production Sound Mixer Stuart Wilson); 'Our Ladies' (Directed by Michael Caton-Jones); 'Rock' (Directed by Sarah Gavron); 'The Disappearance of My Mother' (Directed by Beniamino Barrese); 'Wet Season' (Directed by Anthony Chen); 'Muscle' (Shot by Stuart Bentley) and 'Shooting the Mafia' (Directed by Kim Longinotto).
In the Short Film category, we have 'White Girl' (Produced by Jesse Romain and Jack Casey) and the premiere of NFTS Kickstarter project 'End-O' (Directed by Alice Seabright and Produced by Kate Phibbs).
"The scale of the NFTS alumni involvement across the film this year is staggering" commented Jon Wardle, Director of the National Film and Television School, "We couldn't be more prouder of our alumni and the fantastic work they have produced this year".
Alumni involvement at the BFI London Film Festival:
In Competition:

Fanny Lye Deliver'd Producer Zorana Piggott; Sound Designer Steve Bond; Daily Runner Elliott Edwards (Best Film Award)
Honey Boy DoP Natasha Braier (Best Film Award)
Monos Co-Writer Alexis Dos Santos (Best Film Award)
Saint Maud Writer/Director Rose Glass; Art Director Isobel Dunhill (Best Film Award)
Calm with Horses Director Nick Rowland; Writer Joseph Murtagh; Editor Nicolas Chaudeurge; Supervising Dialogue Editor Morgan Muse; Rerecording Mixer/Supervising Sound Editor Matis Rei; Additional Editor Andonis Trattos (Best First Feature)
Make Up Producer Emily Morgan; Executive Producer Zorana Piggott; DoP Nick Cooke; Sound Mixer Sara Lima; Sound Designer/Supervising Sound Editor Ania Przygoda; Dialogue & Additional Effects Editor Maiken Hansen (Best First Feature)
Coup 53 Rerecording Mixer Martin Jensen (Documentary Competition)
Cold Case Hammarskjöld Additional Editor Erika Gonzales (Documentary Competition)
White Girl Producer Jesse Romain & Jack Casey; Editor Mdhamira Á Nkemi, Sound Recordist Chi Limpiroj (Best Short Film)

Other Screenings:

The Personal History of David Copperfield Editor Peter Lambert; Art Director Tom Goodwin; Assistant Set Decorator Violet Elliot; Additional Photography David Katznelson; Assistant Colourist Sara Buxton; Assistant Production Coordinator Simone Tomasi (Opening Night Gala)
The Aeronauts Graphic Designer Louise Begbie; Draughtsman Jelle Rebry; Rerecording Mixer Stuart Hilliker; Lead Compositor Ruochen Wang; 2nd Unit DoP/Camera Operator Gary Clarke; 2nd Unit Production Assistant Ed Fairweather (Mayor of London's Gala)
Hope Gap Digital Compositor Roni Rodrigues (Headline Gala)
The King Co-Producer Ildiko Kemeny; Art Director Kiera Tudway; Art Department Assistants Ewa Galak & Rosalind Gregoire; Key 1st Assistant Sound Tom Harrison; Assistant Production Co-ordinator Timea Huszar (American Airlines Gala)
Bacurau Editor Eduardo Serrano (Thrill Gala)
Official Secrets Bidding Co-ordinator Kieran Nolan Jones (Debate Gala)
The Two Popes Sound Mixer Stuart Wilson; 2nd Boom Operator Victoria Franzan (Journey Gala)
Blackbird Production Manager Hussain Casey-Ahmed; Sound Effects Editor Rob Turner (Special Presentation)
Krabi, 2562 Rerecording Mixer Philippe Ciompi (Experimenta Special Presentation)
Our Ladies Writer/Director/Producer Michael Caton-Jones; DoP Denis Crossan (Special Presentation)
Rocks Director/Executive Producer Sarah Gavron; Editor Maya Maffioli; Art Director Isobel Dunhill; Dialogue Editor Jussi Honka; Supervising Sound Effects Editor Gunnar Oskarsson (Special Presentation)
The Disappearance of My Mother Writer/Director/Camera Beniamino Barrese; Additional Photography Brian Fawcett
Nocturnal Line Producer Alexandra Breede; Co-Producer Chris Hees; Editor Andonis Trattos; Production Manager Lennard Ortmann; Sound Designer Maiken Hansen; Sound Recordist James de Taranto
Pink Wall Executive Producer Bob Portal; Sound Recordist Caroline Singh
Ordinary Love Supervising Dialogue & ADR Editor Ian Morgan; Dialogue Editor Morgan Muse
REAL Rerecording Mixer/Supervising Sound Editor Raoul Brand; Dialogue Editor/Sound Effects Editor John Cohen
Trigonometry [TV Episodes] Production Designer Stephane Collonge
Wet Season Writer/Director/Producer Anthony Chen; DoP Sam Care; Editor Hoping Chen; 2nd Assistant Director Ivan Tan; Sound Designer/Supervising Sound Editor Zhe Wu
Country Lines DoP Sverre Sørdal; Editor Paco Sweetman; Production Sound Mixer Juan Montoto Ugarte; Boom Operators Danny Richards & Doug Templeton
Lynn + Lucy Producer Camilla Bray
Days of the Bagnold Summer Production Sound Mixer Tarn Willers; Boom Operator Doug Templeton
Rare Beasts Editor Hazel Baillie; Dialogue Editor/Rerecording Mixer/Supervising Sound Editor Markus Moll; Boom Operator Tim Parris
Divine Love Editors Livia Serpa & Edouardo Serrano; Compositors Jorge Canada Escorihuela & Florentin Ionita; VFX Editor Roni Rodrigues
Little Joe Dialogue Editor Rainer Heesch
Muscle DoP Stuart Bentley
The Gold-Laden Sheep & the Sacred Mountain Composer Jered Sorkin
Monsoon DoP Benjamin Kracun; Sound Designer/Supervising Sound Editor Gunnar Oskarsson; Sound Effects Editor Christopher Wilson
Perfect 10 Writer/Director Eva Riley; Producer Jacob Thomas; Executive Producer Zorana Piggott; DoP Steven Cameron Ferguson; Editor Abolfazl Talooni; Composer Terence Dunn
The Thief's Daughter DoP Neus Ollé; Art Director Isona Rigau
Us Among the Stones DoP Annemarie Lean-Vercoe; Editor Claire Pringle
Shooting the Mafia [Doc] Director Kim Longinotto
A Family Affair Dialogue Editor Thomas Blazukas
End-O Director Alice Seabright; Producer Kate Phibbs; DoP Alana Mejia Gonazlez; Editor Stella Heath Keir; Production Assistant Pia Kaiser; 3rd Assistant Director Jeroen Cocquyt & Gabriel Lippe; Re-recording Mixer Adam Shuttleworth; Sound Recordist Bridget Bradshaw
Memoirs of a Geeza DoP Jonathan Flint
Let's Roll Sound Recordist Andrei-Tudor Grigore
Be Still My Beating Heart DoP David Liddell Production Designer Alexandra Toomey
The Trap DoP Jonathan Muschamp
Martha Writer Iona Firouzabadi
Our Sister DoP Molly Manning-Walker
Something In The Closet DoP Anna MacDonald
JerichO Composer Alexandra Harwood