NFTS Scotland Diploma: Production Accounting for Film and Television
Explore this course
Key details
Location Glasgow
Duration Sessions spread over 8 months
Commitment Part-time, 26 sessions
Next intake June 2022
Application deadline 18 Mar 2022
Begin your application
Overview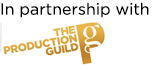 This part-time diploma course, delivered in partnership with the Production Guild, aims to equip students with the skills required for a career as a film or television Production Accountant.
This course aims to give students the expertise to succeed in this demanding role, as well as the opportunity to make key contacts to move to a career in the film and television sector. The course is run as a blended learning course with the majority of the sessions online with some face-to-face tuition in Glasgow over 10 months.
Production Accountants calculate finances, work out the cost of a production, communicate with financiers (companies or individuals who provide the funding) and control the cash flow, or spending. This is a demanding role that requires a level head, self-confidence and strong communication skills.
In pre-production, Production Accountants help the Producers and Production Managers to prepare budgets and Estimated Final Cost Reports.
During production, they oversee all payments, manage payroll, petty cash and foreign currency and keep accurate financial records. They help monitor budgets, analyse spending and provide daily or weekly cost reports. They also produce cost forecasts to evaluate the impact of any production changes.
The National Film and Television School Production Accounting Diploma is ideally suited for those already working in a finance / accountancy role and who are keen to move into the film and television sector. It is also suitable for those in more junior roles within Film & TV Production Accounts departments looking to move up.
The course will run every 2nd Saturday of the month (09:00-11:00am and 12:00-14:00pm), followed by an evening session on the last Monday of every month (6:45-8:45pm).
COURSE CONTENT
This course will cover:
Production set up and implementation of systems
Budgeting
Sources of finance and treatment of funds
Completion guarantors
Cash flow, forecasting and cost reporting
Working with inherited budgets
Working with multi-currency
Running the project
Contract and employment law
Copyright and licences
Taxation and insurance
Pre production, production and post-production
Production audits
Management skills
Where opportunities present themselves we would look at assisting students with work experience/production shadowing, however the NFTS recognises that in the current climate this may not be possible.
COURSE LEADER
The course is run by Neil Cairns, who has many years of industry experience as a production account. He has worked on films including The Inbetweeners Movie, T2 Trainspotting, We Need to Talk About Kevin and Shame.
Entry requirements
A proven interest in film and television production and an ability to work as part of a team are essential.
We would expect those applying to have academic or vocational qualifications in accounting or be able to demonstrate competency through work experience. Previous experience of working in an Accounts environment will be taken into account when considering applications.
If you are not an EEA National, you must already be in possession of a UK visa valid for the duration of this course. We are unable to accept your application if you do not.
How to apply
Application deadline: 18 Mar 2022
Applicants must complete the online application form and submit the following supporting materials:
Please tell us about the likely challenges of working as the Production Accountant on a low budget British Feature Film (no more than two sides of A4)
You can apply online by clicking on BEGIN YOUR APPLICATION below. We are happy to receive applications at any time up until the midnight of the application deadline date.
Begin your application