Event Date:
Sat, November 13, 2021 09:30 to 17:00
NFTS For You | Saturday 13 November | 9:30am – 5:00pm

The NFTS is proud to announce NFTS For You, a brand-new dedicated outreach day, to empower diverse future film, television and games makers, giving you the opportunity to learn more about the NFTS and future career options.


This is an in person event that will be held on site at the NFTS in Beaconsfield, Buckinghamshire.

Event Highlights
Industry panel
Q&A sessions
Film screenings
NFTS Alumni panel
Scholarship and funding information
"Having an event where people are invited in and saying, 'let's have an open dialogue' is a massive stride in the right direction - I'd love to have done it when I applied!" Solomon, current NFTS Producing MA student

Attendance is free of charge and refreshments will be provided throughout the day. A confirmed list of speakers and timetable will be posted on this page so keep checking back for more details!

At the NFTS, we are committed to increasing diversity within our student body, leading to a more diverse film, television and games industry.

We want to ensure that the film, television and games industries reflect the full diversity of our country and that those from ethnically diverse backgrounds are seen, heard and represented across all areas of the industry in which they work and shape.

Book your place now!
Applications to attend have now closed. If you wish to attend please email jbradburywalters@nfts.co.uk

How to claim travel expenses!


The NFTS is committed to ensuring individuals, especially those who are typically underrepresented in higher education and the film, TV and games industry, can attend NFTS For You without it causing financial difficulties.

We have a fund in place to help with travel expenses to and from this event. Please keep hold of any travel receipts/journey details and there will be an opportunity to submit your claim should you be eligible.
All payments are made on a discretionary basis and each case will be assessed individually.
Unfortunately it is not possible to claim for any food and drink costs.

To apply to claim back expenses please complete this form.

If you have any questions about the travel fund please contact our Head of Outreach: joe.bradburywalters@nfts.co.uk.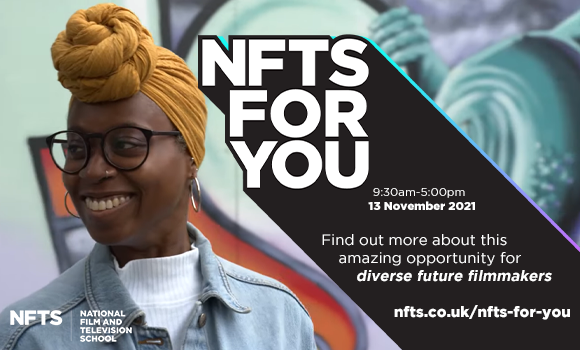 EXPLORE THIS EVENT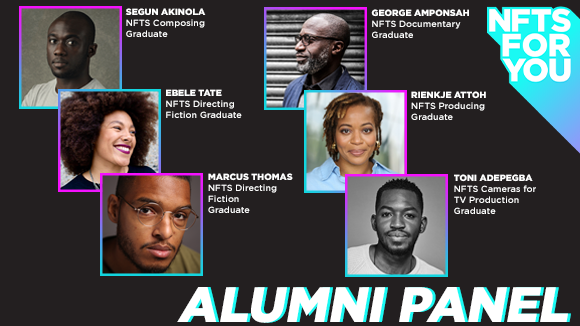 Find out more about the Alumni Panel!


Just about every major film or TV show has NFTS alumni listed in its credits. In the last 12 months alone, our graduates have worked on films and television series including; No Time To Die, Dune, Sex Education, Black Widow, Small Axe, Hunting the Football Trolls, Normal People, It's A Sin and Loki. Six of our alumni will be joining us at NFTS For You to talk to you about their journey to the NFTS and beyond!

(Left column)
Segun Akinola | Composing MA Graduate
Segun Akinola has strengthened many film and television projects with his musical acumen. He composed the score for Doctor Who, starring the first female Doctor, Jodie Whittaker. Segun's other work includes scoring Shola Amoo's The Last Tree, Apple and BBC co-production 9/11: Inside the President's War Room, ITV's Stephen and BBC Two's landmark series Black and British: A Forgotten History. His work has screened at acclaimed festivals like Sundance and the London Film Festival.

Ebele Tate | Directing Fiction MA Graduate
Writer, producer and director Ebele recently graduated from the Directing Fiction MA, where she was awarded a Channel 4 scholarship. Her graduation short, The Visit, screened at the BFI Woman With A Movie Camera Summit 2021. She is developing a slate of film and TV projects. As a working-class woman of Nigerian and English descent, she is interested in the intersection of gender, class, race and culture and in creating work which challenges the status quo from an authentic perspective.

Marcus Anthony Thomas | Directing Fiction MA Graduate
Having graduated from the NFTS Directing Fiction MA in 2021, Marcus was selected to be a part of the latest cohort of BFI Network's BAFTA crew. He is part of WarnerMedia mentorship programme as he moves closer to directing high-end TV and developing future film projects.

(Right column)

George Amponsah | Directing Documentary MA Graduate
Director George Amponsah was BAFTA nominated for his 2015 documentary The Hard Stop. He recently directed Black Power: A British Story of Resistance, a feature length documentary executive produced by Steve McQueen, currently streaming on BBC iPlayer. In 2019 George directed four episodes of Enslaved, a BBC series about the transatlantic slave trade presented by Samuel L Jackson.

Rienkje Attoh | Producing MA Graduate
In 2020 Screen International named Rienkje one of its Stars of Tomorrow. She is a BAFTA member and founder of independent production company So&So Productions. Her first feature credit was producing fellow NFTS graduate Shola Amoo's feature debut, A Moving Image. Rienkje has gone on to co-produce the widely acclaimed BBC adaptation of Malorie Blackman's Noughts + Crosses and the upcoming BBC/Netflix drama You Don't Know Me, starring Bukky Bakray.

Toni Adepegba | Cameras, Sound and Vision Mixing Diploma Graduate
Toni graduated from the NFTS Camera, Sound and Vision Mixing Diploma in 2016. Since graduating, he has been working at Sky as a Camera & Jib Operator on a variety of different studio & OB (outside broadcast) shows - from Sky News to Monday Night Football.

Find out more about the Industry Panel!


The NFTS has close connections with the industry including partnerships, funding and mentoring, showing that they value what we do here and recognise the impact our graduates have on their businesses and the shows that they make.

We are delighted that during this session you will get to meet the following industry professionals...

(Left column)
Max Park
Max Park is a Development and Production Executive at Film4, the feature film division of Channel 4. He works across a slate of films from both new and established filmmakers, including Will Sharpe's The Electrical Life of Louis Wain, Michael Pearce's Encounter, and Lucile Hadžihalilović's Earwig. He started his career at Film4 as a development assistant.

Dionne Farrell
Dionne is a Development Executive at BBC Film, the feature filmmaking arm of the BBC, working across a slate of features and short films.

Aoife Hayes
Aoife is a Development Executive at the BFI Film Fund where she supports writers, directors and producers across development. She joined the BFI from production company See-Saw Films where she developed films such as Francis Lee's Ammonite. There she was responsible for identifying and building relationships with emerging talent and sourcing projects for a broad and varied slate. Prior to that she worked across film and television at Heyday Films including features such as Paul King's Paddington 2.

Teanne Andrews
Teanne Andrews is an award-winning events producer with over 15 years experience in engaging nationwide audiences across film and visual arts. As co-founder/director of operations of We Are Parable, Teanne has worked with various film distribution companies, supporting the release of new titles, whilst engaging audiences across the UK.

(Bottom L-R)
Anthony Andrews
Anthony Andrews is the co-founder and creative director of We Are Parable, an award winning film exhibition company which provides audiences across the UK opportunities to experience Black Cinema in culturally relevant and memorable ways. Since forming the business, Anthony has worked with Idris Elba, Justin Simien, Amma Asante and Academy Award winner Spike Lee.

Melissa Clay-Peters
Melissa is BBC Studios' Senior Head of Talent. She has 25 years' experience working in both production and off-screen talent management in the independent sector. She heads up the Studios Talent team and looks to attract a broad range of creative and ambitious people to help develop the very best content and bring new perspectives to the business.
#NFTS