Not Like Us?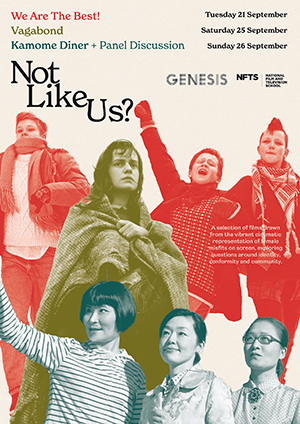 Not Like Us? is a selection of films drawn from the vibrant cinematic representation of female misfits on screen, exploring questions around identity, conformity, and community.
Curated and Programmed as part of the NFTS Film Studies, Programming and Curation MA, this season explores stories of determined, focused individuals who may feel they do not fit in, yet find alliances with others and gain insight from their altering views on the world. We don't just experience their moments of strength, but also their periods of loneliness, and points of contemplation. From this, we begin to understand their complex relationships with society and the impact that they have on their friends and communities from a variety of backgrounds and cultures.
In cinema, identifying as a misfit is most often explored through a male lens but the assignment of the term to women is more complex and notably more interesting. They have chosen their own way to move through life, beyond many normal or expected conventions, and face the additional challenge of confronting stereotypes and behaviors. What unites all the characters is their spirited personalities and the strength of their convictions, both loud and quiet. In the season, we meet Bobo, Klara and Hedvig in Lukas Moodysson's We Are The Best! (Vi är bäst!) from 2013, where three rebels navigate the social order of high school, and form a band to prove that punk isn't dead. In the 1985 feature Vagabond (Sans toit ni loi), we encounter a woman's lifeless body frozen in a ditch, as director Agnès Varda walks us back through Mona's eventful, and turbulent life. Lastly, we end up in Helsinki for Naoko Ogigami's charming 2006 film Kamome Diner (かもめ食堂) as Sachie struggles to bring in Finnish locals to her bakery, but begins to garner support with the help of new acquaintances Midori, Masako and Tommi.
From musical grassroots rebellion, to life on the road, and ending up in a new city, the films all make space for the characters to contemplate and reflect, and while this means the women's thoughts are not always verbalised: it allows the audience to consider the importance of those silences. The vibrancy of these characters comes from how they find their own joys, embrace their choices, shoulder opposition and find their own way through life.
The season will run for one week from the 20th - 26th September 2021, with the feature films being screened at The Genesis Cinema in London, and additional content is being made available online. Content will have English subtitles where possible.
Elle Haywood, Film Programmer
Tuesday 21st September - We Are The Best!

We Are The Best! | 96 mins | dir. Lukas Moodysson | Sweden | 2013

We Are The Best! (Vi är bäst!) is about three teens in 1980s Stockholm who are adamant on proving punk isn't dead. Based on Coco Moodysson's biographical graphic novel, Never Goodnight, the film follows friends Bobo (Mira Barkhammar), and Klara (Mira Grosin) as they plot to start a band, despite neither of them playing instruments. They rope in shy classical guitarist Hedvig (Liv LeMoyne) to join them, as the trio goes on to navigate the male-dominated music scene, chaotic home lives, and the aches of being a teenager.

Alternative counter-culture site The Village Voice regarded the film as: 'Brash and sweet, We Are The Best! captures perfectly the aimlessness of adolescence, the waiting to become something that's so often intertwined with the desire to make something, to leave your mark on the world in some small way'.

From emotionally charged bickering to carefree dancing around to albums in their bedroom: these actors capture the soul of having an ambitious rebel spirit, finding fuel in embracing being different, but also reveling in the joyful chaos of their friendship.

Trailer



Not Like Us? In Conversation with Lukas Moodysson

Thursday 23rd September - Short Docs: Community and Change

BOOK NOW

The Short Docs: Community and Change programme presents three lively and invigorating stories about affecting change and challenging the social order.

JUCK | 18mins | dir: Olivia Kastebring, Julia Gumpert, Ulrika Bandeira | Sweden | 2018

A rhythmic, pelvic-thrusting dance group formed of girls and women in kilts, who hope to create a collective movement of female empowerment and protest against patriarchal structures through public dance.

A Great Ride | 30mins | dir: Deborah Craig, Veronica Duport Deliz | US | 2018

The fight for equality, inclusion, and freedom can span a lifetime, as discovered in this film which follows older lesbian women reflecting on their periods of activism, both historic and current.

To The Front: Scenes From a Women's Rock Camp | 13mins | dir: Fran Broadhurst | UK | 2017

In just three days, a group of women who have never met before, and never played a musical instrument before, must form a band and put on a show.

Saturday 25th September - Vagabond

BOOK NOW


Vagabond | 107 mins | dir. Agnès Varda | France | 1985

Sandrine Bonnaire takes on the lead role of Mona in Agnès Varda's 1985 feature, Vagabond (Sans toit ni loi), in which we first encounter her lifeless and frozen to death on the side of a road during a blisteringly cold winter in France. Varda herself summarised the plot as: 'Dirty, grumpy girl goes for a long, furious walk and dies in a ditch.'

The film traces Mona's life through flashbacks before her death, which is filled with her interactions with strangers passing judgment without ever really getting to know her. The translation of the title is "without roof nor law", which is poignantly embodied as Mona drifts across the land, decisive in her choice to be on the road and adapt to the world around her day by day.

The director chooses to focus on observational intimacy rather than having a running inner dialogue for Mona and paints a detailed portrait of a complex and captivating woman. Having received a glowing reception at Venice during its release, Vagabond continues to stand as one of Varda's most memorable works.

Sunday 26th September - Kamome Diner + Panel (BSL Interpreted)

Kamome Diner | 102 mins + 30 min panel | dir. Naoko Ogigami | Japan | 2006

Having moved to Finland from Japan, Sachie (Satomi Kobayashi) sets up a small diner, but after months of trying, only has one customer, Tommi (Jarkko Niemi) who she gives coffee to for free. Following a series of encounters, her little community grows to include Midori (Hairi Katagiri) who she ambushes in a bookshop café reading a Moomin story, and Masako (Masako Motai) who is stranded for longer than anticipated from lost luggage. The women of the diner are themselves, drifters, with Midori, impulsively having left Japan in search of adventure, Masako finding herself free to travel after having spent her life caring for her parents, and Sachie hoping to make roots in Helsinki. The cafe soon becomes bustling as day by day, other peculiar people begin to venture in out of curiosity, stories are shared and laughter ripples around the tables.

In The Far East Film review, it states that the film is 'an utter delight from start to finish. A mixture of beautifully written, slightly quirky, and completely endearing characters, this is the kind of ensemble comedy-drama that Asian cinema does so well.'

The screening of the film will be followed by a BSL interpreted panel that will reflect on the themes of Kamome Diner, how Naoko Ogigami's work comes from this new wave of independent Japanese female directors, and how the characters relate to the other films in the season.

Guests to be announced close to the event

Not Like Us? - Zine and Video Essay

Not Like Us? season zine contains information about the season, an introduction from the curator, and multiple essay responses by critics about the feature films. Registering/sign-in to Issuu website required.

The video essay will celebrate a certain iconic French film's 20th Anniversary. More details on the video to come soon.
All artwork designed by ©2021 Beth Morris: https://www.bamcreate.co.uk/

Production Company Credits:
©2005 Kamome Company @2013 MemfisFilm
@1985 Cinè-tamaris
We'd like to thank Curzon, TrustNordisk, Nikkatsu, Kurzfilm Sales Hamburg, Final Cut, and Frameline for providing the films for the programme.

Be part of the story.