On May 15th 2019, NFTS is teaming up with Aardman to host the premiere of Carrot Productions live orchestral interactive experience, Wallace & Gromit's Music Marvels as well as a Q&A with creator and NFTS alumnus Nick Park and fellow alumnus and composer, Julian Nott. The premiere is celebrating 30 years since Nick Park created his Academy Award® nominated graduation film Wallace & Gromit: A Grand Day Out at the School.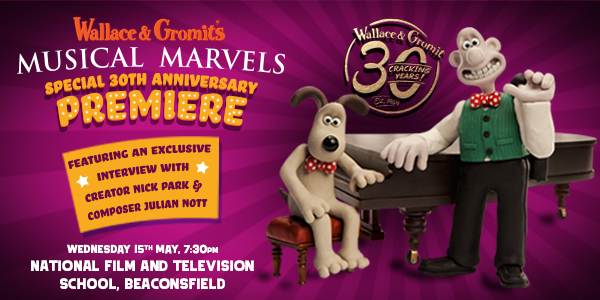 Also on the programme are Wallace & Gromit: The Wrong Trousers and, exclusively for this premiere and to celebrate its 30th anniversary, A Grand Day Out, all with live orchestral accompaniment. This is a unique opportunity for Aardman lovers to experience the films in an entirely new way, and tickets for the event are strictly limited. Musical Marvels, The Wrong Trousers and the orchestra will then tour the UK in venues from London to Edinburgh from May 16th until June 9th.
Speaking about the premiere and tour, Carrot Productions' Managing Director, Rachel Whibley, said: "We are delighted that Aardman have granted us exclusive rights to launch this exciting new tour in the UK, and especially honoured to be staging the premiere at NFTS, including a Q and A session with the incomparable Nick Park and the wonderful composer, Julian Nott. As the world's leading performers of big screen showings of The Snowman with live orchestra, it will be a pleasure to present such a high-quality show in partnership with the inspirational team at Aardman, providing huge fun for audiences of all ages".
Wallace & Gromit's Musical Marvels features Wallace preparing to perform his musical masterpiece My Concerto in Ee Lad with help from his faithful companion Gromit. This interactive experience features specially created animations as well as live orchestral accompaniment and escapades from the Picture House Orchestra and presenter Matthew Sharp.
Sean Clarke, Head of Rights and Brand Development, Aardman added: "It is wonderful to see Wallace & Gromit's Musical Marvels going on tour in 2019, the 30th anniversary year of Wallace & Gromit! Carrot Productions have produced a fantastic show, and we look forward to audiences across the UK having the opportunity to enjoy this unique musical experience."
NFTS Director, Jon Wardle said: "We are thrilled to be hosting this very special anniversary event and welcoming Wallace & Gromit fans to join us in celebrating one of the School's proudest moments. Nick Park and Wallace & Gromit are very much part of the fabric of the NFTS so it's incredibly fitting that we are celebrating their creation here where it all began."
Booking for the Premiere event at NFTS is open now. Click here to buy tickets.
For interviews, reviews and further information contact:
Carrot Productions press contact: Siobhan Parker - siobhan@carrotproductions.com NFTS press contact: Vicky Hewlett – vhewlett@nfts.co.uk