Recent Directing Animation MA graduates, Ed Smith and Ed Bulmer, who graduated earlier this year received grants under an initiative from BBC Four and the BFI, and had their resulting work shown on BBC TV.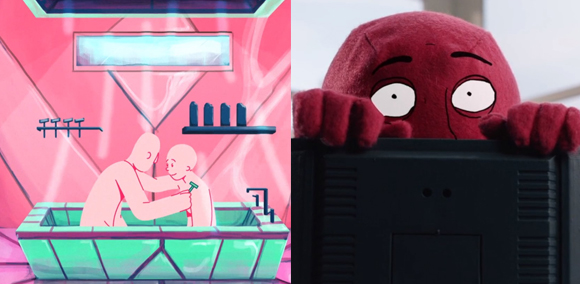 Work from 17 animators including Hair directed and animated by Ed Smith and Frank's Joke, directed and animated by Ed Bulmer was premiered on BBC Four on the 2nd December in a programme presented by British animator, Osbert Parker, and is now available to watch on BBC iPlayer. The films take a variety of approaches, using styles and techniques ranging from hand-drawn images to live-action puppetry, stop motion, CG, 2D and 3D, covering a diversity of genres from science-fiction to documentary. Though richly varied in tone and content, they have been curated into four groups on the themes of animals, other worlds, obsession and love.
Frank's Joke by Ed Bulmer is a comic look at the fickle nature of memory.
Hair by Ed Smith features Mary and Archie who are obsessive shavers, but when Mary rediscovers her love for hair, their relationship begins to unravel.
You can watch both Hair and Frank's Joke on BBC iPlayer until the end of December 2018.