Monday 20 June: Productions across the UK are struggling to recruit for vital roles such as Line Producers, Production Managers and Production Co-ordinators. These roles are at the heart of any film or television production and are integral to their success.
As the boom in content continues to sky rocket along with the expansion in studio space, more and more productions are being hit by unprecedented demand for experienced crew. Increased requirements such as managing COVID protocols, Albert environmental sustainability certification and IR35 has resulted in a bigger shortage than ever of trained individuals who are able to take on the roles.
"Production Managers are vital to our industry; content can't be created without finding and retaining top-class production management talent," Nan Whittingham, Vice President, Production UK, Paramount.
The scarcity of production management skills in the British TV industry alone was recently addressed by the UK's top broadcasters. The BBC, Channel 4, Paramount (owner of Channel 5) and UKTV joined forces to tackle the skills gap by creating a Production Management Skills Fund which will be used to boost the volume of PM skills and capacity in the sector. More info via Prolific North.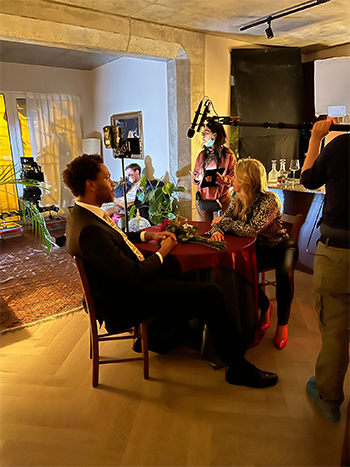 Sinem Saridagli, a current Production Management student will shortly take the plunge into the film and television sectors, transferring her skills as an entrepreneur running a candle business to working as a newly qualified Production Manager in high demand. We spoke to Sinem to find out how her journey has been to date and why the diploma offered by the NFTS gives those looking to take on this highly skilled role such a good head start.
What were you doing before joining the NFTS?
Before joining to NFTS, I was an entrepreneur running a boutique candle business. I had previously studied business in my Undergraduate and Masters, so was naturally destined to run my own business and gained many skills in the process.
What made you want to apply to the NFTS?
As I am a mature student with some transferrable skills, I needed a head start that will allow me to learn the practical skills rather than just studying the literature of film making. The NFTS is very well known in the industry and allows you to gain practical abilities, as well as learning from the industry professionals who regularly visit the school for Masterclasses. So, to follow my passion of working in film and TV industry and to learn the best from the best, I decided to apply to the NFTS.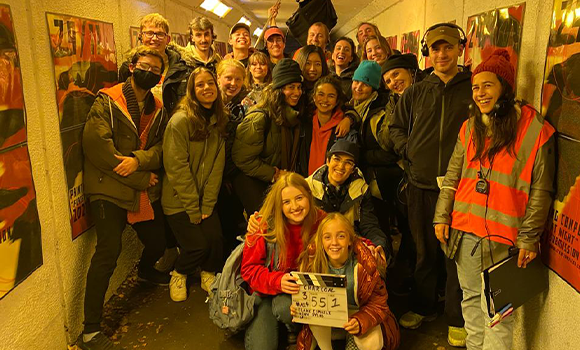 What has been your favourite project so far?
My favourite project was 'Digi Fiction', a collaborative module with the Fiction Directors, Producing, Production Management, Cinematography, Location Sound Recording, Assistant Camera, and Post Production students, to produce a short fiction film shot on a digital format over four days. It allowed me to lead the production side of the process as a Production Manager and challenged me to see what was achievable with limited resources and time.
How do you feel the Production Management
Diploma is preparing you to join the industry?
This course gives you a chance to use software systems in budgeting and scheduling, which are normally difficult to access until you are in an industry job. More importantly, by being involved in the production of several projects throughout the year, it is possible to gain experience in specialist areas such as animation, documentary, VFX and even working with pioneering technology like the Virtual Production LED volume that I worked with on my most recent project Reality Heist. This is invaluable as it gives you a head start in the area that you have the desire to work in.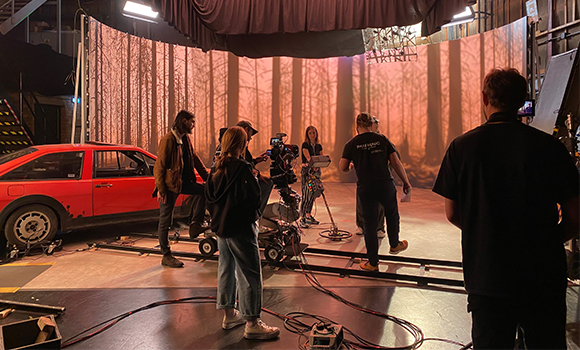 What would you say to someone thinking of
applying to your course?
If you have a passion for film, TV and Production Management, The National Film and Television School is the best place for you to start! Being different from any other educational institution, NFTS will give you what you need to understand the dynamics of the industry and each specialised department will allow you to build relationships and connections prior to entering the sector.
To follow in Sinem's footsteps and start creating your future in this incredibly varied and exciting career path visit: nfts.co.uk/production-management-film-and-television
Or check out our infosheet here.
Delivered in partnership with the BBC and working with leading industry partners, the course aims to give you the specialist knowledge and practical work experience needed for a long and successful career.
Scholarships available upon application courtesy of BBC, Sargent Disc and The National Film & Television School!
#NFTS