Value For Money
At the National Film and Television School we offer practical, hands-on teaching from industry professionals, using professional film and TV stages and high-quality equipment, enabling our students to make high-quality films, TV shows, games and other projects. 
The School meets all production costs, and our students win awards and compete at festivals around the world. Our 38-week teaching year and our intensive approach to teaching and learning means MA and Diploma students get far more tuition time than the vast majority of postgraduate institutions offer.
All NFTS students have access to our Masterclasses programme of high profile speakers from across the film, TV and games industries and many of our MA and Diploma courses include work placements at prominent industry companies. Our Bridges to Industry programme also gives some students the opportunity to work on extra-curricular projects with commercial partners.
We are also the only UK film School that consistently appears in the global Hollywood Reporter listing of the top 20 International Film Schools.
Content Tabs
At the NFTS, we manage our finances carefully, led by our Directorate team and supervised by our Governing Board.  We look to focus as much of our resources as possible directly on your learning experience, through dedicated, full time tutorial staff, complemented by industry visiting tutors, practical workshops and productions, delivered using the latest specialist equipment and technical support. We are a not-for-profit organisation, but look to generate a small surplus each year to reinvest in the School and preserve its long-term sustainability.
We aim to be transparent about our expenditure and show how you derive value from the fees you pay to us, as we set out later. The direct cost of your tuition includes the full cost of all student productions, along with access to industry professionals, visiting tutors and guest speakers of the highest calibre. We help you to deliver your vision and the story you want to tell or to develop the technical skills in which you want to excel.
Over the last 12 months, notable visitors have included: directors and writer-directors Denis Villeneuve, Prano Bailey-Bond, Ryusuke Hamaguchi, Michael Pearce, Joe Wright, Sara Sugarman, Reggie Yates, Sarah Gavron, Alice Seabright and Danny Boyle; writers Neil Gaiman, Eric Roth and Adam Kay; documentary makers Louis Theroux, Orlando von Einsiedel and Asif Kapadia; editors Maya Maffioli and Eddie Hamilton; animation writer-directors Domee Shi, Phil Lord, Chris Miller and Joanna Quinn; executive and founder of The Black List, Franklin Leonard; composer Natalie Holt; cinematographers Benjamin Kracun and Diana Olifirova; science and natural history commissioner and executive Tom McDonald and actor Martin Freeman, to name a few.
Our close relationship with industry ensures that you have the opportunity to work directly with prospective employers in the sector, in the booming creative industries. Our graduates are eminently employable, with almost 90% of our students annually securing graduate-level jobs within 6 months of leaving the School.
Further, we are proud of the skills and ambition of our students, actively promoting their films and productions, which is reflected in our unprecedented success at student awards including BAFTAs, BIFA, RTS, CILECT and the Oscars. 
The School is quite different to many other Higher Education Institutions, which are primarily funded by student fees. The NFTS secures funding from a multitude of sources including Industry, Government and Philanthropy. These additional monies, which account for more than half of the School's funding, supplement the fees you pay to the School, as illustrated: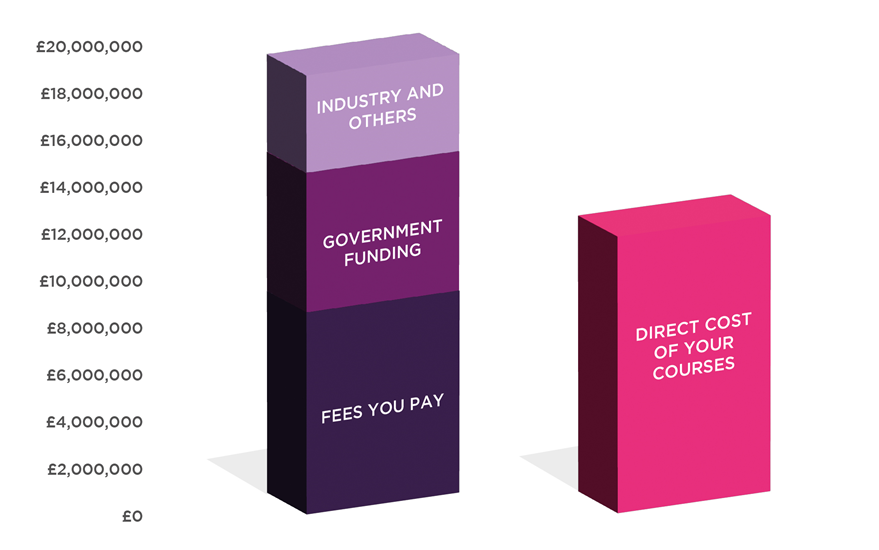 Chart source:  NFTS financial statements year ended 31 July 2022
Your tuition fees cover approximately two-thirds of the direct cost of your course. The balance is made up from funding from government, industry and philanthropic donations, reflecting their investment in you as the next generation of film, TV and games makers.
All of the School's money either directly or indirectly goes into supporting and delivering your learning experience. Two-thirds of the School's costs are directly focused on delivering your course to you. The costs of tuition, workshops and the film, television and games productions that the School makes and which you have the opportunity to work on represents 40% of the School's costs; when combined with the cost of facilities & equipment, this figure rises to 65% of the School's costs.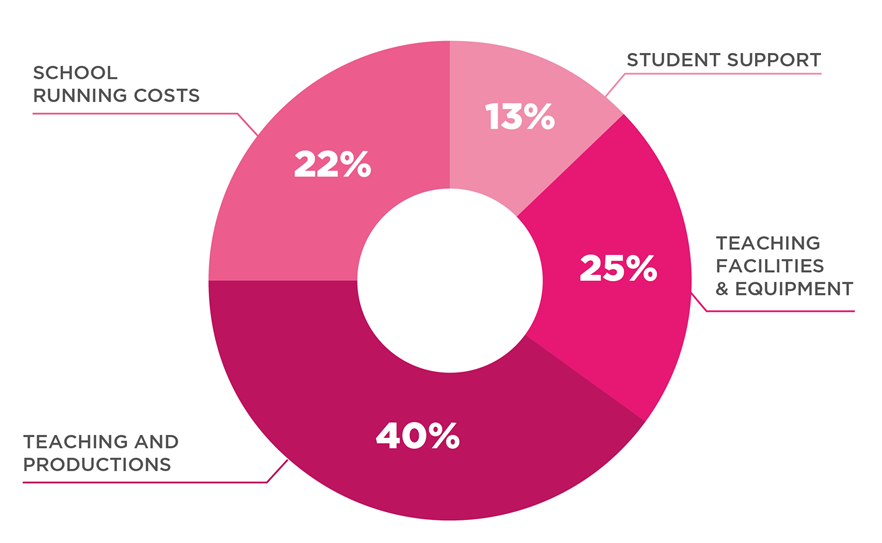 As part of the curriculum, many of you will work on productions which encompass all elements of the production process, from development through to production, post production and delivery; working alongside students and industry professionals across all crew roles: cinematographers, editors, construction, draughtsmen, VFX, to name a few. Our industry professionals are of the highest calibre, providing hands-on, individualised tuition that will help you tell the story you want to tell and excel in your chosen specialism or skill.
We offer targeted scholarships and bursaries to ensure that 'financial means is not a barrier for talent'. These, along with the other student support services and facilities such as student welfare support, library facilities and the Registry team make up over 13% of the School's annual budget.  
Finally, the School ensures it operates as effectively and efficiently as possible, investing in high calibre staff to deliver our support functions such as Finance, HR, Marketing and fundraising. Approximately 22% of the School's finances are spent on these areas.
The School is not-for-profit. We balance what we expect to spend in a year, plus contingencies for unforeseen costs, to generate a small surplus so that we continue to invest in the School, its facilities and equipment. 
Annually we invest more than £900,000 in upgrading our equipment and infrastructure to keep pace with technological advances. This includes regular investment in new cameras and sound equipment to meet the changing demands of industry and the curriculum, as well as maintaining the School's buildings and infrastructure. This ensures that our students are industry-ready when they graduate, and enables us to train the film, television and games talent of the future.
Each year, we spend almost £2 million on research in partnership with Royal Holloway, University London to develop immersive storytelling to ensure the UK creative workforce is the most skilled in the world in the use of immersive technologies. 
We also invest further afield, recognising our responsibility to be 'THE' national film and television school. We now have a hub in Glasgow in 2018, a hub in the north of England in Leeds and a hub in Cardiff, all designed to meet the training needs of the emerging creative industries in those regions. These hubs help to 'level-up' these regions, enabling opportunities to a wider range of students to enter the creative industries.
10 reasons to choose the National Film and Television School