At the National Film and Television School we offer practical, hands-on teaching from industry professionals, using industry-standard film and television stages and high-quality equipment to enable our students to make high-quality films, television shows, games and other projects. The School meets all production costs, and our students win awards and compete at festivals around the world. Our 38-week teaching year and our intensive approach to teaching and learning means MA and Diploma students get far more tuition time than the vast majority of postgraduate institutions offer.
All NFTS students have access to our masterclasses programme of high profile speakers from across the film, television and games industries and many of our MA and Diploma courses include work placements at prominent industry companies. Our Bridges to Industry programme also gives students the opportunity to work on extracurricular projects with commercial partners.
We are also the only UK film School that appears consistently in the global Hollywood Reporter listing of the top 20 International Film Schools .
HOW WE PROVIDE VALUE FOR MONEY?
At the NFTS, we manage our finances carefully, led by our Directorate and supervised by our Governing Board. We look to focus as much of our resources as possible directly on your learning experience, through dedicated, full time tutorial staff, complemented by visiting tutors from industry, practical workshops and productions, and delivered using the latest specialist equipment and technical support. We are a not-for-profit organisation, but look to generate a small surplus each year to reinvest in the School and preserve its long-term sustainability.
We aim to be transparent about our expenditure and show how you derive value from the fees you pay to us, as we set out later. The direct cost of your tuition includes the full cost of all student productions, along with access to industry professionals, visiting tutors and guest speakers of the highest calibre. We help you to deliver your vision and the story you want to tell or to develop the technical skills in which you want to excel.
Over the last 12 months, notable visitors have included:
Directors and writer-directors Amma Asante, Charlie Brooker, Patty Jenkins, Lewis Arnold, Channing Godfrey-Peoples, Rose Glass, Douglas Mackinnon, Viggo Mortensen, Philippa Lowthorpe, David Fincher, Sarah Gavron, Aneil Karia, Paul Greengrass, Martin McDonagh, Francis Lee, Cathy Brady, Ben Wheatley, and Jonathan Glazer; writers Kemp Powers, Simon Beaufoy, Amanda Coe, Jed Mercurio, Moira Buffini, Russell T Davies, Christopher Hampton, Eve Hedderwick Turner, Phoebe Waller-Bridge and Krysty Wilson-Cairns; Documentary filmmakers Rubika Shah and Asif Kapadia; editor Matteo Bini; Animation directors/writer-directors Pete Docter, Edward Foster and Don Hall; Cinematographers Roger Deakins and Molly Manning Walker; Composer Sarah Warne; Sound Designer Nikola Medic; Producers Dana Murray, Andrew Macdonald, Hannah Farrell, Rienkje Attoh and Faye Ward; TV Executives Charlotte Moore and Alex Mahon; Games industry executives and creators Phil Harrison and Katherine Bidwell; 1st Assistant Director Suzanne Reid; VFX Artists Gillian Simpson and Roni Rodrigues; Production Designer Will Hughes-Jones; Script Developer Dionne Farrell; and Actors Tim Roth and Riz Ahmed, to name a few.
Our close relationship with industry ensures that you have the opportunity to work directly with prospective employers in the booming creative industries . Our graduates are eminently employable, with over 90% of our students securing graduate-level jobs within 6 months of leaving the School.
Further, we are proud of the skill and ambition of our students, actively promoting their films and productions, which is reflected in our unprecedented success at student awards including BAFTA, BIFA, RTS, CILECT and the Oscars.
WHERE DOES OUR MONEY COME FROM?
The School is quite different to many other Higher Education Institutions, which are primarily funded by student fees. The NFTS secures funding from a multitude of sources including Industry, Government and Philanthropy. These additional monies, which account for more than half of the School's funding, supplement the fees you pay to the School, as illustrated below: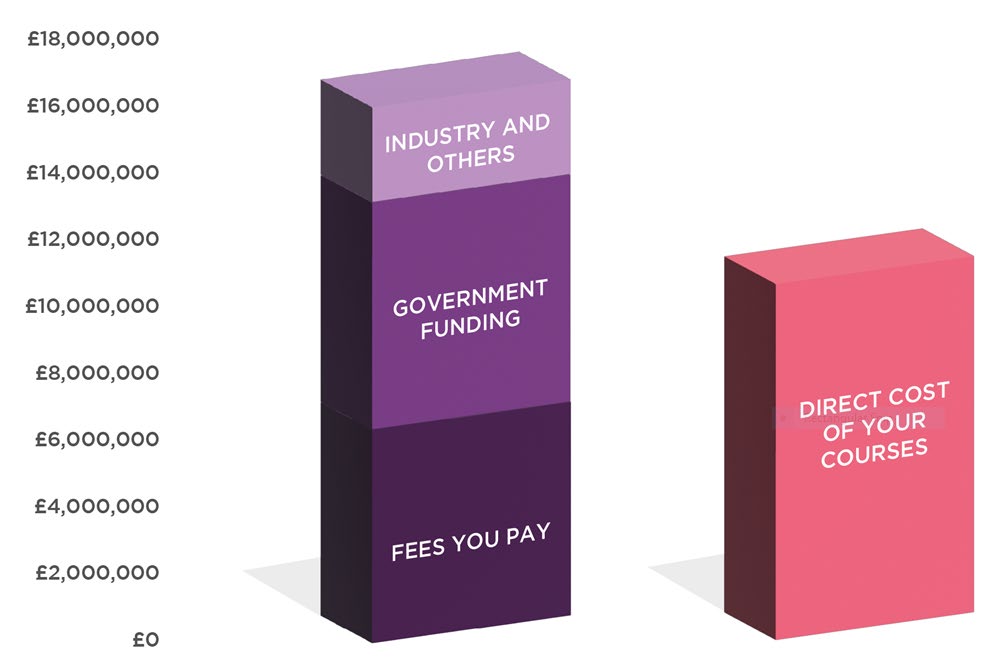 Your tuition fees cover approximately two-thirds of the direct cost of your course. The balance is made up from funding from government, industry and philanthropic donations, reflecting their investment in you as the next generation of film, television and games makers.
HOW DO WE SPEND YOUR MONEY?
All of the School's money, either directly or indirectly, goes into supporting and delivering your learning experience. Two-thirds of the School's costs are directly focused on delivering your course to you. The costs of tuition, workshops and the film, television and games productions that the School makes and which you have the opportunity to work on represents 40% of the School's costs; when combined with the cost of facilities & equipment, this figure rises to 65% of the School's costs.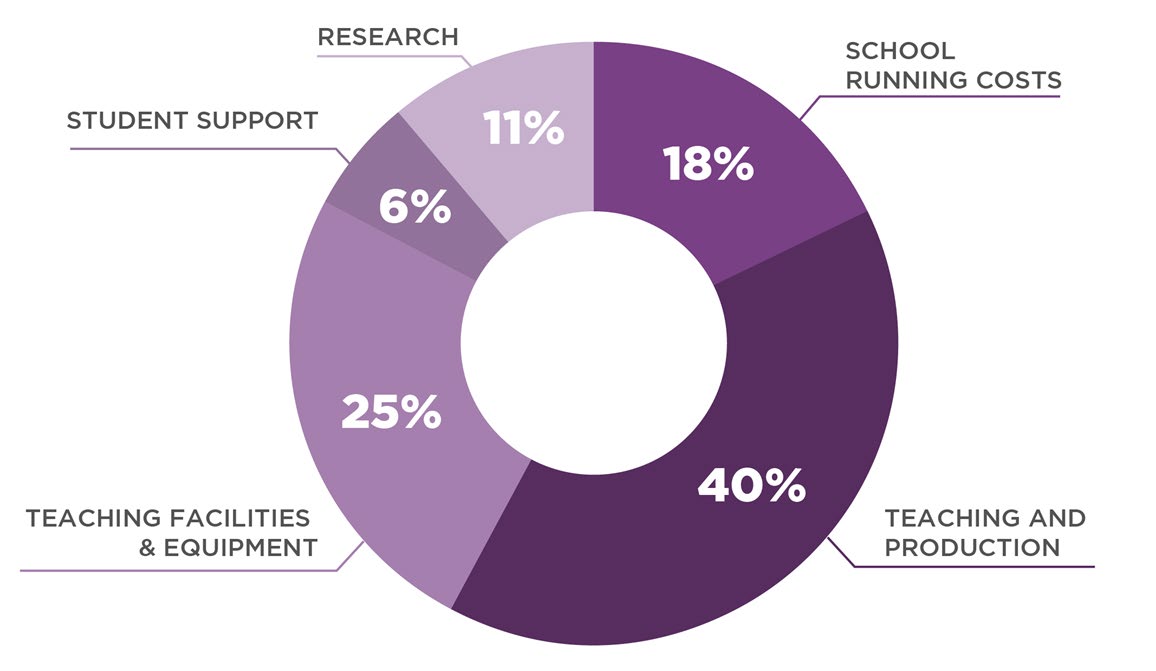 As part of the curriculum, many of you will work on productions which encompass all elements of the production process, from development through to production, post production and delivery, working alongside students and industry professionals across all crew roles, such as cinematographers, editors, construction, draughtsmen, VFX, to name a few. Our industry professionals are of the highest calibre, providing hands-on, individualised tuition that will help you tell the story you want to tell and excel in your chosen specialism or skill.
We offer targeted scholarships and bursaries in excess of £1 million annually to ensure that 'financial means is not a barrier for talent'. This funding complements the support services and facilities we provide to students such as student welfare services, library facilities and the support provided by the Registry team.
Finally, the School ensures it operates as effectively and efficiently as possible, investing in high calibre staff to deliver our support functions such as Finance, HR, Marketing and fundraising. Approximately 18% of the School's finances are spent on these areas.
INVESTING IN YOU AND THE FUTURE
The School is not-for-profit. We balance what we expect to spend in a year, plus contingencies for unforeseen costs, to generate a small surplus that we continue to invest in the School, its facilities and equipment.
Annually we invest more than £700,000 in upgrading our equipment and infrastructure to keep pace with technological advances. This includes regular investment in new cameras and sound equipment to meet the changing demands of industry and the curriculum, as well as maintaining the School's buildings and infrastructure. This ensures that our students are industry-ready when they graduate, and enables us to train the film, television and games talent of the future.
Each year, we spend almost £2 million on research in partnership with Royal Holloway, University London to develop immersive storytelling to ensure the UK creative workforce is the most skilled in the world in the use of immersive technologies. In 2021, we secured additional funding of £2.6 million to extend the project to 2023.
We also invest further afield, recognising our responsibility to be 'THE' national film and television school. Following the successful launch of our NFTS Scotland hub in Glasgow in 2018, and hub in the north of England in Leeds in 2020, in 2021 we opened our latest hub – NFTS Wales – in Cardiff. These will help 'level-up' these regions, creating opportunities to a wider range of students to enter the burgeoning creative industries sector.
Be part of the story.