NFTS to Open Hub in Leeds
NFTS announces it is to open a hub in Leeds following the successful opening of NFTS Scotland, which is based in Glasgow. NFTS Leeds is part of the School's ongoing strategy to support the growth of film and television production outside London and is supported by NFTS Platinum Partner, Channel 4 whose new HQ is to be based in the city as well as ITV, who also have a production base in the City, BFI, Screen Yorkshire and ScreenSkills.
NFTS Leeds, which will operate from a number of spaces across the city including dedicated space at ITV, will provide specialist training to meet the growing needs of film and television production in the area. NFTS Leeds is expected to open in January 2020 with 150 students expected to enrol within the first year. Courses will mirror those offered by NFTS Scotland and will include three-month certificate courses; twelve month full-time and part-time diploma courses; and short courses to provide 'Continuing Professional Development' (CPD) in key film, television and games craft disciplines.
To register your interest in courses based at NFTS Leeds, please contact info@nfts.co.uk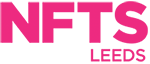 Be part of the story.