NFTS students were treated to an inspirational day with Sally Wainwright – the multi BAFTA winning writer-director and creator of hugely acclaimed TV dramas including Happy Valley, Last Tango in Halifax and Scott & Bailey. She spent the afternoon with fiction directing students and then gave a Masterclass to the whole school on her latest hit series, Gentleman Jack. She was joined for the Masterclass by BAFTA winning NFTS head of Editing, Richard Cox, who edited the episodes Sally directed. Richard also edited Sally's acclaimed single drama about the Brontes, To Walk Invisible and the episodes she directed of Happy Valley.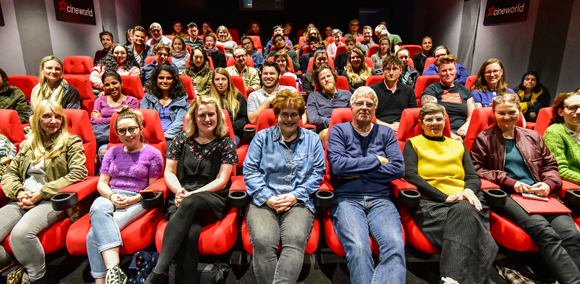 Lesley Manning, NFTS Co-Head of Directing Fiction, interviewed Sally and Richard and began by asking Sally about how she finds both writing and directing Gentleman Jack. "You can benefit from having two creatives – a writer's vision and a director's skill, but I feel that I have that vision. I get to a point where I feel the script is locked. I want other directors to understand a lot of thought has gone into that and to respect that. I've always had that discipline that a script is clear on what's to be shot and not to tinker with it. Though I do tinker with it now that I direct. But I'm allowed to, because I wrote it!" Sally laughed.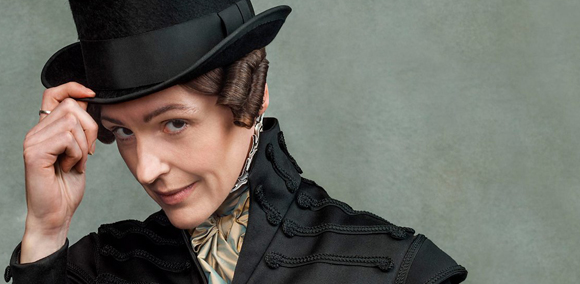 Turning to Richard, Lesley asked what happens when an editor 'tinkers' with it. Richard joked "I was warned! I was told by a producer when I first worked with Sally not to 'tinker'. Writers want to see what they wrote. So first I put together what was scripted, and then we can start looking at changing it." Sally concurred, "We talk all the time and make decisions together." Explaining, "I had a bad experience on something a while back, a director regarded my script as a list of suggestions. I just didn't recognise it as the thing I wrote."
Discussing the genesis of Gentleman Jack, Sally told the students "I grew up in Halifax and visited Shibden Hall quite a lot as a child. I always loved it. It's a unique, extraordinary house, built in 1452, it's beautiful and has a magical atmosphere. In the 1990s I found out about this amazing woman who had lived there – Anne Lister, and kept picking up bits of information about her. Then in 1998 Jill Liddington published Female Fortune, on Anne's diaries, and it was a great – Anne was everything I hoped she'd be from those tantalising snippets I'd found out before! I pitched it as TV drama back then, but I probably hadn't digested it enough – there's 27 volumes, a lot of it in code. In a way it's good it wasn't greenlit back then as it was the wrong time for it. So I continued my career, but that never went away; I was transcribing the journals at the same time. I took a whole year out in 2003 just to transcribe the journals. Then, after Happy Valley, Charlotte Moore at the BBC asked what I'd like to do next and I said Gentleman Jack and it got commissioned very quickly."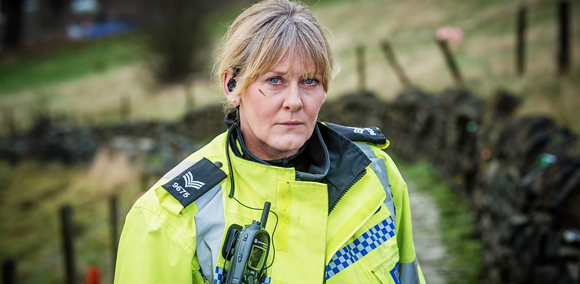 After showing a clip of the very opening of the first episode – which features a three carriage collision/near-miss, Lesley asked about the practicalities of shooting it. "It was about half a page of script, and it took us two days to do the carriage crash!" Sally told students. "One of the toys we used to achieve it was suggested by the DoP – a Russian arm – it's basically an SUV with a crane on top, they use them on Top Gear a lot. It's like a Steadicam on wheels and it gives it an energy you don't normally expect in period drama. It's precision timing, the skill of the driver, right close to the carriage – it felt like we were going at about 60mph, but actually we were doing about 15mph!" Discussing the editing of that scene Richard said "It was fiddly, because it's three shots – the different carriages, so it was about getting the timing and the energy just right." Sally said "It was a tough sequence to shoot and we prepped really well. We visited the location at least three times beforehand, spoke at length to the Devil's Horsemen who supply the horses and carriages, and still there's always things on the day that come up." Richard added "There was a VFX guy on set the whole time and I had to trust him and discuss how long we'd need to hold a shot for him to, for example, be able to show the gate-post splinters that he'd add in." Sally said, "Normally when I write I do always think 'Is this shootable?' The answer is to get a lot of skilled people around you. It's a leap of faith. It was a real team effort. It was a real dream team – all the cast and all the crew."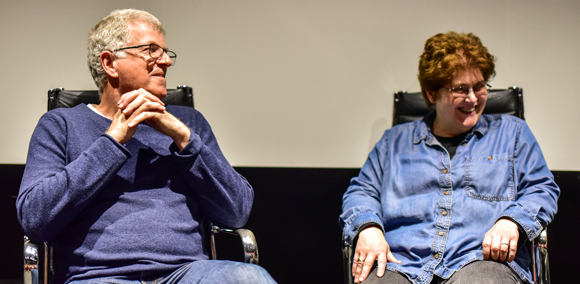 Discussing the choice of how to open the series Sally said "I like a set piece to kick something off. I didn't want to introduce Anne Lister straight away, but to have something that causes her to be talked about. You only get one chance to make a first impression – I think that's really important in drama. With Anne Lister it's building up 'who is this woman?' and then we meet her driving a stagecoach in."
Lesley asked Sally about the use of looks and asides to camera from Suranne Jones, who plays Anne Lister. "It was in the script from very early on." Sally explained, "The thought process was that it's because it's based on her journals, it's a way of her connecting directly with the viewer, in the same way she speaks directly to you from the journals. Very few people have read the actual journals. They're in a temperature controlled room in Halifax and it's such a privilege to see them. There's probably only around 5 people in the whole world who have had that intimate access to those pages and it does feel like Anne Lister is speaking to you. And for me this is the cinematic way of recreating that emotional experience."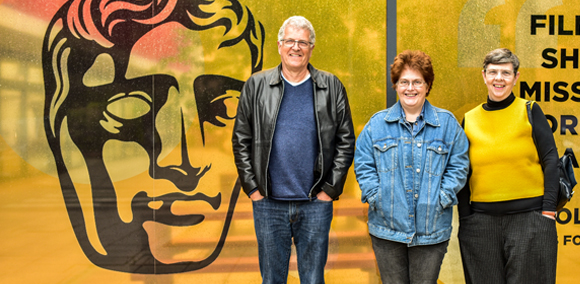 "We use it quite sparingly. And when we filmed we did always film an alternative where she didn't speak to camera. We did also do some extra ones that weren't scripted. In fact Gemma Whelan, who plays Anne's sister Marion - and Yara Greyjoy in Game of Thrones, started to do it too as a joke to upstage Suranne, but it was very funny and we decided to keep it." Sally revealed. Lesley admired the fluid style of the filming and Sally said "It was a stylistic choice. To try and make it feel like not another Sunday night period drama. We wanted to make it feel like a woman from now had been dropped into that period, and it was a cinematic way of doing that. As was casting Suranne Jones, who you wouldn't always think of for period drama. It really added to the language of the show that the camera is always on the move." After watching a clip featuring 8 people in a scene Sally told students "I spent days on the shot list for that, trying to figure out how to do everyone justice, and then decided to do it as a long Steadicam – and it was about the energy Anne brings into a room, making it a sort of swirling scene, the energy of the camera moving round and following her."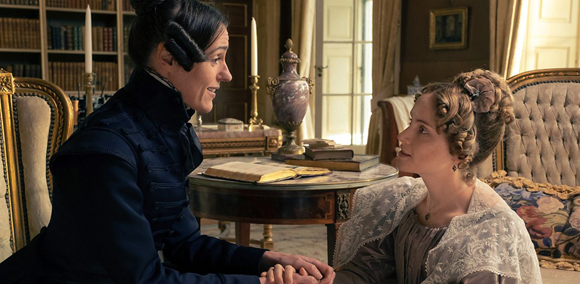 Richard and Sally shared a deleted scene with the students, to discuss the choices behind deciding to cut something. Richard explained "It began because the episode was overlength. So you start by seeing are there scenes you can lose and still tell the story? Sally said she'd be happy to lose this scene, which features a demonstration and around 200 extras – all in period costume, which took a day to shoot." Sally explained, "It was cutable because it held up the drama of the story. If we'd left it in it was have cost the same again in VFX as it cost to shoot, so the producer was ok with it! It's always surprising what you drop. When we shot it, it never occurred to me that it was one we'd drop."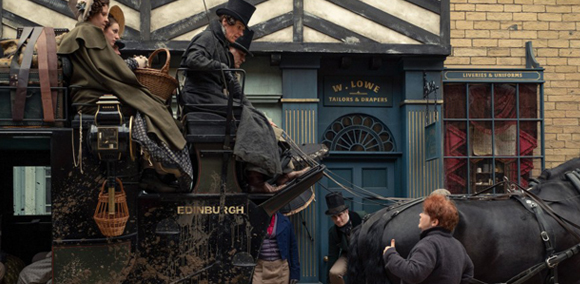 Coincidentally, the composers and performers of the theme song, O'Hooley and Tidow, were at the NFTS the same day studying on an NFTS short course, and they kindly came up and joined Sally and Richard to talk a bit about the music. The song had been written by them years before, rather than specifically for the show, and Sally had liked it and then saw them perform it. "Sally came up to us in the interval of one of our shows, when we were at our CD stall!" Belinda O'Hooley recalled. Sally revealed "The project was going to be called 'Shibden Hall', but because of the song we retitled it to Gentleman Jack."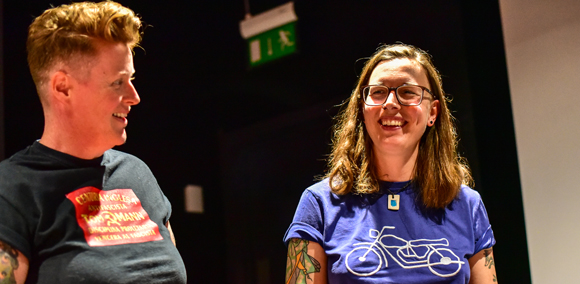 Concluding, Sally encouraged students to put their heart and soul into whatever they made. "Every show I've ever made you put the same passion and care into it. When you're making it you never know if people will 'get' it. Sometimes things hit and sometimes they don't. On twitter there's been a lot of comments about how relevant it feels – a lot of gay women saying it is the first time they feel seen, I find that very moving."
Gentleman Jack has already been recommissioned for a second series.
Gentleman Jack is broadcast at 9pm on Sundays on BBC One and is available on iPlayer.