About NFTS Locations UK Wide
After being based in Beaconsfield for 50 years, the NFTS wanted to extend its offer of world-class training and innovation for the film, television and games industry in other areas of the UK. This started in 2018 with our first additional location opening in Scotland. Since then a further 3 locations have been created, with more to come soon.
These locations, which are based within industry leading organisations, deliver a range of online and in person courses. The majority of these courses offer part time and flexible learning opportunities. We hope that this widens the opportunities for study with the NFTS across the whole of the UK.
Currently we have the following locations around the UK.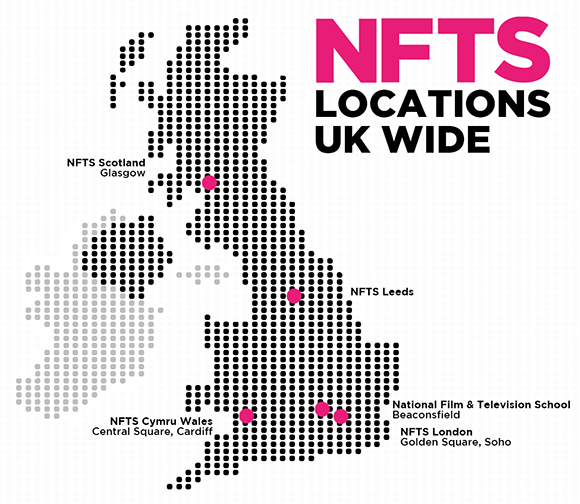 NFTS Beaconsfield:
Beaconsfield Studios
Station Road
Beaconsfield
Bucks HP9 1LG
NFTS Leeds
Second Floor
The Emmerdale Experience
27 Burley Road
Leeds, LS3 1JT
NFTS Scotland
Zone 3.06
BBC Scotland
40 Pacific Quay
Glasgow
Scotland G51 1DA
NFTS Cymru/Wales:
BBC Wales
3 Central Square
Cardiff, CF10 1FT
Courses
Please visit the individual location pages from our main menu to find out what's on offer where you are.
Support
For more information on support available, including financial aid please read our funding guide
Visit our directions page to find out how to get to the NFTS at each of our locations.
Be part of the story.