Production Accounting for Film and Television
Explore this course
Key details
Location London
Duration 1 year
Commitment Part-time, Fortnightly Saturday mornings
Next intake January 2021
Application deadline 05 Nov 2020
Begin your application
Overview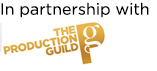 This unique 12 month part-time Professional Diploma course, delivered in partnership with the Production Guild, aims to equip students with the skills required for a career as a film or television Production Accountant.
"This perfectly combines my accountancy skills and my love of cinema." Graduate Sarah Gough.
This London-based course aims to give students the expertise to succeed in this demanding role, as well as the opportunity to make key contacts to move to a career in the film and television sector. Each student will complete 10 days of work experience or production shadowing as part of the course.
All NFTS students can attend Masterclasses. Recent guests include David Fincher (Fight Club), Greta Gerwig (Little Women), Steve McQueen (12 Years A Slave), Edgar Wright (Hot Fuzz), Phoebe Waller-Bridge (Fleabag), Ben Wheatley (Free Fire), Rapman (Blue Story), Louis Theroux, Debra Granik (Winter's Bone), Denis Villeneuve (Bladerunner 2049), Lynne Ramsay (You Were Never Really Here), Sam Mendes (1917), Asif Kapadia (Senna), Joanna Hogg (The Souvenir), and Russell T Davies (Doctor Who).
The course currently runs fortnightly on Saturday mornings with occasional weekday evenings inbetween.
What you will study
This course is ideally suited for those already working in a finance/accountancy role and who are keen to move into the film and television sector. Production Accountants calculate finances, work out the cost of a production, communicate with financiers (companies or individuals who provide the funding) and control the cash flow, or spending. This is a demanding role that requires a level head, self-confidence and strong communication skills.
In pre-production, Production Accountants help the Producers and Production Managers to prepare budgets and Estimated Final Cost Reports. During production, they oversee all payments, manage payroll, petty cash and foreign currency and keep accurate financial records. They help monitor budgets, analyse spending and provide daily or weekly cost reports. They also produce cost forecasts to evaluate the impact of any production changes.
Course Leader
The course is run by Annie Gaudet, whose credits include Mary Poppins Returns, and Beauty and The Beast.
Entry requirements
A proven interest in film and television production and an ability to work as part of a team are essential. We would expect those applying to have academic or vocational qualifications in accounting or be able to demonstrate competency through work experience. Previous experience of working in an Accounts environment will be taken into account when considering applications.
While many applicants will have a degree from a British or overseas university, we will consider applicants who do not have a degree if they have an impressive portfolio, a creative track record or an alternative qualification.
If you are not an EEA National, you must already be in possession of a UK visa valid for the duration of this course. We are unable to accept your application if you do not.
If you have any questions, please email info@nfts.co.uk.
How to apply
Application deadline: 05 Nov 2020
Applicants must complete the online application form and submit the following supporting materials:
Please tell us about the likely challenges of working as the Production Accountant on a low budget British Feature Film (no more than two sides of A4)
You can apply online by clicking on BEGIN YOUR APPLICATION below.
We are happy to receive applications at any time up until the midnight of the application deadline date.
Begin your application
More content that you may be interested in...