The Cannes Film Festival returned on Tuesday 6th July and the NFTS is incredibly proud to see 2021 graduation animation Other Half among the 17 films selected for the 24th edition of the Cinéfondation Selection of the Festival de Cannes, the only UK title to screen from a total of 1,800 entries.
To celebrate this incredible achievement, we caught up with the NFTS team behind the film and follow puppet Ren, the star of Other Half, through the process of being brought to life!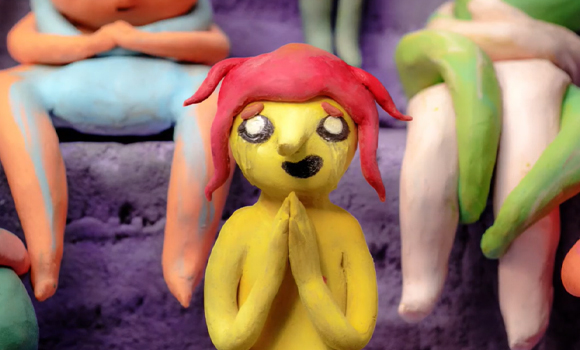 Laura Tunbridge studied on the NFTS Screenwriting MA and wrote the screenplay for Other Half. Here, she explains the concept for the film and Ren's character.
"While developing the story, the Director (Lina Kalcheva), Producer (Michelle Brøndum) and I thought about the ways in which society and the media reinforce the message that completeness can only be found in someone else. We all recognised ways in which we or people we knew had felt a need to prioritise our relationships with others over our relationship with ourselves and from there Ren was born.
Ren is a character that loves love and is full of hope about what being complete will mean for them. Despite their optimism, Ren's desire to be complete is obsessive and it is this that catapults them on their hero's quest to find their other half. Through a series of challenges Ren is forced to confront the reality of what it truly means to find completeness."
Lina Kalcheva, studied the NFTS Directing Animation MA. As Director and Lead Animator on the film she worked closely with students from other disciplines across the school.
"During production I worked with the Production Designer (Eva Calland-Waller) and Cinematographer (Ebba Hult) to somehow bring all the crazy sets and scenarios we had planned to life, constantly coming up with new ideas for set-up and lighting.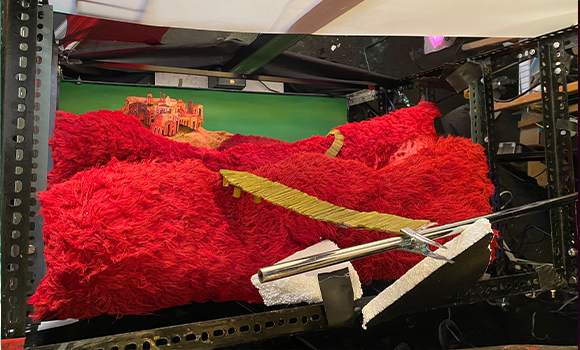 The Editor (Alex Liechty), Sound Designer (Zoltan Kadnar) and Composer (Oliver Wegmüller) stayed involved throughout production and post production, and always gave me a new perspective on the film as it was coming together. In post it was so much fun to come up with alien soundscapes and strange fantastical music for each scene, and to shift things around in unexpected ways that really brought the film together. It was such a pleasure for me to work with an incredibly talented team, who were so passionate and hard-working in making it what it became."
Lina also made all of the character models and puppets for Other Half, including Ren.
"We really wanted to make Ren sympathetic, naive and relatable. It was important for the story to have someone to root for, and to show behaviours and patterns that make people think of their own relationships – for example, changing for someone, trying to win their approval. The core of Ren's character was taking that to the extreme: making a character that is so obsessed with love and falling in love, that they overlook their own needs in order to please someone else.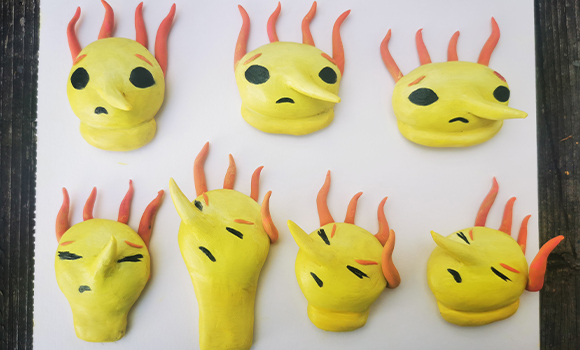 I'm really glad that Ren's personality came across through the acting. We didn't want it to feel like Ren is passive and just thrown into different situations. The other characters in the film are so big, distinct and eccentric, but despite that I feel like we never lose Ren's emotions and motivation at any point. Even when Ren makes flawed decisions and ignores warning signs, we know where they're coming from and it doesn't frustrate or confuse us, because we can understand that need to be loved. And I think that's what makes the character really successful for me - that in a crazy surreal world, there is something really human and universal in Ren that can resonate in people."
Much of the world Ren lives in was constructed by a team of NFTS model makers, headed up by Lead Model Maker Mara Frampton. Here, Mara discusses the strategy her and her team had to help bring Ren's world to life.
"As lead model maker, my task was to relay prop and set designs to the rest of our model making team (there were 10 of us!) I worked closely with Eva to delegate a list of sets and models to be made for each environment in the film, making sure to capture the style and tone of Lina'a work and her original concept drawings for Other Half.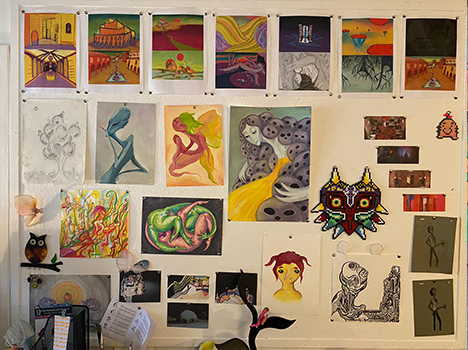 I began my journey with this film by sculpting miniature 10cm statues of the 'Merged Beings'. These were figures in relationship with each other. Eva and Lina gave me the freedom to experiment with tangled limbs, heads cradled by two sets of arms and other bodily obscurities. I enjoyed working on these from home at the beginning of the first lockdown.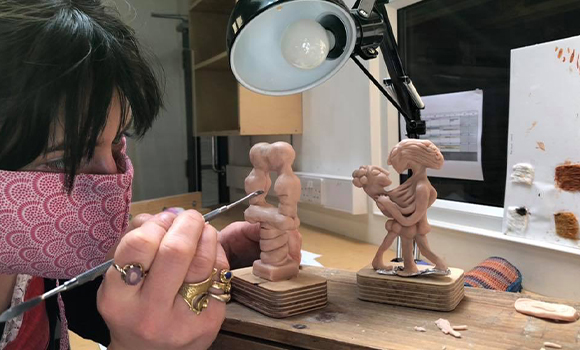 The materials we chose for these sculptural elements were integral to the style of Other Half. We worked exclusively with Sculpey, which is a polymer clay with a very soft, almost flesh like finish. Eva lent me her fondue melting pan and we tested a unique finish for the statues of layered candle wax and paint. Working with the wider team of model makers, I was then able to share knowledge of these techniques so they could be replicated in each element of the film. There were so many unique designs to work from and together we met the challenges in creating crystals, columns and other classical architecture."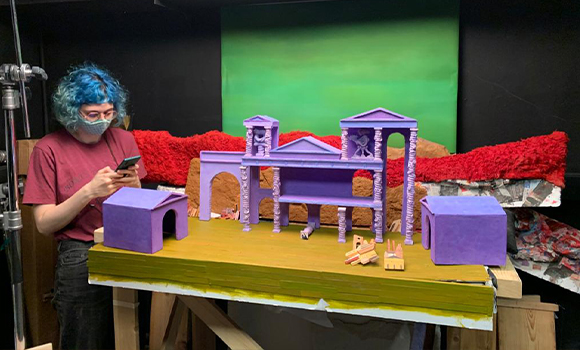 Although all of the character and set designs looked stunning on their own, the NFTS Digital Effects students were on hand to add in the finer details. Carina Carlsson, VFX Supervisor, VFX Producer and Compositor on Other Half, discusses the part that Digital Effects plays in animation.
"It can really be anything you want! I think the key factor for this film was planning with Lina early on so we could hear her ideas and see what solutions we could come up with in VFX. VFX in animation can range from clean up, any bits and bobs that weren't meant to be there, to integrating elements like Narcissus' cigarette smoke and set extensions for Icarus' cliffs.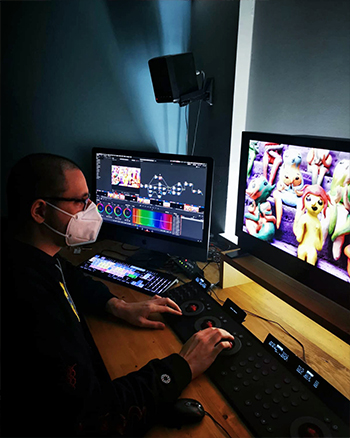 There was no specific VFX elements to Ren's character but more so to the environments Ren was in to enhance the beautiful work Lina had already animated. This was especially important for the underwater sequence where the VFX was a big part of making it feel like Ren was underwater. We added haze/softness so it felt very different to the other environments Ren had interacted with. Lina had given us reference imagery of murky mangroves, so we also accentuated the depth of the shots and added debris and bubbles to really make you feel like you were underwater with Ren."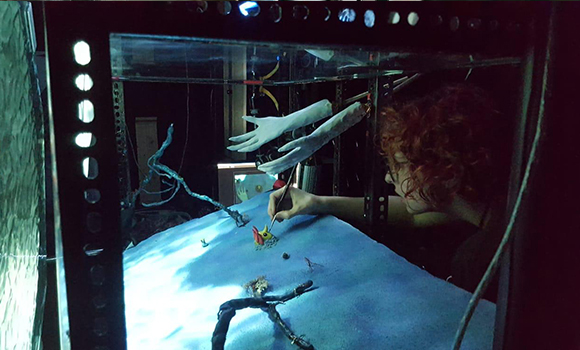 Festival de Cannes runs from 6-17 July 2021 and the jury will hand over the three Cinéfondation prizes to the best of the 17 selected films by film school students at a ceremony preceding the screening of the awarded films on Thursday 15 July, in the Buñuel Theatre.
See the full cast and NFTS crew for Other Half

Synopsis
As an Individual Being in a world comprised of Merged Couples, Ren embarks on a hero's quest to find his other half and become complete.

Cast/Voices
Ren John Chisham
Narcissus Dylan Edwards
Icarus Evanna Lynch
Medusa Matthew Biddulph

Graduating Crew
Director Lina Kalcheva
Producer Michelle Brøndum
Screenwriter Laura Jayne Tunbridge
Cinematographer Ebba Hult
Production Designer Eva Calland-Waller
Lead Model Maker Mara Frampton
Model Makers Jana Arni, María Collado Bonú, Jack Samuel Morgan, Angela Merlo Quartaroli, Agatha Roudaut, Beth Slater, Claire Smithson, Jonathan Thrower, Bethany Williams
Production Manager Holly Androlia
Editor Alejandro Liechty
Sound Designer/Dubbing Mixer Zoltan Kadnar
Composer Oliver Wegmüller
VFX Supervisors Pietro Abati, Carina Carlsson
VFX Producer Carina Carlsson
Compositors Pietro Abati, Carina Carlsson, Siân Drury, Sam Pearson
Colourist And Online Editor Marco Valerio Caminiti
Other Half is just one of many films made at the NFTS through our student's hard work and collaboration. Applications are open for many of our practical, industry-standard courses and you can apply today! Visit nfts.co.uk/places-available to start your journey.
#NFTS