Directing Animation
Explore this course
Key details
Location Beaconsfield
Duration 2 Years
Commitment Full-time
Next intake January 2023
Application deadline Last Few Places Available
Scholarships available
Begin your application
Overview
The two-year NFTS Directing Animation MA is world-renowned for being one of the most dynamic and creative animation courses. If you have a passion for storytelling, creating characters and the art of animation, the course will give you the skills to bring these passions to life on screen and help you develop into the filmmaker you aspire to be.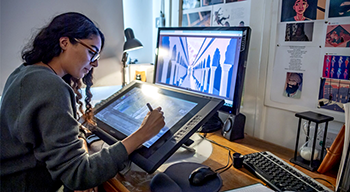 Led by some of the most talented artists from across the animation industry, the course combines art school philosophy with state-of-the-art film school facilities. Students create their projects within a workshop environment that inspires experimentation and creativity. You will gain the skillset required to write, direct and animate films, graduating with a portfolio of outstanding work that will provide a showcase for the relevant techniques and knowledge required for successful employment.
"Over the years the NFTS Directing Animation MA has provided us with some of the brightest talent in our company, from skilled and creative directors to savvy producers and talented crew. " Benjamin Lole, Executive Producer, Blinkink
Films made by students on the Directing Animation MA are consistently selected for film festivals all over the world. They have picked up some of the most celebrated awards in animation, from BAFTAs to Sundance and Annecy.
All NFTS students can attend the School's masterclasses programme, with animation guests including: Travis Knight (Kubo and the Two Strings, The Boxtrolls), David O'Reilly (The External World, Please Say Something), Glen Keane (The Little Mermaid, Beauty and the Beast) and Michaël Dudok De Wit (Father and Daughter, The Red Turtle).
​This course is industry recognised by ScreenSkills, the industry-led skills body for the UK's screen-based industries, and carries the ScreenSkills Select quality-mark which indicates courses best suited to prepare students for a career in the screen industries.
Stills from Graduation Films
What you will study
All forms of visual storytelling are encouraged and nurtured; giving you the opportunities to work across traditional and digital media including drawn 2D, 3D, stop-motion and life-size pixilation. Students feel empowered to push boundaries; confident in finding their own unique voice, while exploring original new animated techniques and fresh approaches to storytelling.
Collaboration is the key to succeeding in the world of animation and it is also central to the ethos of the course and the NFTS. Collaborative workshops with many other filmmaking disciplines across the School fosters a strong team spirit and are an essential tool, enabling animation directors to better understand the role of each crew member and develop expertise across the whole of the production process.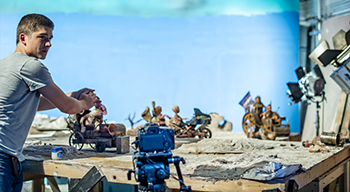 The first year builds a solid foundation across all aspects of animation. It is filled with inspiring workshops, including improving your animation skills, writing better narratives and developing fresh approaches to design and techniques.
In the second year, you will develop, produce and direct your graduation film, leading a fully crewed team who will enable you to bring your vision to life, using the School's incomparable production facilities.
The professional pipeline of making films at the NFTS will prepare you to be 'job ready' upon entering the highly competitive field of animation while the creative freedom the course gives will help you steer an industry that thrives on innovation in new and pioneering directions.
Download programme specification (PDF)
Head of Department
Head of Animation is Robert Bradbrook (Home Road Movies, Dead Air, The Journey).
Current or Recent Tutors
Senior Tutor is Kim Noce (Forget Me Not, The Key, After); and Paul Bush (Babeldom, His Comedy, Furniture Poetry) is also a tutor on the course. Recent visiting tutors include Matt Abiss (Poor God, Play), Caroline Leaf (The Street, Two Sisters) and Marjut Rimminen (The Stain, Many Happy Returns).
Showcase
Animation Directors talk about their experience of making their graduation films.
Entry requirements
All applicants must show a passion for visual storytelling through their portfolio of work. While a background in animation is desirable, successful applicants have come from many creative environments such model-making, comic books and dance.
Ideally, you should have either a degree in a relevant subject, such as animation, graphics, illustration or fine arts; taken an intensive short animation course; or worked in the animation industry.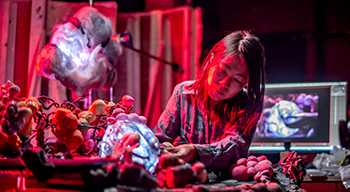 We place emphasis on attracting students with a strong desire to tell unique stories and who can embrace alternative and imaginative approaches to visualisation and narrative construction. The ability to clearly articulate your ideas and work well as part of a team is a must due to the collaborative nature of the course and the animation industry.
If you are a problem solving, creative thinker with high standards, bundles of enthusiasm and the ability to function well under pressure, a career in animation via studying the Directing Animation MA could be for you.
As a part of our admissions selection process, successful applicants are required to attend an online selection workshop for five days.
For international students, more information about our entry requirements, including Visa and English language requirements, can be found on our What You Need To Know section of our Students From Abroad page.
As a part of our admissions selection process, following a successful interview applicants are required to attend a selection workshop for five days, which has a fee of £150.
If you have any questions, please email info@nfts.co.uk.
How to apply
Application deadline: Last Few Places Available
All applications must be accompanied by the following supporting materials:
A Portfolio of Animation/Moving Image with a maximum running time of 20 minutes. Your submission must include a complete film created by you. It can be either a personal or commissioned project, but it should be more than a simple exercises done on a previous course.
A Portfolio of Still Images. This can include illustrations, sketchbook work, digital artwork, photography of puppets and sets that you have made or anything you think will be suitable for your application.
Because the course focuses on collaboration and team work we have a workshop as a part of the interviewing process. The workshop gives us all the chance to meet in a working environment, and for you to learn about storytelling for short animated films. We provide extensive feedback to your work and candidates find the workshop very useful even if they were unsuccessful with getting on the course.
Begin your application
More content that you may be interested in...