Recently, The National Film and Television School (NFTS) celebrated the seventh consecutive win at the Motion Picture Sound Editors (MPSE) Golden Reel Awards as Sound Design MA graduate Grace Wong brought home the Verna Fields Award for Student Film Makers.
Grace was named winner for her work on 2021 graduation animation Build Me Up, a film about two robots left to process their grief following the death of their father in a perilous new ice age.
Build Me Up NFTS Crew

Director Steve Lawson
Producer Emma Hanson
Screenwriters Ben Mitchell, Richard Fullerton
Cinematographer Jamie Touche
Production Designer Kate Beard
Production Managers Holly Androlia, Nana Obiri-Yeboah
Lead Model Makers Claire Smithson, Jonathan Thrower
Model Makers Jana Arni, María Collado Bonú, Mara Frampton, Jack Samuel Morgan, Angela Merlo Quartaroli, Agatha Roudaut, Beth Slater, Bethany Williams
Editor Oli Bauer
Sound Designer/Dubbing Mixer Grace Wong
Composer Moritz Wanger
VFX Supervisor Siân Drury
VFX Producer Jake Calcutt
FX Artist Wu Jun Yi
3D Artists Terence Hughes, Jake Calcutt
Compositors Carina Carlsson, Pietro Abati, Sam Pearson, Siân Drury
Colourist/Online Editor Nigel Tadyanehondo
The NFTS was particularly pleased this year to see an incredible six of the eight nominations in the category were NFTS graduates for their work on NFTS graduation production, so we'd also like to offer our congratulations to Joe De-Vine (BAFTA winning Do Not Feed The Pigeons), Dominika Latusek (The Many Faces of Ava), Miles Sullivan (BAFTA nominated Night Of The Living Dread), Zoltán Kadnár (Other Half) and Antek Rutczynski (Pressure).
We caught up with Grace Wong to get an insight into what it's like to work on her animation, what she's been up to since graduating and winning the award!
What did winning the Outstanding Achievement
in Sound Award mean to you?
It was a really huge encouragement and affirmation to me. It's such a great honour to have my work recognised and acknowledged by the sound community. Build Me Up was the very last project I had worked on in NFTS and it was also the one that was really outside my comfort zone. I had experimented and struggled the most with this, and the pressure to not let my team down when I saw how amazing of a job everyone had done, was immense. I think we all had a mentality of go big or home, so it's incredible to have pulled it off and I really couldn't have done it without the unwavering support of my teammates, tutors, friends and family.
What were the unique sound design challenges
in the making of Build Me Up?
The biggest challenge was the lack of dialogue and creating unique voices for the two robots. Every sound they made was carefully created in order to highlight their character and convey the emotions they were feeling. It was important to highlight their age differences and how they respond differently to their creator's death, yet still using a similar palette of sounds so that they are recognisable as siblings.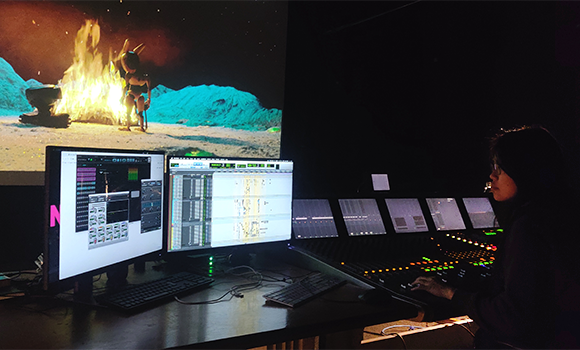 This against the backdrop of a snowstorm as well as a magnificent orchestral score by composer Moritz Wanger, meant that the process was a very fine balancing act between sound and music in order to bring the animation to its full potential.
How do you think the NFTS Sound Design MA
will help your future career?
I think the course gave me a solid education in storytelling and the confidence to take on different sound roles as well as to tackle different genres. It taught me that it's okay to not know how to do something and what's more important is how to problem solve. I like that there was always many different projects ongoing at the same time and that really helps to hone one's time and stress management.
What's next for you in the world of sound in film/tv/games?
I'm working as a freelance sound designer based between UK and Singapore, where I'm from. I like to think that I am a sound designer not restricted by geographical constraints but free to collaborate and work on projects from different parts of the world. Currently, I am in the UK working on an American TV series, as an additional dialogue editor and in the next few months will go onto a couple of Asian feature films. I hope to keep working on different genres and content that has a lot of heart.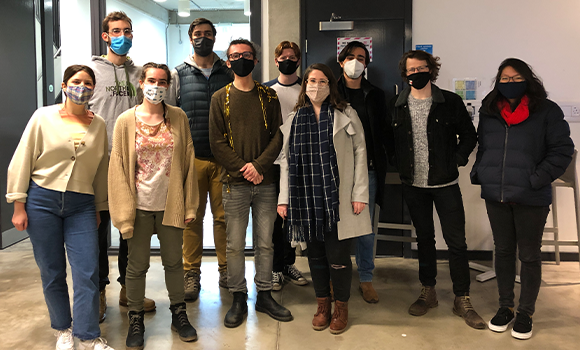 What would you say to someone thinking of
applying to the NFTS Sound Design MA?
Do it!
Go in with an open mind and a desire to keep learning and growing. The course is challenging but it was the best thing I did for my career. Prior to this, I worked a couple of years in a post production house and had a fairly stable job going for me but I grew stagnant and was never really confident of my skills. NFTS Sound Design MA gave me that confidence and a space to learn and fail and grow. The competition is not with others but yourself.
A big congratulations to Grace Wong from everyone at the NFTS!
If you feel encouraged by Grace and want to follow in her footsteps you can apply for the NFTS Sound Design MA today! nfts.co.uk/sound-design
#NFTS