The National Film and Television School (NFTS) is thrilled to announce that graduate animation film The Fire Next Time, has been selected for the prestigious Sundance Film Festival, the only UK animated short to be included.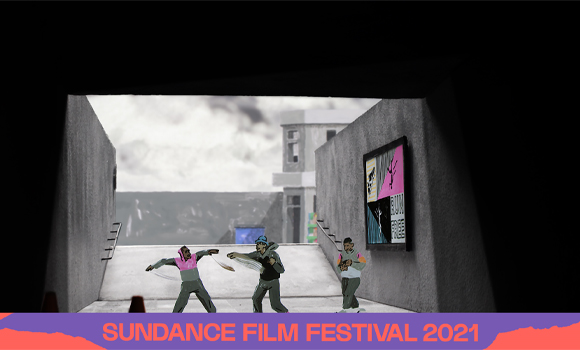 The atmospheric and powerful seven minute film by Directing Animation MA graduate Renaldho Pelle was inspired by the 2011 London riots, blending hand painted character animation with stylised stop motion sets built to a scale of 1:50 by students of the NFTS Model Making for Animation Diploma.
The Sundance Film Festival will run online from 28th January to 3rd February 2021 with The Fire Next Time one of only three UK shorts screened. A total of just 50 'bold and creative' shorts were selected by the Sundance Jury with 9,000 entries submitted from all over the world.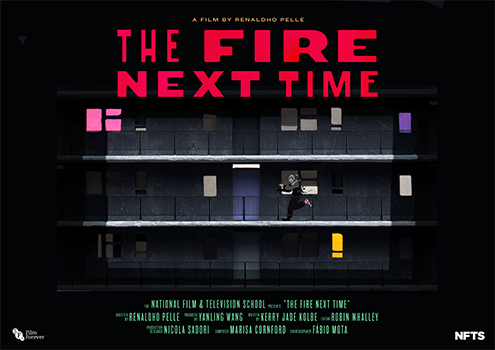 In The Fire Next Time, rioting spreads as social inequality causes tempers in a struggling community to flare, but as the people rebel the oppressive environment takes on a life of its own as the shadows of the housing estate around them close in. The film, which premiered at the 'animation Oscars', Annecy International Animation Festival earlier this year, was developed during an experimental module at the NFTS and utilises a novel approach to the classic, and notoriously challenging 'paint on glass' animation technique, combining it with brutalist inspired stop motion sets and projection.
Director Renaldho Pelle who graduated from the NFTS in 2019 said: "It feels really humbling for The Fire Next Time to have been selected for the Sundance Festival, I wasn't expecting it at all. I hope the film might encourage people to feel compassion for the problems of others which perhaps they do not share, and help them begin to think about how they might bring about change."
Head of Directing Animation at NFTS Robert Bradbrook said: "We're very proud that The Fire Next Time has been selected for the Sundance Film Festival. The film follows an NFTS tradition of using animation to explore tricky subjects and exposing them to a wider audience. Through his gestural brush-strokes, combined with the brutalist model sets of London estates, Renaldho beautifully captures the tensions in his neighbourhood that led to the 2011 riots. While the film was often difficult in the making, the final results highlight the outstanding teamwork within the production and a director who never gave up on his vision."
Watch The Fire Next Time trailer:
The Making of The Fire Next Time | By Director Renaldho Pelle
"My hope for The Fire Next Time was that the film might encourage people to feel compassion for the problems of others which perhaps they do not share, and help them begin to think about how they might bring about change.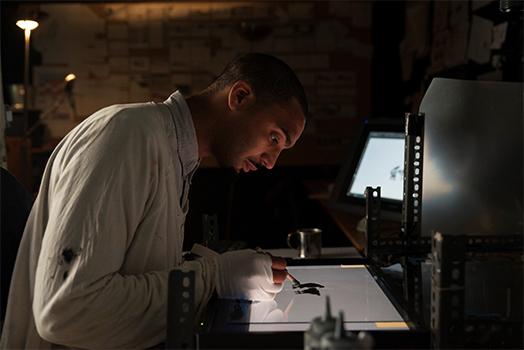 Some people are fighters, they don't have the tools to express themselves in other ways. I am a talker and a maker. I feel responsible for articulating the issues of people around me and I strongly feel the importance of the 2011 riots has been neglected or worse, deliberately diminished. I am surprised by how easily the actions of so many were dismissed as solely motivated by greed.
To believe that alone says a lot about society's view of its most deprived. For me rioting is an expression of people's power and agency over the spaces they inhabit. Like many of those interviewed after the riots of 2011, I feel anger. Anger that those who enforce the law are willing to use force and sometimes even take lives on suspicion of some minor offence. And at those who would justify those actions.
I feel scared because I myself and most of those whom I love are part of that group that mean so little to society. I feel angry at how difficult it is for those of us from poor backgrounds to share the benefits of our society. At how hard we have to fight to follow the 'right' path, and how easily we are condemned when we do not. Angry at feeling outside of the society I have been born into. I am sure I am not alone in feeling this way, and that is why I made The Fire Next Time."
THE FIRE NEXT TIME - CREW BIOGRAPHIES
Director | Renaldho Pelle

Luton born Renaldho Pelle graduated from The National Film and Television School's award winning Directing Animation MA in 2019. He is currently working as a freelance animator, directing animated music videos and animating for companies including Tate Britain, Epic Games and Blinkink. His work is characterised by a combination of slick digital and tactile analogue approaches placing heavy emphasis on design and illustrative style. Thematically, his projects centre around social and personal issues, with an emphasis on subtle emotive human character performance.

Screenwriter | Kerry Kolbe

Kerry graduated from the National Film and Television School with an MA. in Screenwriting in 2019. Her graduation feature Swallow won the Cinestory Feature Fellowship and placed second in the UCLA Feature Writing Competition. She's now taking part in the BBC Writer's Room Northern Voices scheme, has projects in development with Wall to Wall and BBC Drama and is writing the VR game of Peaky Blinders for Maze Theory. Kerry is represented by Berlin Associates.

Producer | Yanling Wang

Yanling Wang is from Shanghai, graduated from the NFTS Producing MA course. During his time at the School, Yanling received a BAFTA scholarship. Yanling is working as a VFX producer and film director in China currently. She is one of the partners of two companies; Flint Walk and Emtiontory.

Editor | Robin Whalley

Born in Bergamo, Italy, Robin developed an interest in editing as a teenager and, after a period of self-taught experience, was accepted on the MA Editing course at the National Film & Television School where he had the chance to work on documentary, fiction and animation shorts, including The Fire Next Time as one of his graduation projects. Since graduating he has worked on a variety of projects in TV and Film, including 24 Hours in Police Custody (Channel 4), the mini-series The Baby Has Landed (BBC Two), the feature drama The War Below and feature documentary Burning Man: Art on Fire, in addition to shorts that have screened in festivals worldwide. He is currently working as a freelancer and is based in North London.

Cinematographer | Fabio Mota

Website: www.fabiomota.com
Instagram: @fabiomotadop

Production Designer | Nicola Sadori

Nicola Sadori is an Italian Production Designer based in the UK. He started working in Milan as a Designer for exhibition stands, events and window displays for leading fashion companies in eyewear and luxury goods. After changing career paths, he graduated in MA Production Design at the National Film and Television School. Since graduating he has been working as Draughtsperson and Assistant Art Director on big budget films and TV series. He has also worked as a Production Designer for commercials, music videos and short films.

Sound Designer | Jose Pablo Ramirez

Jose is a Film, TV and Games Sound Designer from Costa Rica, based in London. He graduated with an MA in Sound Design from the National Film & Television School, United Kingdom, in 2019 and has a Diploma in Sound Design for Visual Media from the Vancouver Film School. Projects he has worked on have premiered internationally at prestigious festivals such as Annecy, DC Shorts and Edinburgh, have been broadcast internationally on channels such as the BBC and Teletica and have been nominated for a Royal Television Society Award and a BAFTA.

Marisa Cornford | Composer

Marisa Cornford is a British composer and pianist. She trained at Chetham's Music School, Edinburgh University, Mannes College in New York and the National Film and TV School. She is professor of piano at the Royal Academy of Music and a freelance composer of music for a range of media including TV, film and the concert platform. She is a member of the 2019-2020 BAFTA film crew and the score for her NFTS documentary Ravens won a Grierson award in November 2019.

CREDITS

Renaldho Pelle (pronounced Ren-al-doh Pel-ay) - Director
Kerry Jade Kolbe - Screenwriter
Yanling Wang - Producer
Fábio Mota - Cinematographer
Nicola Sadori - Production Designer
Robin Whalley - Editor
Marisa Cornford - Composer
Jose Pablo Ramirez - Sound Designer
Liz Glennard - Colourist
Michael Pearce - Colourist
Ysabel King - VFX/SFX
Liam Wedge - VFX/SFX
Stephanie Faucher - Production Managers
Lára Theódóra - Production Managers

Animation:

Renaldho Pelle
Tommy Robin
Jonathan Djob Nkondo
Mohamed Fadera
Kirill Blumenkrants
Alex Apostolakis
Chen Tan
Sam Gainsborough
Hanna Chuieva
Martha Halliday
Piero Emili
Frank Burgess
Sam Gray
Laura Franchito (Stop Motion)

Model Makers:

Oliver Arnell Argles
Ellen Carnegie
Angus Choy
Alastair Fleming
Emma Hodgeson
Thanos Kantzavelos
Harry Saxon

Compositing:

Lesley Cai
Miya Shen
Matthew Lee

Graphics/Titles:

Art Dept:

Priya-Rose Rodríguez (Art Department)
Anya Kordecki (Art Department)
Francesca Cook (Art Department)
Oliver Arnell Argles (Sets, Models & props)
Ellen Carnegie (Sets, Models & props)
Angus Choy (Sets, Models & props)
Alastair Fleming (Sets, Models & props)
Emma Hodgson Sets, (Sets, Models & props)
Thanos Kantzavelos (Sets, Models & props)
Harry Saxon (Sets, Models & props)
Robert Streader (Sets, Models & props)

Music:

Ruanth Chrisley Thijssen (Music Recordist)
Dan Cornford (Electric Viola)
Dan Kimberley (Djembe Drums & Percussion)
The full festival programme can be found via Sundance's website.
Keen to follow in Renaldho's footsteps and study the NFTS Directing Animation MA?
Applications open on 4th January 2021 for a January 2022 start so set a reminder in your calendar and start the new year off on the right foot!
15/12/2020