"Give the audience a ringside seat from their living room!" – Sky Sports Director Sara Chenery talks boxing, leading a team and respect in NFTS Sports Production Masterclass
Students on the NFTS Sports Production Diploma were joined by Sky TV Director Sara Chenery, who, with over 25 years' experience working as a Director and Producer for Sky Sports, gave an insightful, honest and inspiring masterclass.
In a session hosted by NFTS Sports Production Diploma Course Leader Tom Lewis, Sara discussed her responsibilities to Sky's viewers, her style as a director and tricks-of-the-trade to "give the audience a ringside seat from their living room." Tom showed clips of her live work alongside recordings of Sara leading a team of editors, camera operators, sound and vision mixers, plus commentators and hosts on Sky's live outside broadcast.
Sara has been a part of the boxing production team since 1996, which now has more women in its production team than men, saying: "The sport itself can be macho and sexist at times but things are changing now, thankfully for the better. I worked on boxing since 1996 so I came up when there weren't many women here."
Discussing leading a team, Sara revealed that communication is the key to success advising: "The team are taking their lead from you – your voice has to come through as a constant, through all the noise. Be clear, be concise, and that in turn, gives you more options." Sara explained the vast amounts of cues, communication tools and vigorous planning required to bring a live boxing event together, encouraging students to 'go with their instincts' and 'find the heart of the story at the centre of the action'. "You have to create and tell believable stories and that often includes a backstory or an exciting spin on an event which grabs the audiences' attention and keeps them hooked. It's all about storytelling, even in sports."
When asked about her directing style at Sky, Sara responded: "I think you have to take each event case by case, don't you? Each one has its own story to tell. I mean, I'm super opinionated and have a clear cut vision but it's all preference. I would say as a director, it's important to show light and shade – the spectacle is awesome but so are those small moments. All those choices make a difference".
Sara discussed her work on the Joshua vs Klitschko international fight, which was one of the biggest pay-per-view productions Sky Sports has ever offered. Sky had 16 cameras covering the ring, plus a mini cam in Anthony Joshua's dressing room and aerial displays with a Spidercam. "The Spidercam was new for us on Boxing. It gave us these lovely aerial shots for the ringwalks, pyro shots and some impressive flyover shots which just really added to the 'event' of it all." Sara depicted the enormity of the event, saying: "We had a responsibility to our viewers to deliver this fight – they're relying on the coverage to be brilliant. What our viewers want is a ringside seat from their living rooms! We tend not to rely solely on long lens cameras for big events like this – instead, we put a front jib ringside with an excellent camera crew so we get a sense of lateral movement, of freedom, and the audience feel like they're inside the ring. There's a lot more handheld, so you feel close and intimate and can portray the energy inside the ring."
Sara was asked about the restrictions of working on a fast-paced boxing event, to which she replied: "Just as we have a responsibility to our viewers, we also have a big responsibility to the boxers. It has to be safe. We have to make sure that the tean aren't ever in a position to get in their way or impact them, from the ring walk right to the final bell. The Boxing Board of Control are strict on us not having lights up once boxing is going on in the ring, because they don't want us todistract the boxer. They also give clear instructions on how many of the team can get in after the fight to interview which we have to respect." Sara added that this level of respect and care continued in the support for her team, saying: "For me, the crew really matter and I want everyone to be safe. I make it explicitly clear that if a shot isn't possible because it's not safe, not practical, or just not doable at that time, then my camera operators are to hold back. They don't need to explain themselves. I have complete faith in our talented camera crew. The action keeps going and we'll always find another way. It's hard not to get swept away with the excitement of it all."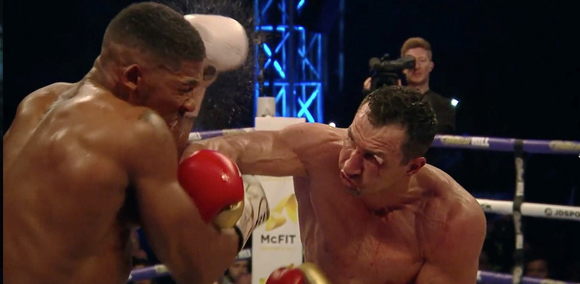 Sara, who joined Sky in 1992 as a secretary before coming an Assistant Producer and later, Director, cited 'respect' as a key tool for working in sports production, telling students: "I worked my way up and I'm glad I did because I got to see, learn from and get a good understanding of all the roles and workload that goes into it. I have such respect for the whole team. I had lots of people to learn from and to look up to. One thing was clear, if you worked hard, there were so many opportunities."
To close, Sara inspired the Sports Production students by saying: "The best thing about my job is that no two days are the same. It's exciting. It can be stressful but I love it."
If you're inspired by Sara, there's still time to apply for the Sports Production Diploma, which starts in January and includes a work placement at IMG. Apply by 9th December at www.nfts.co.uk/sports