Cameras for Television Production
Explore this course
Key details
Location Beaconsfield
Duration 1 year
Commitment Full-time
Next intake January 2021
Application deadline 10 Sep 2020
Begin your application
Overview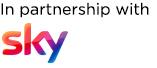 BOOK YOUR PLACE AT THE NEXT VIRTUAL OPEN DAY HERE!
Do you have a great eye for a shot? Do you want to bring great TV shows to life?
This unique 12-month course aims to prepare you for a successful future as a camera specialist in broadcast multi-camera studios.
It is run in partnership with Sky, the UK's largest pay-TV broadcaster, who host two of the modules including a six-week internship as part of the course.
"Without the diploma, I would certainly not be where I am today." Ben Halnan, 2015 Graduate
Students will collaborate with those on other courses to shoot TV shows in our state-of-the-art 4K TV studio – equipped with the latest Sony cameras as used by BBC Studioworks. You will work on multiple genres including sport, music and drama.
Cameras for Television Production is a specialism within our Cameras, Sound and Vision Mixing for Television Production Diploma. Throughout the year you will work alongside those specialising in sound and vision mixing to make multi-camera TV productions.
Sky guarantees to employ at least one graduating camera operator, sound recordist or vision mixer each year.
All NFTS students can attend the School's masterclasses programme, with recent guests including Martin McDonagh (In Bruges, Three Billboards Outside Ebbing, Missouri), Phoebe Waller-Bridge (Fleabag, Killing Eve), Asif Kapadia (Amy, Senna, Diego Maradona), Lynne Ramsay (You Were Never Really Here, We Need to Talk About Kevin), Louis Theroux, and M Night Shyamalan (The Sixth Sense, Glass).
What you will study
You will practise the core skills of camera operators: positioning, framing and focus.
Learn to use broadcast cameras, repositioning and changing shot as the director demands while the vision mixer cuts and mixes the show.
Learn to develop shots, moving with artists or in sympathy with music to create dynamic and exciting television.
Begin to light simple interviews and more complex multi-camera lighting techniques.
Current or recent tutors
David G. Croft
David G. Croft
Head of Television Entertainment
David has worked for many years on hit shows such as Crystal Maze and Shooting Stars
Kathryn Edmonds
Kathryn Edmonds
Visiting tutor
Credits include Mock the Week and the National Lottery
Richard Merrick
Richard Merrick
Visiting tutor
Credits include Absolutely Fabulous and Last of the Summer Wine
Ian Ridley
Ian Ridley
Visiting tutor
Credits include Are You Being Served? and Top of the Pops
Ian Stubbs
Ian Stubbs
Course Leader, Cameras, Sound and Vision Mixing
Previously Head of Playout and Cameraman at the BBC
Showcase
Every year, our students work on a number of TV shows.
Entry requirements
A proven interest in multi-camera production, a lively interest in television entertainment and a willingness to work as part of a team are essential. We are looking for people who are practically minded and who have a good general education although there are no specific educational requirements for this course.
While many applicants will have a degree from a British or overseas university, we will consider applicants who do not have a degree if they have an impressive portfolio, a creative track record or an alternative qualification.
If you are not an EEA National, you must already be in possession of a UK visa valid for the duration of this course. We are unable to accept your application if you do not.
If you have any questions, please email info@nfts.co.uk.
How to apply
Application deadline: 10 Sep 2020
Applicants must complete the online application form and submit the following supporting materials:
A description of a television production. Please tell us about a television production that you have been involved with or that you have observed. Please detail some of the technical production challenges which were faced in realising the project and in what ways you may have done things differently or enhanced the production. Include information on what preparation the production team would have needed to undertake. No more than one page (A4 paper).
A portfolio of photos. It should contain still photographs that you have taken. You may supply prints, digital media or a URL to a collection of your photographs. Please do not supply videos or stills taken from video files.
You can apply online by clicking on BEGIN YOUR APPLICATION below.
We are happy to receive applications at any time up until the midnight of the application deadline date.
Begin your application