2021 is an exciting milestone in the history of the NFTS as we commemorate our landmark 50th anniversary by planning a whole series of exciting events and activities to celebrate our past, present and future!
It's been 50 years since the NFTS opened its studio doors in September 1971 with our very first intake of 23 students and just four departments. Five decades on, the School has evolved into the production powerhouse it is today and September 2021 sees us mark our golden anniversary with a host of events and activities celebrating our past, present and future.
Our birthday month of September is packed with a series of special celebratory events including the BFI's 'NFTS at 50 Season', the launch of the NFTS Digital Archive in partnership with Google Arts & Culture, our 50th Anniversary Gala at Old Billingsgate and the publication of a special edition of Screen International, celebrating 50 years of the NFTS as a guiding light within the screen industries.
'NFTS at 50' Season at the BFI Southbank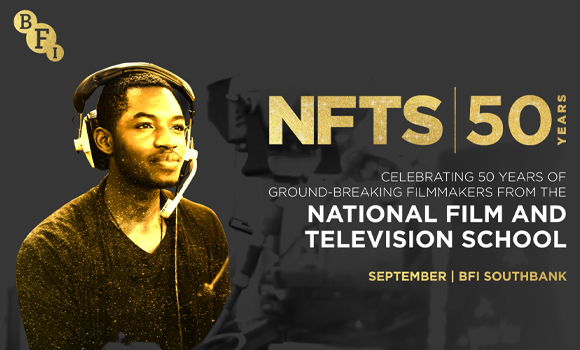 The NFTS birthday celebrations kick off with the BFI Southbank's unmissable, month long 'NFTS at 50' Season from 2 September. Every screening offers a rare chance for audiences to see work from some of today's most distinctive and successful filmmakers made during their time at the NFTS, with a seminal film followed by an in-person Q&A. Alumni including Roger Deakins, Joanna Hogg, Clio Barnard, Nick Broomfield and Shola Amoo are all confirmed to take part. Booking is essential with some sessions already sold out – tickets are available via the BFI website (bit.ly/3rWRFjf).
Lights, Camera, Archive!
One of the highlights of our 50th Anniversary celebrations is the launch of the free to access NFTS Digital Archive, in collaboration with Google Arts & Culture.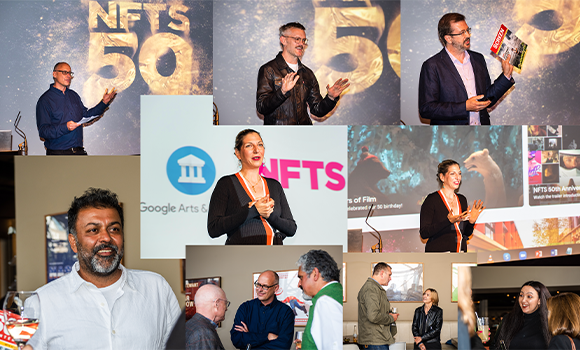 After half a century of training filmmakers across disciplines including fiction, documentary, animation, television and games, this time capsule collection features a curated selection of over 200 cross genre student films taken from the NFTS vaults, with a range of multi-media resources including behind the scenes stills, trailers, original screenplays and recent interviews with the filmmakers including Nick Park, Lynne Ramsay and Anthony Chen plus many more. Explore the archive today at g.co/nfts.
50th Anniversary Fundraising Gala
The UK film and television industry were reunited after a long hiatus to celebrate the golden anniversary of the NFTS at the School's 50th Anniversary Gala, held at Old Billingsgate in London on Tuesday 7 September.
As we mark five decades of the School's existence, prospective students face increasing financial challenges. The NFTS operates as a charity and the Gala is our principle fundraising event (all fundraising events were cancelled in 2020 due to the pandemic.) The critical funds raised by the Gala will help the next generation of talent to excel, giving them invaluable creative and career opportunities while allowing the NFTS to remain a world leading institution.
During a fantastic evening hosted by Adil Ray and with a moving speech by Lord David Puttnam, a total of over £270,000 was raised on the night through the generous support of industry guests, delighted to be together again after so long apart. Guests included key figures from Channel 4, BBC Studios, Sky Studios, Netflix, Disney, Neal Street Productions, All 3 Media, Framestore, World Productions and many more.
Read more here: https://nfts.co.uk/blog/nfts-students-help-make-50th-anniversary-gala-fundraising-success
Screen International Celebrates 50 Years of the NFTS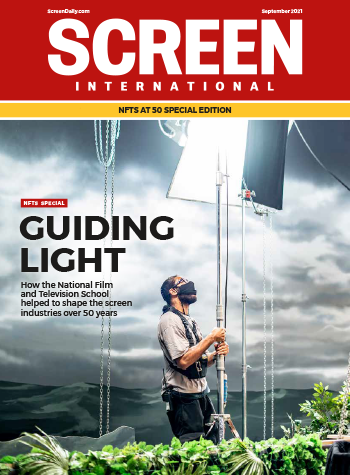 Screen International have produced a unique 50th Anniversary supplement to celebrate our golden birthday. This very special edition is packed with alumni interviews, views from the industry and much more. It has been a privilege for the School to look back over the past five decades while also looking ahead to what the future may hold. Subscribers can click to read the digital edition in full via Screen International's website or download the PDF here.
We will continue to share news of what we have planned for the rest of 2021 and regular updates will be posted on this page and via our social media channels. Don't miss all the exciting events we have in store during our very special golden anniversary year and we hope you will join with us to celebrate 50 years of the NFTS!
Read more about the very first intake of students to pass through the NFTS gates in Beaconsfield in September 1971 in our news story celebrating our anniversary!
In an article originally published in British Cinematographer magazine to celebrate 50 years of the School, NFTS Director Jon Wardle reflects on the evolution of the School's training offerings and the learning philosophy at its core.
#NFTS50
Be part of the story.