Applications Open For Year 2 Of The NFTS Prime Video Craft Academy
Prime Video Craft Academy Announces Expansion Into Wales in Year 2
The National Film and Television School (NFTS) is thrilled to announce applications for the second year of the highly successful Prime Video Craft Academy are now open.
First launched in 2022, this thriving programme offers 25 ambitious individuals an extraordinary opportunity to embark on a paid traineeship within a sought-after craft specialism. The selected participants will train to work on some of the UK's biggest and most high-profile productions. The programme is fully funded by Prime Video as part of its Prime Video Pathway initiative.
Building on the success of its inaugural year, the Prime Video Craft Academy will expand its reach into Wales for the first time. The Welsh expansion underscores the NFTS and Prime Video's commitment to investing in training opportunities across the UK, providing aspiring professionals with access to the world class education and hands-on experience the NFTS is renowned for, and ensuring the industry is diverse, inclusive and reflective of the UK's production landscape. Placements will also be available on site at the NFTS in Beaconsfield (London) and Scotland.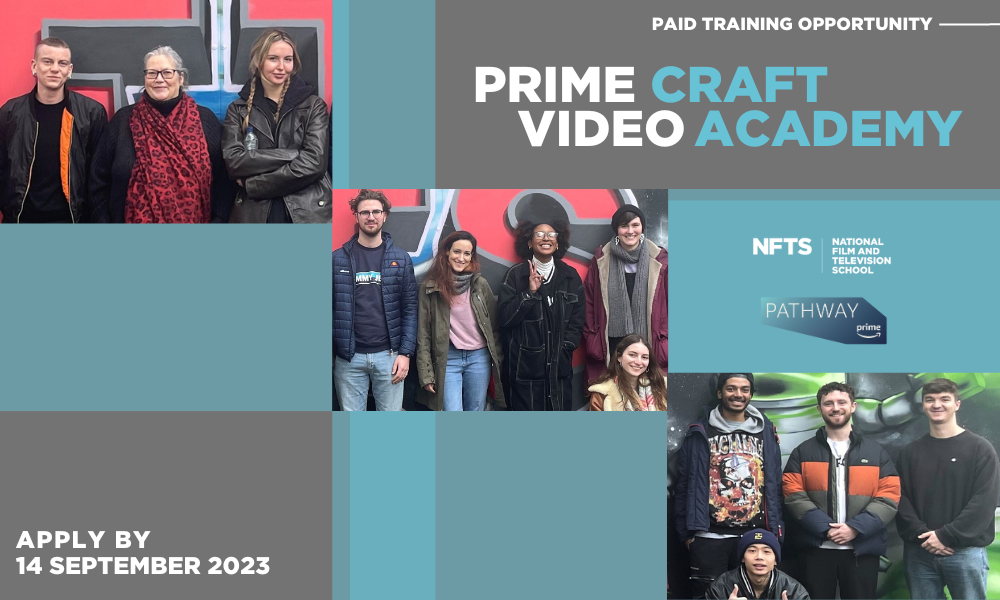 Year 1 of the Prime Video Craft Academy has been exceptional. Over the last 12 months, trainees have been given the opportunity to work with a number of high-profile production companies on projects such as The Devil's Hour, The Rig, Lord of the Rings: The Rings of Power, Call The Midwife, Shetland, Panorama, This Farming Life and Married at First Sight, gaining invaluable industry experience and exposure. Their placements have enabled them to develop in-demand skills and make significant strides in their careers.
As Year 1 approaches an end, Year 2 of the Prime Video Craft Academy is keen to welcome a new cohort of aspiring entrants to train in areas including Production Management, Assistant Directing, Art Department, Locations, Camera, Sound, Post Production, IT, Sustainability, Transport, Lighting, Grip and Costume. The NFTS and Prime Video particularly welcome applications from historically excluded groups; i.e. those from minority ethnic backgrounds and lower social economic backgrounds, disabled talent and from female or LGBTQI+ applicants for roles where they have previously been under-represented.
By joining the Prime Video Craft Academy, participants will have the chance to work alongside industry experts and contribute to the creation of best in class content for Prime Video.
Trainees will:
Engage in paid traineeships, ensuring financial stability throughout an immersive and practical 12-month experience, starting in January 2024.
Collaborate on major television productions, including UK-produced Amazon Original Series and with trusted Prime Video and Amazon Studios partners.
Gain specialised broad-based foundation training plus training in their chosen craft specialism, equipping them with in-demand skills and expertise. The NFTS is particularly keen to hear from people who are interested in Production Management.
Access unparalleled support and guidance from the NFTS, renowned worldwide for its commitment to excellence in film, television and games training.
Upon successful completion, all trainees will receive an NFTS Certificate in Production.
"The inaugural year of the Prime Video Craft Academy has been a resounding success, with our talented Year 1 trainees growing and flourishing while making invaluable contributions to some of the UK's most high-profile productions," commented Jon Wardle, NFTS Director. "The expansion of the Prime Video Craft Academy into Wales marks a significant milestone in our commitment to ensuring aspiring film and television entrants across the UK are provided with world-class training and hands-on practical experience. Year 2 of the Prime Video Craft Academy promises to be equally transformative, and we look forward to a fresh cohort of new trainees joining us in 2024."
"It's been a tremendous first year for Prime Video Pathway, and we're proud to be working with fantastic partners like the NFTS to open up, diversify and upskill the UK film and TV industry," said Dan Grabiner, Head of Originals, UK & Northern Europe, Prime Video. "For Year 2 we're expanding our NFTS partnership, creating all-new traineeships in Wales, and growing our commitment to training in production management, directing and a whole range of behind-the-camera roles through the Prime Video Craft Academy. Congratulations to our Year 1 trainees on all they have achieved, and we can't wait to get started with Year 2."
"Having the experience of training from mentors, teachers and more from the industry has been incredible," commented Preé Isaacs, a Year 1 trainee on the Prime Video Craft Academy. "Being able to put it into practice on set has made it even more enjoyable. To be part of this scheme has truly opened doors for me that I didn't expect."
"The Prime Video Craft Academy has afforded me brilliant hands-on work experience and training which will be invaluable as I continue to build my career in the industry." Esther Scott, Year 1 Prime Video Craft Academy trainee.
Max Fullerton, Year 1 Prime Video Craft Academy trainee, added: "The Prime Video Craft Academy is the perfect launch pad for anyone developing a career in the entertainment industry. The financial stability combined with the opportunity to learn on major television productions is unparalleled. On top of that you have the chance to network and study at one of the best film schools in the world!"
Applications for Year 2 of the Prime Video Craft Academy are now open and will be accepted until midnight on 14th September 2023.
For further information and frequently asked questions, interested individuals can visit our website and apply here: nfts.co.uk/prime-video-craft-academy
Online Open Days will be held via Zoom where interested candidates can meet current trainees and will be given the opportunity to ask questions.  For more information and to sign up for these informative Open Days go to: nfts.co.uk/events
Apply today for the chance to work on some of the biggest and most high-profile productions currently being made in the UK for Prime Video!