14 June 2022: The National Film & Television School (NFTS) and ScreenSkills are excited to announce a new scholarship that will provide funding to women looking to train as Sound Recordists to encourage diversity and gender equality within this vital role in the screen industry.
Applications are now open to apply for this scholarship opportunity, with the first recipient joining the NFTS Location Sound Recording Diploma in September 2022. The cost of the 15-month course will be entirely funded by ScreenSkills and £3,500 will be provided in addition as a contribution to the students living expenses.
As part of ScreenSkills High-End TV Skills Fund, the Scholarship will also provide a host of additional benefits including:
Promotional opportunities with ScreenSkills
Invites to exclusive networking events
Check in's from HETV Skills Fund team to explore further support and mentorship
At least one shadowing opportunity with a Location Sound team working on a high-end TV production in the UK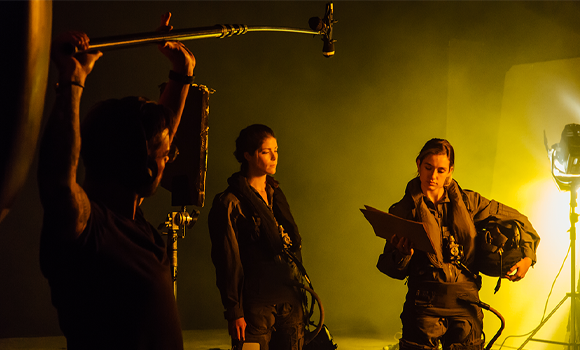 The NFTS Location Sound Recording Diploma offers an unrivalled opportunity for students to learn the practical skills required for a successful career in this field. Taught exclusively by practising professionals, the course trains students to record sound for picture both on location and in our state-of-the-art 4K multi-camera television studio, as well as a multitude of other skills including Fisher Boom training and experience of in-studio music recording and post-production techniques.
The next cohort will start in September 2022 and will be led by new course leader and award-winning Production Sound Mixer Judi Lee-Headman, whose credits include BAFTA TV nominated Black Power: A British Story Of Resistance, The Tunnel, Britannia and Homeland.
ScreenSkills will select the applicant who will be a woman from a lower socio-economic background and based outside of London and the Southeast. If you meet this criteria, don't hesitate to apply for the course! If your application is successful you will then be invited to apply for the scholarship.
Apply now at nfts.co.uk/locationsound.
You must be a UK citizen. If you are offered a place and are eligible, you will be invited to apply for the scholarship.
Book your place at
our next Online Open Day!
Overview of the course with Mervyn Gerrard, current Course Tutor
Q&A
Book here: bit.ly/3aPmKkk
#NFTS