4 March 2022: The National Film and Television School (NFTS) Graduation Showcase, supported by BBC Studios is an annual celebration of the past 12 months of graduate productions. It is the School's flagship event and serves as an important career launch pad for its graduating students as they premiere their work to an industry keen to meet the newest crop of talent emerging from the NFTS.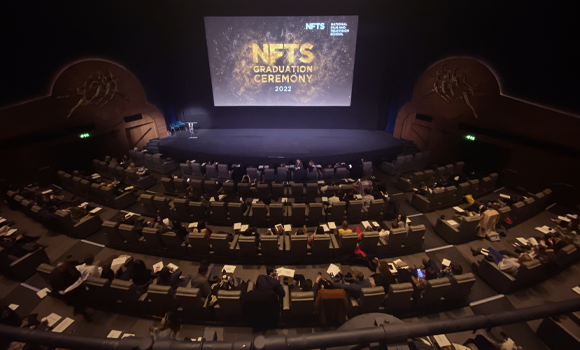 This year, the Graduate Showcase took place over four days of screenings and industry meet and greets at the BFI Southbank, culminating in a graduation ceremony at Odeon Luxe in Leicester Square on Friday 4th March.
The ceremony also saw BBC Chief Content Officer Charlotte Moore awarded with an Honorary Fellowship by the NFTS for her unrivalled contribution to the screen industry.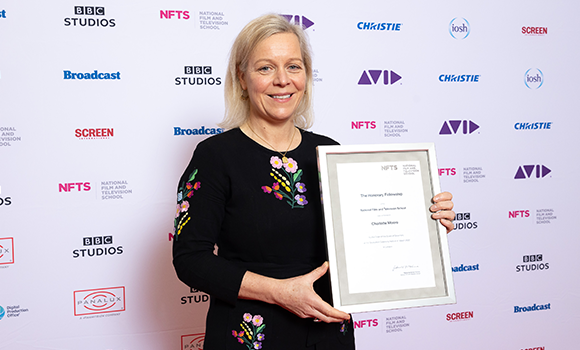 An impressive new slate of over 80 ambitious graduation films, brand new television formats, animations, documentaries, comedies, commercials and games premiered to audiences of industry representatives looking for the next wave of film, television and games creators.
Students chosen by key NFTS industry partners; Sargent-Disc, Avid, Christie, IOSH and Panalux received awards at the graduation ceremony for high levels of achievement in production.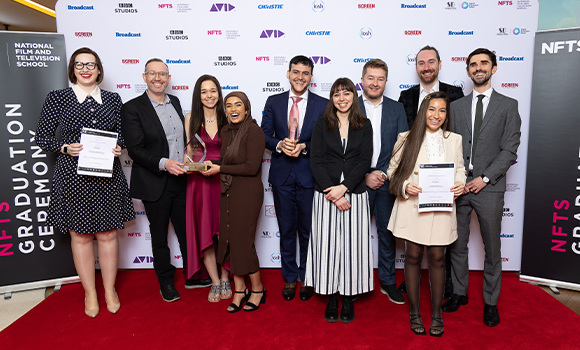 This year, the following graduating students were recognised for their stellar work:
Christie
Directing Documentary MA student Mohamed Shalaby was awarded the coveted Christie prize for the Most Promising Student, receiving a personalised crystal trophy alongside a prize of £1,000.
NFTS Directing Documentary MA Head Peter Dale commented: "Mohamed has been a consistently collegiate, cheerful and popular character during his time at the NFTS. Despite facing a number of personal challenges, he has made a huge contribution to the student body and been exceptionally hardworking. He has shown tremendous courage, determination, commitment and all-round likeability. His graduation film 3 Promises is a remarkable piece of personal filmmaking and I look forward to following his career as he makes his mark on the industry."
Panalux
The Panalux Best Cinematographer Award was awarded to Cinematography MA student Jack Edwards for his work on Fiction film Whiteboy. Jack was awarded a seven-day lighting hire package.
The Panalux jury commented: "White Boy is a moving story with a clear intention, well executed. The cinematographer's composition strongly supported the narrative; for example, only three shots into the start of the film the story unfolds and the audience is invested. The lighting and the use of colour were also very, very good. The boy's excellent performance helped move the story, but the camera really captured the moments in a poignant and reflective way – there was stillness and movement at all the right places. The 'dream' scenes were skillfully accomplished and showed a true understanding of lighting for drama, and a patience in framing and movement, with a very strong use of colour to support the story. Overall it was an excellent piece of work where you feel a synergy between the cinematographer and the director."
Sargent-Disc
The 2022 Sargent-Disc Award was presented to two students graduating from the Production Management diploma. Claudia Carbajo and Laura Hartwell displayed excellent budgeting and cost control management as well as effective reporting skills. Sargent-Disc awarded the winning students with £500 and Final Draft software.
Dr Laurence Sargent, Director, Sargent-Disc said: "Sargent-Disc is proud to support the NFTS with a scholarship for two Production Management students each year and delighted to be able to recognise the fantastic efforts of all of this year's NFTS Production Managers. Congratulations to all of the students for successfully completing their studies. It is an exceptional period of growth for our industry and the skills that the students have learned at the NFTS are in high demand."
IOSH
The Institution of Occupational Safety and Health (IOSH) Award of £1,000 for Health and Safety Management in Film Production was presented to two productions, split between Television Entertainment formats, Thrifted and Casuals.
Prizes were handed to four graduating students. Television Entertainment MA graduate Adriana Steinke and Production Management diploma graduate Andrew Bowers were awarded for their work on Thrifted, a socially aware fashion show where three young stylists must a design a new outfit for a contestant attending a very special event.
Television Entertainment MA graduate Harry Lee and Production Management Diploma graduate Aaliyah Yaqub were awarded for their work on Casuals, an absurd sitcom about a 20-something screenwriter working a zero hours contract in a rundown local theatre.
Sunny Bains, NFTS Production Safety Manager commented: "Another incredible slate of films created by the students this year that required creative solutions and diligent risk management. IOSH commented on how the winners explained very eloquently the value of the risk assessment process, effectively identifying and managing the safety challenges they faced. The students really saw the benefits of how good safety management can support creativity."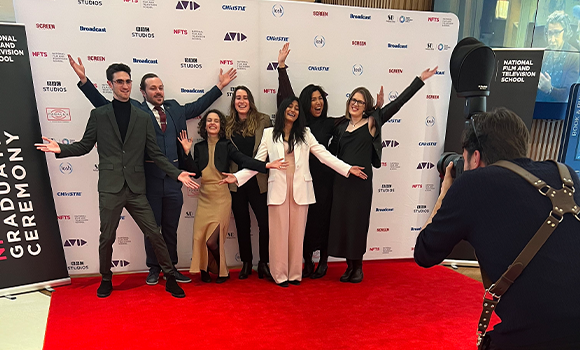 Avid
This year, Avid increased the number of awards they sponsor to three which saw the work of a Composing MA student recognised for the first time.
The inaugural winner of the Avid Award for Excellence in Composing went to Composing MA graduate Sam Rapley. Sam was awarded Sibelius Ultimate software.
The Avid jury commented: "The entries for the first year of Avid's Award for Excellence in Composing have all shown exceptional talent, both creatively and technically, making it very difficult to choose just one winner. Sam Rapley demonstrated fantastic musical proficiency and timing, a joy to listen to!"
The Avid Award for Excellence in Sound Design went to Sound Design MA graduate Dan Hibbert for Fiction film Brutal. Dan was awarded Avid's Pro Tools® Ultimate software.
Simon Sherbourne, Avid's Audio Application Specialist said: "All the entries for this year's Avid Award for Excellence in Sound Design show an incredible level of sophistication, skillfully supporting the pieces with both realism and mood. Brutal's mix goes big when it needs to, but also paces the story and emotional perspective with more subtle, spacious and immersive layers. A fantastic achievement!"
The Avid Award for Excellence in Editing went to Editing MA graduate Giorgia Zarantonello for her work on fiction film Tremolo. Giorgia was awarded Avid Media Composer® Ultimate software.
The Avid jury said: "The standard of editing in the films submitted was of an extremely high standard. We decided one in particular demonstrated the skill and importance of the editor's role in storytelling. We felt that Tremolo had been carefully crafted in the editing room, with confidence and an understanding of pace and the emotion of the story."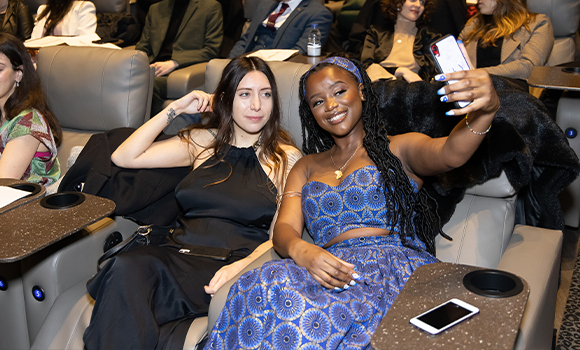 Congratulations to all of this year's prize-winning students and a huge thank you to all our industry partners and supporters!
Industry members can view online all of the work featured as part of the NFTS Graduate Showcase 2022: nfts.co.uk/gradshow
For more information, please visit: nfts.co.uk
#NFTS