22 February 2022: The National Film and Television School (NFTS) has announced it will award its annual Honorary Fellowship to the BBC's Chief Content Officer, Charlotte Moore.
NFTS Chairman Patrick McKenna will present the Fellowship, awarded each year to individuals who have made an outstanding contribution to the industry at the School's annual graduation ceremony on Friday 4th March 2022 at the Odeon Leicester Square in Central London.
Charlotte joined the BBC in 2006 and took up her current role as Chief Content Officer in September 2020, creatively leading and setting the strategy for BBC TV, Network Radio, BBC iPlayer and BBC Sounds across all key genres and platforms. Under Charlotte's leadership, the BBC has achieved record-breaking figures for iPlayer and attained global and critical success with titles including Normal People, Killing Eve, I May Destroy You, Peter Kay's Car Share, This Country, Blue Planet, RuPaul's Drag Race and Strictly Come Dancing.
The NFTS Board of Governors selected Charlotte for the prestigious Honorary Fellowship to recognise her enormous contribution to the UK's creative sector and sustained commitment to finding and backing new and diverse talent. Charlotte's long standing relationship with the NFTS was further cemented in 2020 when the NFTS and BBC announced an industry first three-year partnership, expanding the BBC's creative input into the School. The deal includes a newly developed scholarship scheme, enabling up to 20 diverse students to benefit from the high quality of teaching at the NFTS and strengthening the off-screen diversity talent pipeline.
Charlotte recently visited the NFTS during its annual Springboard Week, when the School welcomed a brand new cohort of almost 400 students for an introductory week of masterclasses, workshops, screenings and talks. After delivering an insightful Masterclass and Q&A, Charlotte hosted an informal meet and greet with first and second year NFTS students selected for a BBC scholarship from a range of MA and Diploma courses sponsored by the broadcaster including Science and Natural History, Television Entertainment, Assistant Directing and Floor Managing and Directing Documentary.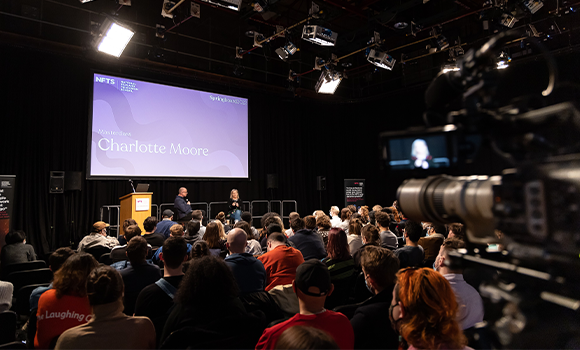 Charlotte Moore, BBC's Chief Content Officer commented: "It's a real honour to be receiving an Honorary Fellowship from the NFTS. I'm a huge admirer and champion of their work and I'm delighted to be supporting their continued commitment to diversity and excellence. The NFTS are world leaders when it comes to developing creative talent. They've produced some of the most gifted film makers in the business and provide a vital pipeline for the UK's creative industries."
Patrick McKenna, NFTS Chairman said: "As a proven champion of new talent and ideas, the NFTS is thrilled to honour Charlotte Moore's contribution to the industry as a creative firepower. We are hugely proud of the School's symbiotic partnership with the BBC and look forward to building ever stronger links with Charlotte and her editorial teams as we continue to work together to foster new and diverse talent at the start of their careers."
In 2021, the NFTS awarded an Honorary Fellowship to Sir Sam Mendes to honour both his contribution to the screen industry worldwide and the time and dedication he showed to the School's Directing Fiction students throughout the pandemic. For more information and to see the full list of NFTS Fellows, visit: nfts.co.uk/who-we-are/honorary-fellows
The NFTS will showcase the work of its talented 2022 graduates to industry member at the BFI Southbank from Monday 28th February to Thursday 3rd March. Please join us to watch projects created by the next generation of emerging filmmakers and creators. For more information and to register for an available screening go to nfts.co.uk/graduate-showcase-2022.
#NFTS