The NFTS is officially among the only film schools in the UK and Europe to be awarded Dolby Atmos® certification. Work was recently completed on the School's 150 seater Oswald Morris Cinema and main Dubbing Theatre, with both now boasting the ultimate in cutting edge technology.
Funded by Buckinghamshire LEP, the upgrade provides current and future NFTS students with world class facilities as part of their course modules, unrivalled by any other UK creative institution.
A premium, immersive audio format, Dolby Atmos® takes surround sound to the next level by delivering a true 3D audio experience. The NFTS Oswald Morris Cinema which frequently welcomes A-list visitors and hosts popular Masterclasses, has increased the number of speakers from 14 to 41, providing side and overhead Dolby Atmos® surround sound, described as '4k for the ears'. The School's cinema has also undergone a further upgrade, with a significant increase in screen size from 7m to 10m, equipped with a 4k Digital Cinema Projector.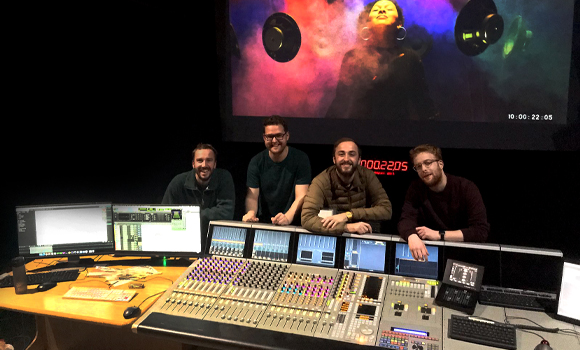 The School's largest Dubbing Theatre is now a flagship studio, complete with Dolby Atmos® authoring. The original 'Anvil' recording studio where many famous movie scores were recorded, including those for the Hammer Horror films, has a newly built Baffle Wall, installed with the latest of screen audio technology by Andy Munro, one of the world's most recognised acousticians. An additional 28 speakers make up the Dolby Atmos® system around the walls and ceiling and is fully equipped with the latest Avid, Dolby and ProTools equipment. The Dubbing Theatre, which has a full size cinema screen, has also been repainted and had new carpeting fitted throughout, completing its renovation.
NFTS Director Jon Wardle said: "The installation of Dolby Atmos® at the NFTS gives us the ability to offer world class facilities no other UK film school can match. I am eternally grateful to Buckinghamshire LEP for making this upgrade a reality, which ensures our students can use and enjoy the very best in cutting edge sound and vision technology. The new facilities will also enable us to further our work in the National Centre for Immersive Storytelling."
NFTS Sound Design Studest Ed Rosseau said: "It's been an amazing experience to get to mix in full Theatrical Atmos as it's such a step up in terms of audio immersion and mix clarity. To put Dolby Atmos through its paces, we were given a brief for an Odeon iSense commercial which was a dream first project. The sound mix needed to show everything that Dolby Atmos brings to the theatrical experience; from detailed moves all the way round the cinema to massive overhead fly-bys, to tiny quiet details that sound so precise and amazing. I am looking forward to using it on more of our projects to take the theatrical experience and audio storytelling to the next level."
NFTS Sound Design graduates regularly win BAFTAs and other prestigious awards.
To find out more about our Sound Design for Film and Television MA go to: www.nfts.co.uk/sound-design-film-and-television