Welcome to the newest addition to #NFTSStories, a series of insightful blogs featuring alumni talking about what they were doing before they came to the School and what they are up to now. You can follow the series by using the #NFTSStories hashtag across Twitter and Instagram.
Zoe Cousins graduated from the NFTS Directing and Producing Science and Natural History MA in 2019 and is now working as a researcher at the BBC's world leading Natural History Unit.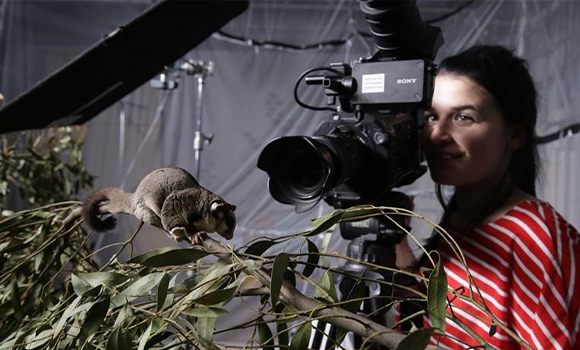 What were you doing before applying to the NFTS?
Before the NFTS I had just finished my undergraduate degree in Zoology at the University of Manchester. I spent the summer travelling with my camera and took some photography classes, whilst also working at wedding venues. I knew I wanted to do further education so when I saw the opportunity to do an MA in wildlife filmmaking I thought, why not? I applied and got the place.
What did you get up to once you left?
Once I left the NFTS I got a job as an edit assistant at Razorbill Films in London. I then moved to Bristol – the hub of wildlife filmmaking – and got a job at the BBC within two months. I am part of an amazing team at the BBC, making a brand new landmark series - I can't say much as it is top secret! In my spare time (although there isn't a lot of that nowadays), I write my own films. These range from conservation and blue-chip wildlife to fictional films.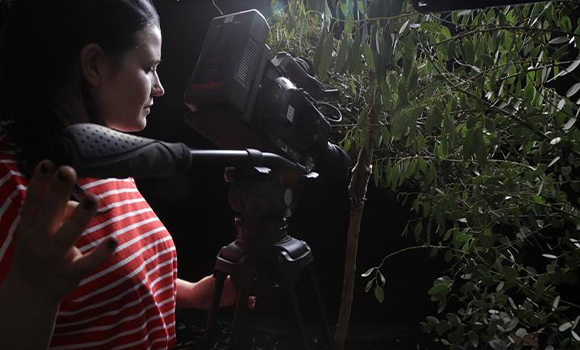 What opportunities do you feel the NFTS course gave you that you wouldn't have had otherwise?
Studying the NFTS Directing and Producing Science and Natural History MA gave me the opportunity to make the films I wanted but with support from mentors, such as Paul Reddish (Co-Head of Department). Learning more about the industry and also the cameras you use to make amazing wildlife films was the greatest thing I learnt. The work experience Paul set up for us was brilliant as I was able to network with the production companies making series such as Our Planet. In my final year, I was fortunate enough to not only work on my own film Among the Eucalyptus, which is a blue-chip and conservation film telling the story of Australia's eucalyptus ecosystems, but also worked as a field and production assistant on a fellow student's film on orangutans in the Sumatran rainforests.
See cast and crew for Among the Eucalyptus

Synopsis
The amazing world of Eucalyptus. Transporting you to the other side of the planet, where stories of remarkable animals are brought to the screen. Explore how these animals have adapted to an extraordinary tree, and how the tree itself is combating climate change.

Cast/Voices
Narrator - Luke Cousins

Graduating Crew
Director/Producer/Camera - Zoe Cousins
Editor - Ed Coltman
Sound Designer/Dubbing Mixer - Edward A. Guy
Composer - Marisa Cornford
Colourist and Online Editor - Ysabel King
What's the main piece of advice you would give to aspiring wildlife filmmakers?
The advice I would give to anyone who wants to make wildlife films and is just starting out, is to learn as much as you can about the animals around you and also about cameras and filming styles. You don't have to be in exotic places to find interesting stories – my two first year films were both based on the UK and made it to the Wildlife Film Festival Rotterdam! No matter what you are filming, the more you practice the better. Also apply for any work experience or assisting work you can. Meeting and chatting with people in the industry is invaluable. I was actually found by the owner of Razorbill Films (my first job after graduating) due to my NFTS films getting into film festivals!
What's the Science and Natural History film that you find most inspirational?
I can't really pick just one wildlife film that I think is the most inspirational if I'm honest! I think that any programme that is made to educate and inspire others that don't know a lot or anything about a topic is inspirational. Whether it's a conservation film like The Cove and Racing Extinction or Blue Planet 2 (all which I wrote my MA dissertation on), they all teach a huge range of people more about the earth's environments and what we can do to help sustain and conserve it.
That was my focus for my graduation film too. I knew I wanted to make a film that could be light and fun by showing amazing and interesting animal sequences, but I also wanted to include facts about these animals that many people might not have known, like the dynamics behind how bats fly. The heavier conservation message about the eucalyptus ecosystems both thriving and being destroyed by climate change's rising temperatures, was also an integral message for my film. Through showing the work the scientists, such as Professor Mark Tjoekler, at the Hawkesbury Institute for the Environment over in New South Wales, can only help their research get out for others to read and educate them on the current issues.
I also say that I am a zoologist first and then a filmmaker, and making films about wildlife is one of the best platforms to use to teach the general public and the world about nature. If anyone would like to see my film Among the Eucalyptus I invite them to email me at zoe@zcousins.com and I will send them a private password protected link to enjoy watching it.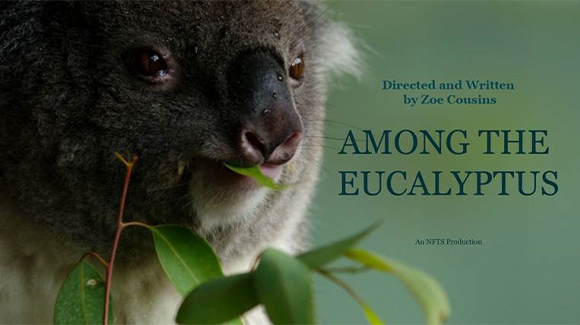 If you were inspired by Zoe's story, places are still available for this course! Apply before 9 July 2020 to fast-track your future in filmmaking. Find out more.
#NFTSStories
4/6/20