The inaugural year of the NFTS' very first entry-level blended learning Certificate in Filmmaking has been a resounding success! Launched during 2020, in response to the fundamental shift in the ways we now work and study due to the pandemic, current students have praised it for being "enlightening and exciting", "the course structure and teaching excellent" and for providing them with "a better understanding of the narrative film making process."
After a challenging time due to the global impact of Covid-19, production recovery in the UK is well underway and the sector is primed to grow exponentially. With expansion in studios and production hot spots across the UK, the demand for content is greater than ever before. Figures published by the BFI showed a strong bounce back for UK film production industry in the final three months of 2020.
For anyone looking to enter the industry or expand on their existing knowledge, there's never been a better time to gain a 360 degree understanding of film production.
The NFTS is world renowned for its specialist MA's and Diplomas and this course is the first one to offer a more general focus. In just six months, participants are given an insight into Screenwriting, Script Reading, Producing, Directing, Production Design, Cinematography, Production, Sound Recording, Editing, Visual Effects and Distribution and Exhibition.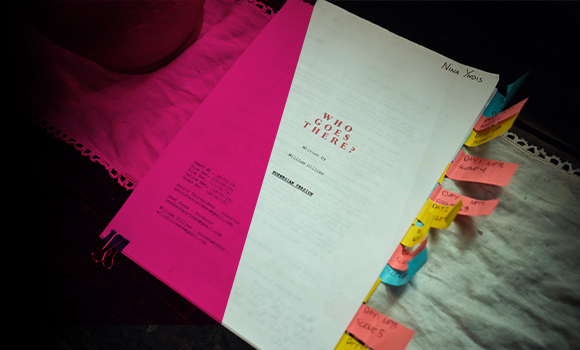 Students graduate with a certificate from one of the world's leading film schools, with a more developed and well-rounded understanding of the industry and how films are made. The course is taught by senior tutors from across the NFTS, giving unparalleled access to some of the best film teachers in the world.
The Certificate in Filmmaking starts again from October 2021 and includes *two intensive weekends of practical workshops with leading film and television makers on site at the NFTS in Beaconsfield, one halfway through the course in January 2022 and one in April 2022 (*subject to restrictions.) Additional benefits include access to renowned NFTS Masterclasses with acclaimed global filmmakers.
Shakil Mohammed, an alumni of the NFTS who has written and directed a number of award winning short films is course leader. Shakil will be joined by key tutors from across the NFTS in teaching the course with contributions from many of the School's industry friends and supporters. NFTS tutors who will deliver taught sessions on the programme include Senior Tutor Myf Hopkins (Producer; The Last Tree) and Head of Editing Richard Cox ACE (Editor, Gentleman Jack).
Here, the 2020 cohort give an insight into their experience of the course which we hope will inspire you to apply before the deadline of 24th June!
"The unique, honest, open and generous insight offered by each of the visiting tutors has been fantastic. One of the reasons I applied for the course was a desire to gain a better understanding of the narrative film making process and to fill in my own knowledge gaps. I feel that goal has definitely been achieved. Plus what's even more exciting is that I'm finding I have a greater interest in areas of which I had no prior experience." Christopher Keenan
"My progress in the understanding of filmmaking has grown from a very enthusiastic lover of film to a clear realisation and understanding of the craft, commitment and integrity needed to be truly involved in the making of film. The course and the teachers we have had to date are real advocates of their craft and their passions, really wonderful to listen to, understand and carry with in one's own journey into film making. I have found every area of the course to be enlightening and exciting." Elizabeth Elstub
"All the subjects have been very, very interesting. I especially enjoy lecturers sharing their experiences and methodologies intimately. I feel that my learning progress has been exponential." Antony Singh
"Even though I've been in the film industry for four years, I'm still learning a lot. A lot of the times I say to myself, "Wow how did I never think of that before?" or "Why didn't I know that!" I am certain that my knowledge in filmmaking has developed since the course started." Jemina Legaspi
"I have learnt a great deal and found the pace of learning appropriate and highly stimulating. The course structure and teaching has been excellent and the interaction with fellow students really enhancing despite it being solely virtual. Really pleased with course content and structure. Everything I hoped it would be." Sarah Inge Parker
"I am really enjoying the course, I think it's helping me grow and give me a better understanding of filmmaking. I am definitely learning and benefiting from it." Shuruthi Kamalendran
"I have really been enjoying this course so far as well as the added extras like the NFTS Masterclasses and access to BOB and Mubi which I have been taking full advantage of! It's also been great to meet fellow filmmakers and see more of what the NFTS is about. It's been so nice to get to meet/get to know other course mates and learn about every department each week. I have loved all the guest speakers. I'm thoroughly enjoying every aspect of this course." Amelia Hughes

The NFTS Certificate in Filmmaking is now open for the next round of applications which will close on 24 June 2021.

Keen to find out more and meet the course leader? Please join us for our upcoming Virtual Open Day!
11:00-12:30 GMT | Mon 26 April 2021 | Register here: bit.ly/3esJCG5
11/03/21
More content you may be interested in...