Films created by students and graduates of the NFTS Directing and Producing Science and Natural History MA course have been selected for two global film festivals and for the first time ever, two non-graduation films have been shortlisted for the 2020 BAFTA Student Film Awards in Los Angeles!
These recent achievements fly the flag for a unique course now in its third successful year and the only MA of its kind in the UK.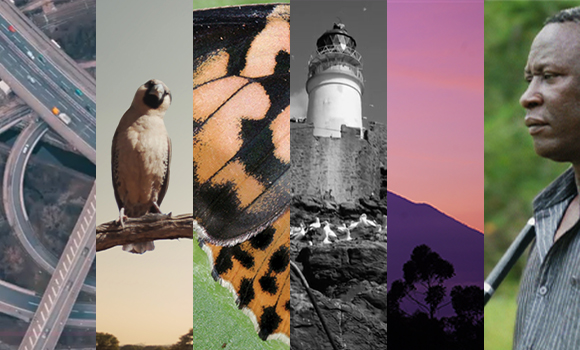 The Flying Gold of Arabuko and Painted Ladies were made by first year students of the Directing and Producing Science and Natural History MA. Congratulations to current students John Davies and Megan Brown on this unprecedented achievement in the Documentary category at the BAFTA Student Film Awards. Winners will be announced on 16th June. More info on additional NFTS nominations can be found here.
It's a double success for Megan and John whose films have also been selected for Naturvision Film Festival 2020. A total of six films from the course have been shortlisted for what is Germany's oldest nature, wildlife and environmental film festival:
Painted Ladies | Director Megan Brown
The Flying Gold of Arabuko | Director John Davies
Life on the Rocks | Director George Pretty
Fight for Quiet | Director Gisela Sepulveda
The Common Ground | Director Conor Ferris
Those in Grass Houses | Director Christian Lawes
Graduate George Pretty's film, Life on the Rocks has also been selected for Wild Ocean Film Festival. George, who directed, produced and shot his film was selected in open competition with professional film makers in the 'Documentary Short Film' category and is only one of two UK entries. 269 productions from 47 countries submitted to the competition.
Painted Ladies



Cast/Voices
Narrator - Jessica Mills

NFTS Crew
Director & Producer - Megan Brown
Composer - Fabio Amurri
Sound Designer - Zoltan Kadnar
Colourist - Marco Valerio Caminiti
Musicians - Helena Gourd, Lydia Griffiths, Samuel Rapley

The Flying Gold of Arabuko



Synopsis
The Flying Gold of Arabuko is the literal and living story of 'the butterfly effect'. It follows the practise of butterfly catchers and famers in Kenya and how it has become an unlikely saviour of the last and largest indigenous forest of the East African Coast. It is told through the perspective of an ex-illegal logger and poacher, Charo Ngumbao. Like many others in the area, he has left his past exploitative livelihood behind and discovered the benefits of forest conservation through sustainably farming butterflies to supply tropical butterfly houses around the world.

NFTS Crew
Director & Cinematographer - John Davies
Composer - Madison Willing
Sound Design - Markus Andreas
Grade - Francis Qureshi
ACs - Jake Davison, Daniel Stuart

Life on the Rocks



Synopsis
For three years from 1960 June Nelson and her late husband Bryan lived in a shed on the Bass Rock, now home to the world's largest colony of Gannets. June reflects on their time together and revisits her old home.

Contributors
June Nelson

Graduating Crew
Director/Producer/Camera/Sound - George Pretty
Editor - Oli Bauer
Composer - Will Turner
Colourist/Online Editor - Andrea Lo Priore

Fight for Quiet



Synopsis
One form of pollutant is regularly overlooked...sound. Human activities are changing the natural acoustic world. Can animals survive against the barrage of man-made noise?

Contributors
Girl - Johanne Adams

Graduating Crew
Director/Producer/Camera - Gisela Sepulveda
Editor - Constance Brannick
Sound Designer/Dubbing Mixer - Ruanth Chrisley Thyssen
Foley Artist - Tatiana Sanches
Composers - Natalia Tsupryk, Saul Bragman
Motion Graphics & Titles Designers - Ellie Rimell, Rico Vina

The Common Ground


Synopsis
Java, Indonesia once produced so much coffee that the island became synonymous with the product. When deforestation and monocultures lead to landslides and failed crops, a small collective of coffee farmers change their ways to benefit both the forest and the farms.

Cast/Voices
Narrator - Harry J. N. Parsons

NFTS Crew
Director/Cinematographer - Conor Ferris
Composer - Alastair McNamara
Sound Designer - Grace Wong
Colourist - Nigel Tadyanehondo

Those in Grass Houses


Synopsis
Sociable Weavers engineer the biggest nest built by any bird. Within these enormous structures they live a fascinating social life, but can their family bonds protect them from the dangers of life in the Savannah?

Graduating Crew
Director – Christian Lawes
Composer – Moritz Wanger
Sound Designer – Dominika Latusek
Colourist – Marco Valerio Caminiti
Co-Head of Directing and Producing Science and Natural History Paul Reddish commented: "I'm delighted for the students. The festival recognition of their talent and hard work is very well deserved. What is really important is the quality of the teaching that the NFTS delivers. Uniquely, the NFTS offers students two years in which to learn and make films, often with their fellow students. It's a great place to learn to be a film-maker."
Co-head Bucy McDonald added: "Congratulations to all of the students on their winning achievements. Selection for festivals around the world reflects the confidence and creativity the students gain during their time on the course. From hands-on camera experience to storytelling in science and natural history, masterclasses and tutorials provide students with the experience and knowledge they need to be outstanding filmmakers. We are proud to play our part in cultivating the next generation of directing and producing talent within the world of Science and Natural History."
Congratulations to all students and graduates, we wish you every luck at the upcoming awards and festivals!
Applications for Directing and Producing Science and Natural History MA are now open for a January 2021 start. Apply before 23rd July.