Vision Mixing for Television Production
Explore this course
Key details
Location Beaconsfield
Duration 1 year
Commitment Full-time
Next intake January 2023
Application deadline 07 Jul 2022
Begin your application
Overview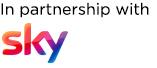 There is nothing quite like cutting a live TV show. This unique 12-month Postgraduate Diploma course aims to prepare you for a successful future as a vision mixer in live and recorded multi-camera studio TV production.
It is run in partnership with Sky, the UK's largest pay-TV broadcaster, who host two of the modules including a six-week internship as part of the course.
"If you want to be a vision mixer this course provides unparalleled experience" Ellie Utting, 2015 Graduate
Students will collaborate with those on other courses to make TV shows in our state-of-the-art 4K TV studio – equipped with the latest Sony vision mixer as used by BBC Studioworks plus Viz graphics. Our exercise 'simulator' also allows students to practise cutting a variety of material on the Sony mixer 'as live'. You will work on multiple genres including sport, music and drama.
Vision Mixing for Television Production is a specialism within our Cameras, Sound and Vision Mixing for Television Production Postgraduate Diploma. Throughout the year you will work alongside those specialising in sound and cameras to make multi-camera TV productions.
Sky guarantees to employ at least one graduating camera operator, sound recordist or vision mixer each year.
All NFTS students can attend Masterclasses. Recent guests include David Fincher (Fight Club), Greta Gerwig (Little Women), Steve McQueen (12 Years A Slave), Edgar Wright (Hot Fuzz), Phoebe Waller-Bridge (Fleabag), Ben Wheatley (Free Fire), Rapman (Blue Story), Louis Theroux, Debra Granik (Winter's Bone), Denis Villeneuve (Bladerunner 2049), Lynne Ramsay (You Were Never Really Here), Sam Mendes (1917), Asif Kapadia (Senna), Joanna Hogg (The Souvenir), and Russell T Davies (Doctor Who).
What you will study
Train on sophisticated broadcast vision mixing consoles, build and realise complex live visual effects to the director's brief. Using these high-end production tools, vision mixing is like editing - but in real time.
Cut, mix and wipe between cameras, pre-edited clips and other video sources live.
Learn how to mix a variety of genres from situation comedy to fast paced entertainment and music shows adding digital effects and captioning in real time.
Download programme specification (PDF)
Course Leader
The course is run by Andrew Hope, an experienced sound engineer, musician and former Sound Engineer (Supervisor) for the BBC and live multi-camera director for BBC News 24, BBC1, BBC2, BBC Three (The News Show) and BBC World News. Head of Television entertainment is David G. Croft. David has worked for many years on hit shows such as Crystal Maze, Shooting Stars and Live Aid.
Current or Recent Tutors
Recent visiting tutors have included Kathryn Edmonds (Mock The Week, National Lottery), Richard Merrick (Absolutely Fabulous, Last Of The Summer Wine) and Ian Ridley (Are You Being Served?, Top Of The Pops).
Showcase
Every year, our students work on a number of TV shows.
Entry requirements
A proven interest in multi-camera production, a lively interest in television entertainment and a willingness to work as part of a team are essential. We are looking for people who are practically minded and who have a good general education although there are no specific educational requirements for this course.
While many applicants will have a degree from a British or overseas university, we will consider applicants who do not have a degree if they have an impressive portfolio, a creative track record or an alternative qualification.
If you are not an EEA National, you must already be in possession of a UK visa valid for the duration of this course. We are unable to accept your application if you do not.
If you have any questions, please email info@nfts.co.uk.
How to apply
Application deadline: 07 Jul 2022
Applicants must complete the online application form and submit the following supporting materials:
A description of a television production. Please tell us about a television production that you have been involved with or that you have observed. Please detail some of the technical production challenges which were faced in realising the project and in what ways you may have done things differently or enhanced the production. Include information on what preparation the production team would have needed to undertake. No more than one page (A4 paper).
A video file or URL (web link) to a YouTube or Vimeo clip that you have mixed or edited yourself or which includes vision mixing or editing which you consider to be good. If you are referencing somebody else's work please explain why you have chosen that piece.
You can apply online by clicking on BEGIN YOUR APPLICATION below. We are happy to receive applications at any time up until the midnight of the application deadline date.
Begin your application