The NFTS awards £900,000 of scholarships annually and recently announced a major new partnership with the BFI to deliver a programme of activity which aims to further increase access to world class industry education.
The collaboration with the BFI, awarding funds from the National Lottery, will help support more applicants from under-represented groups to access highly sought after places on the School's world leading MA and Diploma courses through bursaries and scholarships.
Equality, diversity and inclusion are at the heart of the NFTS's mission as we strive to make the UK film, television and games industry a more accessible and welcoming place for generations to come.
Attracting and retaining a diverse range of students is of paramount importance to both the NFTS and the BFI, irrespective of background and financial means. The NFTS offers unrivalled training to tomorrow's filmmakers, TV programme makers and games developers, but providing this high standard of training comes at an increasingly high cost. Funding provided by the BFI will directly help students to train at the NFTS by generously supporting their tuition and maintenance outgoings.   
The new partnership with the BFI will also financially support emerging filmmakers from under-represented groups to undertake the hugely popular entry-level NFTS Certificate in Filmmaking.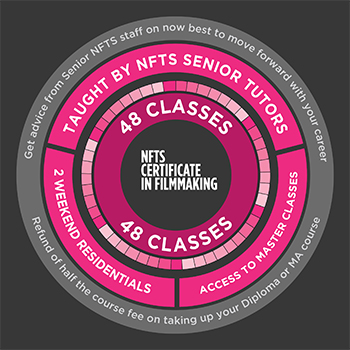 Taught by senior world class NFTS tutors, the six month course provides students with a 360 degree understanding of film production, with insight on Screenwriting, Script Reading, Producing, Directing, Production Design, Cinematography, Production, Sound Recording, Editing, Visual Effects and Distribution and Exhibition. 
Announcing the new partnership, Jon Wardle, NFTS Director commented: "We are thrilled to strengthen our relationship with the BFI by partnering on this exciting programme of activity. It sets out to achieve our collective ambitions: to drive real and positive change within the industry. Diversity and inclusion is at the core of our plans and we will go further and faster than ever before to tear down the barriers to entry, ensuring future talent feel the UK screen industry is a place that welcomes and represents all, regardless of background or circumstance."
Ben Roberts, BFI Chief Executive added: "We want as many people as possible to benefit from world class learning about our industry; from young enthusiasts to students, emerging practitioners and beyond. We're grateful to National Lottery players for their generous support to enable this activity."
The first round of BFI funding will be applied to diploma courses starting in September 2021 and MA courses starting from January 2022.
Apply for the course of your choice and if you're successful at gaining a place, you will be contacted by our funding team with details on how to apply for a scholarship.
Develop standout skills in the film, television and games industry and fast track your future with a practical, career focused course at the NFTS. Check out our places available now!