14 June 2022: The National Film & Television School (NFTS) is proud to announce that student developed game Shadows of Them has been named finalist at the Indie Showcase at Develop:Brighton, Europe's biggest Expo for game developers, the only student game to be selected for competition!
Shadows of Them will be available to play alongside the nine other selected games at the Develop:Brighton 2022 Expo from Tuesday 12th to Thursday 14th July at the Hilton Brighton Metropole. Attendees will be able to vote onsite for the People's Choice award winner, with an additional Overall Winner selected by a panel of expert judges.
"This year's Indie Showcase finalists were really tough to nail down; the standard of entries was just so incredibly high," said Alistair Aitcheson, chair of the Indie Showcase judging panel.
The game, made by National Film & Television School first year Games Design & Development MA students, is a first-person psychological horror game where the player must navigate a series of challenges, guiding a mother through her grief after the loss of her family. The game takes place in a metro station where the character is stuck in a seemingly endless loop as she struggles to cope with her grief.
Watch the trailer
Shadows of Them Team

3D Modelling and Environment Design
Charles Britton
Enam Banaja
Harvey Hayman
Holly Hudson
Mariia Kharitonova
Nick McKenzie
Thomas Porta
Wid Alhajjaji

2D Assets
Harvey Hayman
Mariia Kharitonova

Composer
Lucas Wide

Lighting
Thomas Porta

Level Design
Holly Hudson

Narrative Designer / Writing
Harvey Hayman
Mariia Kharitonova

Project Manager
Holly Hudson

Testing and Quality Assurance
Charles Britton

Sound Design
Alex Faingold
Joseph Russell

Unity Developer
Nick McKenzie
Thomas Porta
Wid Alhajjaji

Unity Music and Audio
Enam Banaja
Thomas Porta

User Interface and User Experience
Nick McKenzie

Voice Artists
The Train Announcer - Janine Cooper-Marshall
The Radio Presenter - Richard Reed
Bobby - Janine Cooper-Marshall
Charlotte - Janine Cooper-Marshall

Special Thanks
Alan Thorn
Diona Potopea
Ellie Silkstone
Jack Kheir
Ned Birkin
Nina Norman
Ted Chaplin
Tim Kyte
The students developed the game for their first development module, 'Hello World'. This module tasked them with developing a walking simulator (narrative led game where you walk around in first person). Each team member was expected to hone their 3D modelling skills and create assets for the game. In addition, each student was allocated a specific role, such as Project Manager and Developer.
The team created the entire experience from the ground up in just six weeks including ideation, script writing, sound design, music composition, quality assurance testing and release. One of the major coups for the project was getting Janine Cooper-Marshall, the voice of Great Western Railway, to record lines for the train announcer in the game.
"It was massively exciting finding out we'd been nominated for the Develop Indie Showcase. I'm so proud of what we able to achieve in the six weeks we worked on the project" said Harvey Hayman, one of the students who worked on Shadows of Them. "Develop is the best technical games conference in the UK and it is a huge opportunity to be able to present our game to all the attendees. I can't wait for everyone to play our game!"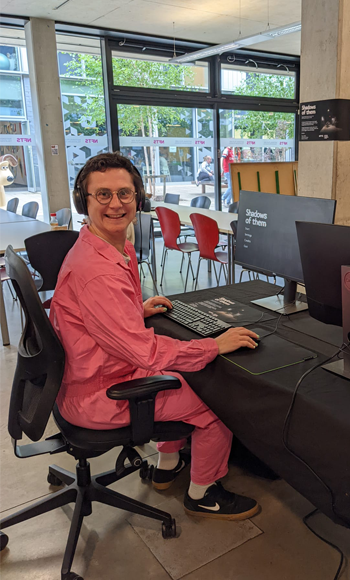 If you can't make it to Develop:Brighton this year but are still eager to play the game, you can play it on itch.io here: national-film-tv-school.itch.io/shadows-of-them
Applications are open for this innovative Masters course! Benefit from the vast collaboration opportunities available at one of the world's best film schools with students studying in specialisms including Sound Design, Composing, Cinematography, Marketing and Screenwriting.
Find out more and apply at nfts.co.uk/games.
#NFTS