Film Studies, Programming and Curation
Explore this course
Key details
Location Beaconsfield
Duration 2 Years
Commitment Full-time
Next intake January 2021
Application deadline 08 Jul 2021
Scholarships available
Overview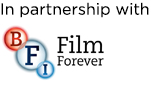 This is a ground-breaking MA delivered in partnership with the British Film Institute (BFI) to prepare students to build successful careers in film exhibition, programming, criticism or archival work.
"I wholeheartedly support courses like the NFTS Film Studies MA. Finding and developing talented individuals who can programme unforgettable content is priceless." Efe Cakarel, Founder, MUBI
The course is delivered by film professionals in exhibition and distribution, festivals, archives and film criticism, alongside academics and film makers.
Students will learn about the practicalities of film exhibition, distribution and preservation in the changing digital landscape and study the practice of film criticism and comment, including reviewing and critical writing about films, filmmakers and the broader culture.
Students will attend film festivals and have the opportunity to curate or contribute to festivals, seasons, pop up screenings and other events.
All NFTS students can attend Masterclasses. Recent guests include David Fincher (Fight Club), Greta Gerwig (Little Women), Steve McQueen (12 Years A Slave), Edgar Wright (Hot Fuzz), Phoebe Waller-Bridge (Fleabag), Ben Wheatley (Free Fire), Rapman (Blue Story), Louis Theroux, Debra Granik (Winter's Bone), Denis Villeneuve (Bladerunner 2049), Lynne Ramsay (You Were Never Really Here), Sam Mendes (1917), Asif Kapadia (Senna), Joanna Hogg (The Souvenir), Russell T Davies (Doctor Who) and Ben Roberts (BFI).
What you will study
The course gives students a theoretical, historical and critical understanding of film, which they will apply practically in film curating and programming, and related fields, including film criticism.
The course provides a detailed understanding of the concepts, contexts and critical thought that have shaped the production and reception of film as a basis for engagement with rapidly changing contemporary film and moving image culture. Students gain a thorough understanding of the process by which a film moves from a creative idea to an audience experience. They will explore the history, theory and critical contexts of film and look at a variety of critical writing.
A rigorous academic framework is combined with real world applications enabling each student to develop their own skills, knowledge and understanding to provide a strong basis for a career in film and media.
With all the resources of the NFTS available to them, students benefit from working alongside a new generation of filmmakers, encouraging creative dialogue between makers and curators/critics.
Download programme specification (PDF)
Course Leader
The course is run by Sandra Hebron.
Current or Recent Tutors
Senior Tutor is Lindsey Moore, experienced film lecturer, currently also contributing to BA teaching at Central Saint Martins Art Schooland. Visiting Tutor is Jonathan Romney, a film critic for publications including Sight & Sound, and Film Comment; curator and filmmaker.
Academic Tutors include: Professor Ian Christie, Dr. Lucy Reynolds, Professor Annette Kuhn, Dr. Maria Delgado and So Mayer.
Contributing industry professionals include: Clare Binns (Co-Managing Director, Picturehouse Cinemas), Louisa Dent (Managing Director, Curzon Artificial Eye), Michael Hayden (Artistic Director, Cork Film Festival), Helen DeWitt (Curator), Nick James (Editor, Sight and Sound), Edward Lawrenson (writer, filmmaker and festival programmer), Tricia Tuttle (BFI Head of Festivals), Justin Johnson (Lead Programmer, BFI Southbank), Alex Hamilton (Former Managing Director EOne), Christelle Randall (Global Publicity Director, Way to Blue), Herb Shellenberger (Curator), Tony Rayns (Writer and festival programmer), Keith Shiri (Festival Programmer), Melissa Cogavin (Event cinema consultant); Nico Marzano (ICA Head of Cinemas).
Entry requirements
This course invites applications from students with a BA (Hons) degree (or equivalent) in arts, humanities or science. Film and media related degrees, while welcome, are not essential for admission.
Applicants without a degree but with professional experience may also be considered for admission.
For international students, more information about our entry requirements, including Visa and English language requirements, can be found on our What You Need To Know section of our Students From Abroad page.
If you have any questions, please email info@nfts.co.uk.
How to apply
Application deadline: 08 Jul 2021
Applicants must complete the online application form and submit the following supporting material:
Please submit a brief essay on either a) The preservation of film culture, through archiving, exhibition and restoration, or b) Discuss the changing forms of cinema distribution and exhibition. This should not exceed 1,000 words.
Write a review of either a) A contemporary film that has impressed you, or b) an earlier film that you believe to be of artistic or historical importance. The review should not exceed 500 words.
Choose a movement in cinema or one particular national cinema that is important to you. Briefly discuss your personal response to it. This should not exceed 1,000 words
Discuss one author or film critic, or one book of critical writing on film that has influenced you. Discuss why you have found this author/book of value to you. This should not exceed 1,000 words.
Applications open 4th January 2021.
We are happy to receive applications from 4th January until the midnight of the application deadline date.
More content that you may be interested in...