COURSE OVERVIEW
Gain a 360 degree understanding of film production.
Whether you're interested in pursuing a career from screenwriter to VFX artist, director to sound recordist and more, this course will allow you to explore a variety of avenues and behind the scenes roles within filmmaking. Over this 6-month part-time certificate course, you'll gain an insight into all elements of the filmmaking process.


"My understanding of filmmaking has grown from a very enthusiastic lover of film to a clear understanding of the craft, commitment and integrity needed to be truly involved in the making of film."
Elizabeth Elstub
Course graduate
"I've gained a better understanding of the narrative film making process and to fill in my own knowledge gaps. Plus, I'm finding I have a greater interest in areas of which I had no prior experience!"
Christopher Keenan
Course graduate
Content Tabs
This 6-month course is mainly online, every Tuesday evening and Saturday morning, over Zoom and includes a practical five day residential at the NFTS towards the end of your course. It aims to help you develop and discover your own strengths and areas of interest by drawing on Industry professionals who will share their invaluable knowledge and advice.
You will graduate with an insight into practical filmmaking from one of the top film schools in the world with a much more developed and well-rounded understanding of the Industry and how films are made - which will help set you up for a long and successful career in the Industry.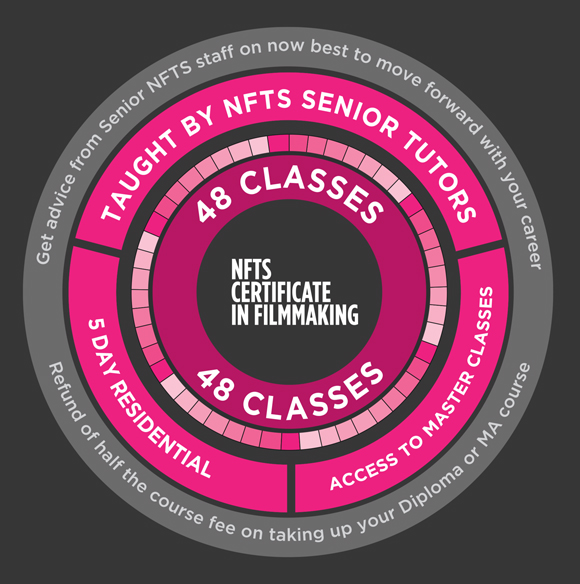 You'll be taught by senior tutors from across the NFTS giving you unparalleled access to some of the best film teachers in the world, and they'll also give you advice on how best to move forward with your CV, pursue your specialism or apply to the NFTS to do an MA or Diploma.
If you complete this course and then successfully secure a place on an NFTS MA or Diploma course, we will refund you half the certificate course fee on taking up your MA or Diploma place at the School.
Over the course of the 48 classes you will focus on Screenwriting and Script Reading, Who Does What On Set, Producing, Directing, Production Design, Cinematography, Production Protocols and Paperwork, Sound Recording, Editing, The Soundtrack, Visual Effects and Distribution and Exhibition.
While attending the sessions you will be required to develop a film 'package' ready to be cross-examined by a panel of Industry professionals half way through your course and then re-work it to be discussed again, at the end of your course. This package will include a screenplay, pitch document, budget, schedule, call sheets, movement orders, mood boards, director's statement and other materials.
There are five in-person days at the end of the course that will give you the chance to get involved in a number of hands-on practical workshops held at the NFTS studios in Beaconsfield and using our state-of-the-art equipment.
This course is open to everyone. During the 5-day residential, you will be required to be in the UK, and will need a valid visa. 
We're looking for people who are passionate and eager to explore the vast career opportunities within filmmaking. You should have a good general education, but no other specific educational requirements. You must be 18 or over to apply for the course.
If you have any questions, please email info@nfts.co.uk
The following item(s) should accompany your online application:
Provide any relevant experience you may already have, if any, in theatre/film/TV.
Summarise a story idea that you want to make (300 words max.).