Sean Connery Talent Lab
OVERVIEW
This new and transformative 12-month talent development programme is set to become a cornerstone of the Scottish film industry.
If you are a Scottish or UK National and an emerging writer, director, producer, cinematographer, editor or production designer, apply now to join our year-long training programme, where you'll further your craft at a prime studio location in Edinburgh and increase the scale and ambition of your work.
The Sean Connery Talent Lab is generously supported by a wide range of industry partners, trusts and foundations.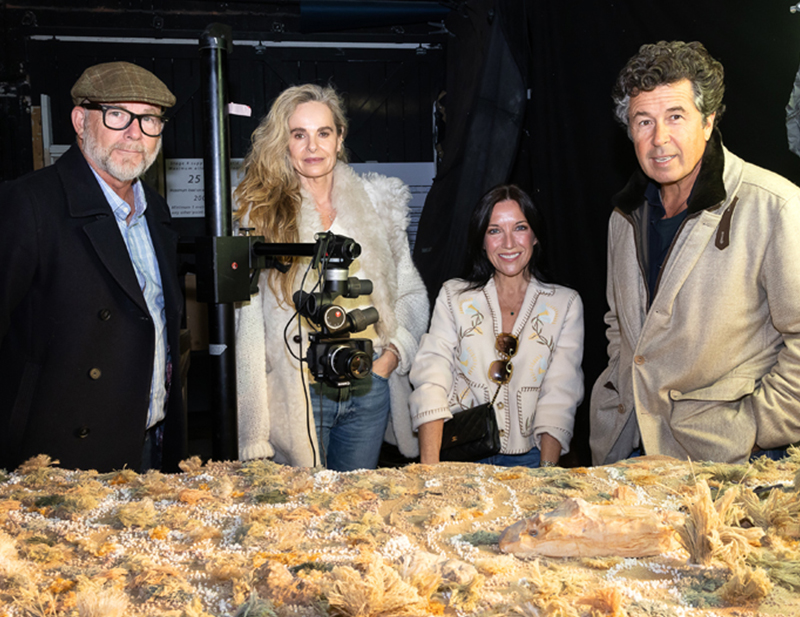 "Our vision has been to expand access to the film and TV industry for talented Scots who may never have dreamt they could access the film industry."
Stephane Connery
Chair of The Sean Connery Foundation (pictured far right)
"Dad always believed that education was a vital investment for anyone to achieve their full potential".
Jason Connery
Speaking on behalf of the Sean Connery Foundation (pictured 3rd from right)
With a focus on attracting and nurturing outstanding talent, the National Film and Television School (NFTS) and the Sean Connery Foundation are looking for thirty filmmakers (Writer/Directors, Producers, Cinematographers, Editors and Production Designers) to participate in an intensive talent development programme.
The Sean Connery Talent Lab, delivered by the NFTS, aims to support filmmakers with diverse and varied perspectives to take their work to the next level. Through a year-long programme, participants will 'graduate' with a short film that will be showcased to the industry.
From the participants in the talent lab we will form six filmmaking teams who will benefit from a first class NFTS training programme comprising seminars, workshops and individual tutoring aimed to elevate the participants' craft specialism.  Each team will receive a £25,000 production budget, with access to equipment and facilities provided for free by the NFTS. On successful completion of the programme, participants will be awarded an NFTS Diploma in Filmmaking.
This is not a short film fund, it is an opportunity for emerging, distinctive and original filmmakers to build on their strengths and increase the scale and ambition of their work through a structured programme.
Partners
The Talent Lab is supported by a wide range of industry partners, trusts and foundations.
BBC Film and the Dana and Albert Broccoli Foundation are anchor partners in the Talent Lab, pledging significant support to underpin the programme. A number of other partners including FirstStage Studios, Blazing Griffin, DNA Films, Hartswood Films, Juniper Trust, LS Productions, the Rank Foundation, and Synchronicity Films have pledged their valuable support to provide ongoing Scholarships and Bursaries to ensure the lab is open to all.
Content Tabs
The Sean Connery Talent Lab is a 12-month programme and will include the following (please note that timeframes and programme parameters are subject to change):
Story and script development seminars and professional development classes delivered part-time by the NFTS over a three-month period, specifically designed to strengthen your professional and storytelling skills. These workshops will be scheduled around the existing commitments of participants.
Intensive, specialist-taught workshops designed to elevate the participants' craft, both in terms of creative expression and technical expertise. The tuition will be delivered in intensive multiple-day blocks and participants will be given as much prior notice of the dates as possible.
An opportunity to work with other participants of the Talent Lab to make one of the Lab's six short films. The films will be shot on a staggered production schedule, which will include: up to eight weeks of pre-production, a 4 or 5-day shoot (staggered schedule for all six projects), and up to twelve weeks of post-production for each of the six teams. Each film will have a cash budget of £25,000 and extensive equipment and some facilities support from the NFTS. All films are made with the financial and creative support of BBC Film.
The input of experienced NFTS Heads of Department and other industry executives, who will enrich and support the development and post-production process.
Participants will also benefit from being part of the NFTS more broadly, joining a lively digital community where students and staff share resources, connect across disciplines and where exclusive masterclasses with filmmakers are shared. Students will also benefit from our industry partnerships, gaining access to a wide range of professional digital tools and services.
Be awarded an NFTS Diploma in Filmmaking on successful completion of the programme. 
The programme is designed to be part-time so that participants can balance programme activity with other paid work and professional engagements. Programme schedules will be published well in advance to ensure students can plan their involvement in the programme. Participants will be expected to fully engage with the taught programme and the production process.
The Sean Connery Talent Lab aims to be additive and complimentary to the great work already taking place in Scotland by a wide variety of organisations. We hope to provide a next step for talent who have already completed a degree programme, or participated in other schemes / talent and skills development programmes or received short film funding but still have further to go in their development.
The Lab uniquely supports talent across disciplines including often neglected creative roles such as editing and production design and places an emphasis on building the craft skills and collaborative relationships between departments.
This is not an opportunity for beginners - we are looking for participants who have begun to make their way in their chosen discipline but need further help and support to get further, faster.
29 January 2024 – Close for applications
February – March 2024 – In-person interviews and participants selected
April 2024 – Programme begins 
May/June/July 2024 – Professional Development seminars and workshops, and craft tuition
August / September 2024 – Pre-production 
October / November 2024 - Principal Photography 
December/January/February/March 2024/2025 – Post-production
April 2025 – Professional Preparation and Meet the Industry
The films made as part of the Lab will be the culmination of all the participants have learnt during the Lab and provide the participants with a 'calling card' on completion of the programme. By April 2025, we expect to have created six distinct narrative shorts of no more than 20 minutes in length, that will be submitted to festivals internationally. We will also arrange for the work to be sent to major talent agents and production companies in the UK.
 
To ensure that the course is accessible to as many people as possible, the £10,000 course fee is 70% underwritten by the Sean Connery Foundation. Due to this, successful applicants will pay £3,000 for the course.
The NFTS is committed to ensuring it is open to students of genuine ability, no matter what their background or financial circumstances are, which is why we award more scholarships and bursaries to British students, relative to the size of our student body, than almost any other educational institution in the UK.
If the £3,000 is still a barrier to participation, please do still apply. You may apply for further, more limited means-tested, financial support provided by our other industry partners.
In addition to fees support, there is a bursary fund where participants, particularly those from beyond the central belt, such as the Highlands and Islands, can apply for support with out-of-pocket expenses.
In order to qualify for the Sean Connery Talent Lab, applicants must meet the criteria below. For further information please visit the FAQs. You must:
Either be from Scotland [meaning place of birth], or reside in Scotland [and have lived there for at least the last three years] or a UK national from somewhere else in the UK but able to commit to the programme and base themselves in Scotland for the duration of the programme. We expect a minimum of 75% of the places in the Lab to go to Scottish talent
Have the right to work in the UK. If you are shortlisted you will need to provide proof of your right to work in the UK
Be at least twenty years of age, as of November 2023
Have completed other short film projects and received a credit in the same area as your application. For example, if you are applying as a Producer we would expect credits as a Producer or Production Manager. This is not an entry level opportunity - we are looking to work with filmmakers with some experience who are ready to take the next step; and
Be available to participate in the programme from April 2024
We particularly welcome applications from under-represented groups.
You are NOT eligible to apply if you have done any of the following:
Written or directed a theatrically-distributed, scripted, non-documentary feature film; or
Written or directed one or more scripted, non-documentary episodes of a television, or premium streaming series [which has aired or otherwise made commercially available for general public viewing (other than on a "free" platform such as Instagram or YouTube)
We are looking for both Writer/Directors and Writer and Director teams. We will not accept a director applying without a writer who cannot themselves write, or a writer who is applying without a director who does not wish to direct their own work. If you are applying with a writer or director partner, please make one application. In the case of joint applications, both "partners" will need to meet the eligibility criteria.
Beyond possible writer and director teams, everyone else accepted onto the Talent Lab will join as an individual and should be willing to work collaboratively with other members of the Lab to undertake project work.
 
After applications close on Monday 29th January, the selection process will take place as follows:  
Stage 1
A panel from the NFTS will read all eligible applications and watch all submitted material by the end of February.
We will be looking for applications who are at the appropriate stage in their filmmaking careers to benefit from this opportunity, whose work shows real promise and whose submitted idea (if applying as a writer/director) meets the brief and excites the panel.
The NFTS panel will shortlist around a dozen people for each specialism with a view to choosing six people in each specialism.
Stage 2
Applicants will be invited to attend an in-person interview to discuss their application with the NFTS. You will be notified by the end of February 2024 if you have progressed to this stage.
Stage 2 in-person interviews will take place in early March.
Bursaries are available to help those in need of financial support to meet the out-of-pocket expenses of attending the interview.
How to apply
To apply, please send the following four (six if applying as a writer/director) elements, in one email, to scftalentlab@nfts.co.uk  
1. A one page CV detailing your professional work, education and filmography. Please indicate which of the following specialisms you are applying for:
Writing/Directing
Producing
Cinematography
Editing
Production Design
If you are applying as a writer/director team then please submit a one page CV for each member, and a short statement about how you have come together to work collaboratively.   
2. A sample of up to 20 minutes in length in total, and not less than five minutes, that showcases your unique tone and cinematic style. The sample must be a scripted, live action, narrative work with dialogue. The work will be reviewed differently depending on which specialism you apply for. For example, if applying for Cinematography the reel should demonstrate your strengths in visual narrative and show your ability to tell a story with images. Please provide the samples via YouTube or Vimeo links with a password that is active until at least March 31st 2024.
3. A PDF of no more than five pages that explains your passion for your chosen discipline. This may be a mixture of text and images, but however you choose to present it, the document must communicate your experience, influences and ambitions.
4. A completed Equality Monitoring Form
If applying as a writer /director, please also submit:
5. An original, narrative script for a short film you would like to make as part of the Sean Connery Talent Lab, comprising no fewer than eight and no more than fifteen pages. The script must be in an industry-standard format and submitted as a PDF. (Projects submitted must be achievable within the permitted budget [and solely and exclusively owned and controlled by the applicant with no actual or potential third-party claims or obligations not specifically detailed in the submission, for example, a co-writer or underlying material]).
6.  A treatment / director's statement relating to the submitted script (max five pages)
The NFTS adheres to the BFI diversity guidelines and projects will be considered in light of how they meet those guidelines. 
The closing date for applications is Monday 29th January 2024.
Please contact scftalentlab@nfts.co.uk or call 0141 729 8190 if you have any application access requirements.
LOCATION
The Sean Connery Talent Lab will be located in Leith, Edinburgh, within an expanding creative quarter under development by FirstStage Studios in partnership with Forth Ports and others.

With 8.9 acres of stages, offices, workshops and hardstanding, FirstStage Studios is a new, leading production facility in Edinburgh, Scotland.
When is the closing date for applications?

Monday 29th January 2024

The website says you welcome applications from under-represented groups. What does that mean?

The under-represented groups we look at primarily relate to the protected characteristics as defined in the UK Equality Act 2010.

You should use the following list as a guide for what areas of under-representation we are seeking to address:

Age
Disability 
Neuro Diversity (including Dyslexia)
Gender reassignment
Pregnancy and maternity
Race
Religion or belief
Sex
Sexual orientation
Care-Experienced

In addition to the protected characteristics recognised by the Act, the NFTS also seeks to address under-representation in the following areas:

Regional participation
Socio-economic inclusion
Caring responsibilities

If applying as a writer and director team, do we need to have worked with each other before?

No, but your partnership needs to be convincing. We have to believe you will be able to work together successfully and collaborate for the length of the Talent Lab and hopefully beyond.

What happens if I apply after the deadline has closed?

Your application will not be considered.

Can I continue with my existing employment and participate in the Talent Lab?

Yes, however, this is a rigorous programme and you must participate in ALL of the required activities – no exceptions. You must be available to commit full-time to the programme during the final stages of pre-production and the period of principal photography, some of which will take place Monday through Friday.

Can I apply if I am outside the UK?

No, you must be physically present in the United Kingdom to apply.

Will the NFTS pay my travel, housing and transportation costs during the programme?

No, the NFTS will not provide travel, housing and transportation arrangements during the programme. It is possible to participate in the programme from anywhere in Scotland. For those not based in the central belt, travel grants will be available. We are particularly keen to receive applications from filmmakers from the Highland and Islands and will provide support with out-of-pocket expenses to make it possible to participate in the programme.

Who owns the film once produced?

The NFTS and BBC Film will own the finished film and manage the film's distribution. You will be asked to sign an IP agreement on being awarded a place on the Lab.